Invention of Breakfast Cereal
by wcascade40
The invention of corn flakes and the birth of a new American breakfast.
First Breakfast Cereal
 What did people eat before corn flakes? Well, before refrigeration, many people ate last nights leftovers, maybe adding some fried potatoes and buttered bread. Cold cereal was not on the menu. Scotland had introduced hot oatmeal porridge but it didn't make it to the United States until the 1850's. Ferdinand Schumacher , a German immigrant, who grew up on hot oatmeal wondered why it was not consumed in the United States.
In Europe ,oatmeal was soaked overnight and then cooked for up to 90 minutes the next morning. Schumacher thought it wasn't popular because it was just to much trouble to prepare. So Schumacher developed a kind of oatmeal that didn't need to be soaked or cooked for more than several minutes. He was quickly dubbed the Oatmeal King of America and his produced flew off grocers shelves.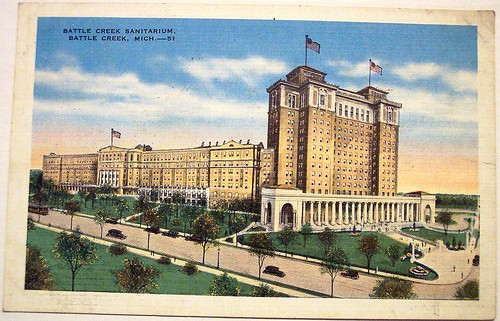 postcard for Battle Creek Sanitorium
Changing Needs
The American breakfast was typically a pretty heavy affair, men were doing manual labor and needed lots of fuel. I remember reading Farmer Boy by Laura Ingalls Wilder and being shocked by the amount of food Almanzo at every morning. A typical Wilder breakfast was fried potatoes, pancakes, sausages and gravy, donuts, apple pie and oatmeal with cream and maple sugar. This kind of breakfast took a long time to prepare and a long time to eat.
But America was changing, less people did manual labor and they had less time for breakfast. Also, since less people grew their own food and meat, a typical farm breakfast became rather expensive. Hot cereals did grow in popularity, but had the stigma of being products for the poor.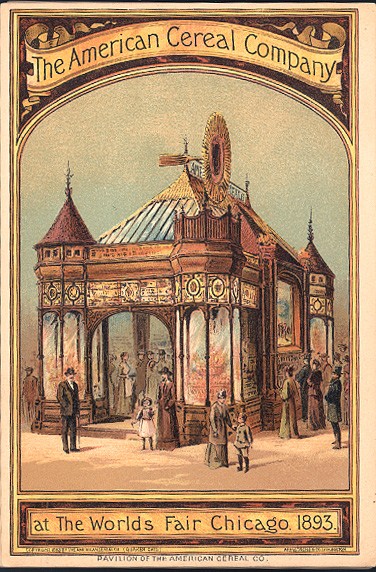 1893 World's Fair Cereal Building
In the early 1890's, Henry Perky heated and softened wheat berries and drew them through rolles, making Ceres cereal. These biscuits didn't sell that well until he renamed them Shredded Wheat and publicized them at the 1893 World Columbian Exposition.  The wheat biscuits also made their way to Battle Creek, Michigan.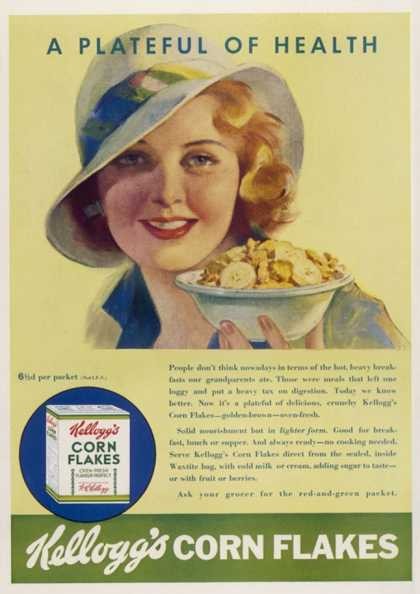 1920's Cereal ad
Invention of Corn Flakes
Battle Creek was the home of the Battle Creek Sanitarium run by John Harvey Kellogg. The sanitarium tried to help people regain their health through exercise and various therapies. His health institute also pushed a vegetarian diet and he needed a good breakfast substitute for sausages and eggs. Shredded Wheat was served but Kellogg soon started experimenting with his own grain products.
John and his brother Will discovered that wheat could also be flattened and flaked, the resulting product was named Granose.  After Will Kellogg quarreled with his brother, he left the Sanitarium and founded the Kellogg Toasted Corn Flake Company. The brothers agreed on the benefits of the grain cereal, but later fought about adding Will's decision to add sugar to their popular corn flakes.
Charles W. Post visited the health resort and left still in poor health. But he had an idea to found a cereal company.  John Kellogg allowed the guests to observe the flaking machine in action so Post copied the process. His company, Post Cereals, also developed Grape Nuts. Another early product was a coffee substitute made out of grain called Postum. His company grew to be General Foods.

early Corn Flakes package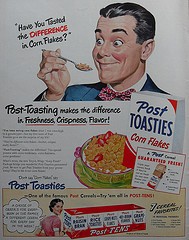 1950's ad
Quaker Simply Granola Oats, Honey & Almonds, Breakfast Cereal, 28 oz Boxes, (2 Pack)

Oats and honey go together like, well, oats and honey. Some flavor combinations are hard to improve on. Now you can enjoy all the delicious and satisfying wholesomeness of this ...

Only $8.18
Quaker Life Breakfast Cereal, 3 Flavor Variety Pack (4 Boxes)

Life cereal is the crunchy wholesome choice that's great for Mom, Dad, and the little goofballs you can't help but love. Each tasty square is filled with whole grain goodness so...

Only $17.85
Honey Nut Cheerios, Gluten Free, Cereal with Oats, 10.8 oz

Wholesome Goodness! Honey Nut Cheerios are made with real honey, no high fructose corn syrup and they are gluten free

Only $2.79
---
Disclosure: This page generates income for authors based on affiliate relationships with our partners, including Amazon, Google and others.