Halloween romantic superstition
by wcascade40
The old legend is that if you look in the mirror at midnight, you will see beside your reflection the image of the one you will marry. This was one pretty popular.
Nowadays Halloween is an excuse for wearing costumes, partying and collecting candy. But in the 1800's there were many suspicions associated with October,31. The barrier between the natural and supernatural world was supposed to be thinnest during that night, especially at midnight.
Ghosts and other frightening creatures could appear on Halloween night. It was considered quite a frightening night. But another aspect of the holiday, was that with the barrier between the worlds so thin, it was possible to get supernatural assistance to answer your questions about your life.
NOTE All the cards on this site are from the late 1800's or early 1900's.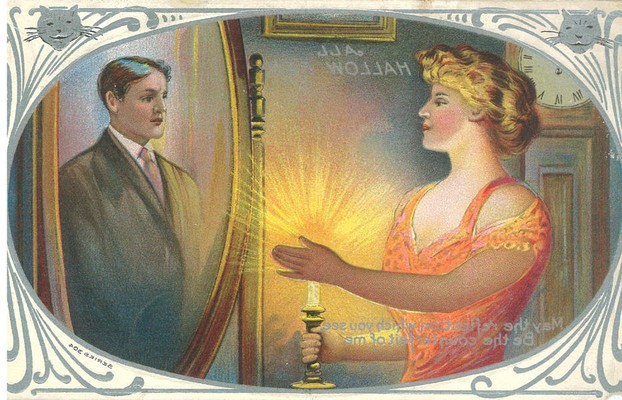 vintage greeting card
Romance questions were most important, especially with future divination of who your spouse would be. It was not uncommon for young girls to try various ways to learn the identity of their future husband.
One popular way, was to pare an apple in one piece, and throw the peel behind you. The peel should form the initial of your future spouse. This was also done with raw eggs in water. But the most popular way was with a mirror at midnight. I don't know how seriously people took this, but it was the subject of numerous greeting cards and was commonly written about in the late fall.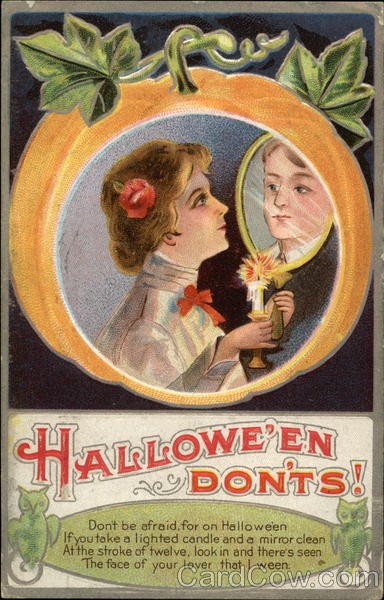 midnight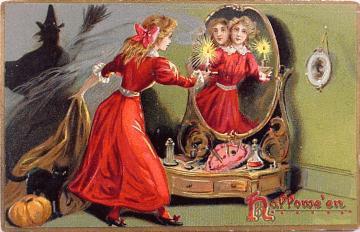 witching hour
LADIES WORLD , NOVEMBER 1892
"The proper form is for her to let down her back hair, then dressed all in white, with uplifted candle, a la Lady Macbeth, in the left hand a mirror, she proceeds to wend her way slowly—and alone—down the stairs backward to the cellar; it is then when the final step is reached and the critical and dramatic moment arrives, that she will see the pictured face of her future husband, in the mirror she carries in her left hand. It is only for those possessing great faith that the face in the mirror will materialize. If the maiden reading this doesn't believe in the efficacy of this special rite, let her try it for herself—seeing is believing. "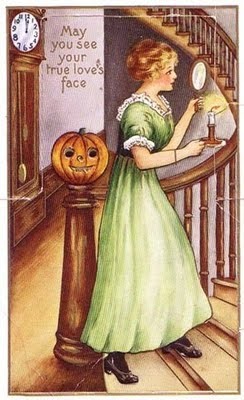 up the stairs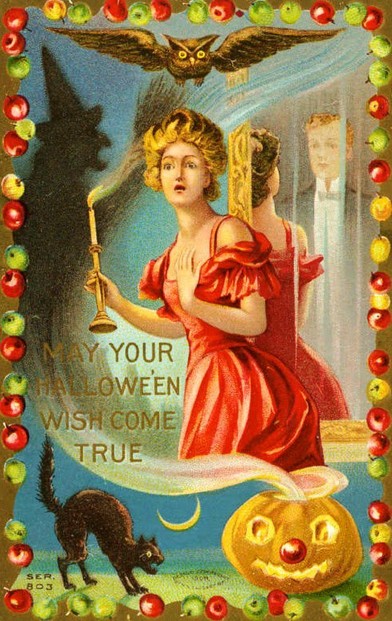 midnight look
I don't know how popular this actually was, but it must have been widely known or it wouldn't have been the subject of Halloween postcards. Most of these images are from Halloween postcards, which were surprising popular around the turn of the last century.
I'm sure some young women, and it was only women that did this, took it at least somewhat seriously. But I can't help but think that some women just did it because they thought it was something amusing to do at a Halloween party, like bob for apples.
---
Disclosure: This page generates income for authors based on affiliate relationships with our partners, including Amazon, Google and others.