Sniglets Words that don't appear in a Dictionary but should.
by wcascade40
Rich Hall invented the word Sniglets, for things you really need a word for, but there isn't one.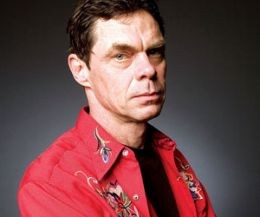 Rich Hall
Back in the early 1980's comedian Rich Hall, while appearing on the comedy show, Not Necessarily The News, invented the word Sniglets. The definition of Sniglets are words that don't appear in the dictionary but should. This was a very funny and popular comedy bit and lead to the release of several books of Sniglets. Some written by Rich Hall but many contributed by watchers of the show.
Ambrose Bierce back in the early part of the 20th century also wrote definitions, but his were more cynical and witty, whereas Sniglets are more silly and funny. There is a link to some of Ambrose Bierce's defintions below.
Ambrose Bierce
Bierce, a San Francisco columnist, also wrote his own definitions, more cynical than amusing.
Rich Hall is an American comedian who lives in London. He appears regularly on British TV, including on one on my favorite shows QI, an intelligent and funny game show.
Born in the 1950's, Rich Hall was a regular on Not Necessarily The News and Saturday Night Live. He also had shows on Showtime and The Comedy Channel. Rich Hall is also the inspiration for the Simpson's character, Moe Szyslak
BOVILEXIA (bo vil eks e uh) n. The uncontrollable urge to lean out the car window and yell "Moo!" every time you pass a cow.
BRATTLED (brat ult) adj. The unsettling feeling, at a stoplight, that the busload of kids that just pulled up beside you is making fun of you.
FLOLES (flolz) n. The extra (fourth and fifth) holes in notebook paper. Created in the hopes that one day mankind will perfect a '5 ring binder."
LACTOMANGULATION (lak to man gyu lay shun) n. Manhandling the "open here" spout on a milk carton so badly that one has to resort to using the "illegal" side.
PETRIBAR (pet ri bar) n. Any sun-bleached prehistoric candy bar that has been sitting in the window of a vending machine too long.
CHECKUARY (chek' yew air ee) n.The thirteenth month of the year. Begins New Year's Day and ends when a person stops absentmindedly writing the old year on his checks.
DOWNPAUSE (down pawz) n.The split second of dry weather experienced when driving under an overpass during a storm.
FLUFFLE (fuh ful) v.To assume, when dining out, that you are making things easier on the waitress by using the phrase "when you get a chance...."
NURGE (nerj) v.To inch closer to a stoplight thinking that will cause it to change quicker.
PERMAPRESSION (pur muh preh shun) n.The discovery that there is no real difference in the various cycle of your washing machine.
---
Disclosure: This page generates income for authors based on affiliate relationships with our partners, including Amazon, Google and others.