Kids Witch Costume
by costumeideas
Witch costumes can be a fun and exciting way to dress up for Halloween.
Witch Costumes for Girls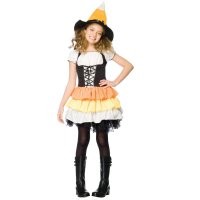 Is there any outfit more adorable than a kids witch costume at Halloween?
Little girls love dressing up in cute fairy or witch costumes. It is always fun to see their faces light up with joy as they pretend to cast spells on the family dog or even on their brothers. At Halloween, it is even more fun to watch them run around the neighborhood bewitching the neighbors out of extra pieces of candy.

With all of the costumes that are currently available it can sometimes feel a bit overwhelming. As such, here are a few of the most popular kids witch costumes for your review.
Teen Witch Costume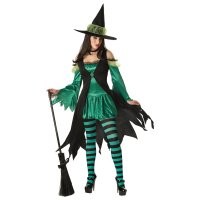 Available in Teens Sizes: Junior (3-5) and Junior (7-9)

Costume parties can be a lot of fun for teens. As parents, we want our children to have a lot of fun yet we certainly do not want them dressing in costumes that make them look too much like adults. They will have plenty of time to dress in an adult witch costume later in life.

As such, this costume is perfect for parents who want their teen to look cute, but not sexy.

This adorable witch outfit comes complete with a bright green dress that features matching black and green striped tights, a black overdress and a matching black witches hat.

Add an inexpensive black sparkle broom and you will have an outfit that truly stands out in a crowd for all the right reasons!
Girls Witch Costume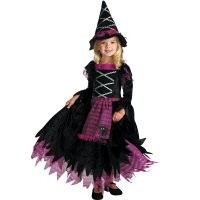 (Available in Child Sizes: 2T, 3T-4T, and 4-6)

This toddler witch costume is perfect for those parents looking for a cute witch outfit instead of the traditional scary variation of this classic character.

This whimsical girls witch costume includes a fun ankle length black dress that features delicate pink and silver accents and also includes an adorable attached apron. A matching witch hat helps to round out this magical look nicely.

This costume is always a fan favorite and many wonderful reviews continue to testify to the quality of this amazing costume. Be sure to shop early this year to avoid any potential disappointments should this costume sell out again!
Super Cute Girls Witch Clothing for Halloween
Child Witch Costume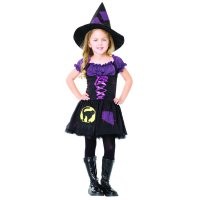 Available in Kids Sizes: X-Small (3/4), Small (4/6), Medium (7/10) and Large (10/12)

Your sweet little girl will be delightfully wicked while wearing this wonderful witch costume.

It includes a purple colored peasant style top that has puffy sleeves and an attached black bodice that features pink stitches and lavender laces. A attached black skirt that has purple patches and matching stitch detail is boldly offset by a black cat standing in front of a yellow moon.

To round out this wickedly wonderful witches wardrobe, a matching hat is also included.

Dressing up in a kids witch costume for Halloween can be a lot of fun; and isn't that what this day is all about?
Witch Costume Accessories
Can't be a Witch Without a Broom, eh?
Cute Witch Shoes for Your Witch Costume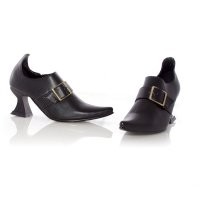 Hazel Black Shoes
(Available in Womens whole sizes: 6, 7, 8, 9, and 10)
This adorable shoes typify that classic witch look while being super cute at the same time.
These witch shoes feature a 3" sculpted heel, a traditional gold toned buckle, and a squared off toe that holds to the classic character look of the 1950s.
These shoes also include a zipper on the inside of each foot which allows women who have a high instep to put them on rather comfortably. Additionally, it you have a wide foot you could even leave the zipper down and no one would ever know!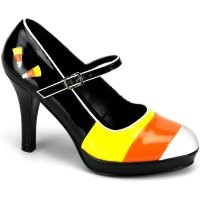 Candy Corn Witch Costume High Heel Shoes
(Available in Women's sizes: 6,7,8,9, and 10)
Not all witches wear black. Some prefer to mesmerize their victims in an outfit that is a bit sweeter; something that catches people off guard.
The candy corn witch costume is a fun twist on a classic character.
It can be fun to wear bright, bold colors while casting your spells on those all around you. There is absolutely no way you can avoid being noticed while wearing this style of witch costume.
These delightful shoes have 4" heels and are accented with super sweet candy corn designs on the toe and tiny candy corn embellishments on the side.
---
Disclosure: This page generates income for authors based on affiliate relationships with our partners, including Amazon, Google and others.