Lalaloopsy Jewel Sparkles Doll
by TommysToys
Lalaloopsy Jewel Sparkles is one of the original eight Lalaloopsy dolls and still one of the most popular. New dolls are appearing all the time but there's only one Jewel Sparkles!
Why the Jewel Sparkles Lalaloopsy doll is the queen of the pack
Each Lalaloopsy doll has her own personality, dictated by the fabric they were made from, and Jewel Sparkles was sewn from a real princess's dress so she has all the elegance and pink frilly glitter that little girls love. She's so popular that the manufacturers, MGA Entertainment, have brought out a "Silly Hair" version of the Jewel Sparkles Lalaloopsy doll.
Buy Lalaloopsy Jewel Sparkles While Stocks Last
If you've not yet even heard of Lalaloopsy let me fill you in quickly. These cute rag dolls are about 12 inches high with tough plastic heads. It might not sound ideal but kids love them and they are very hard wearing.
Eight dolls were created originally and they all live in Lalaloopsy Land, a magical world of games and fun. The idea is that each doll has its own personality that is dictated by the fabric they were made from. When their final stitch is sewn they magically come to life.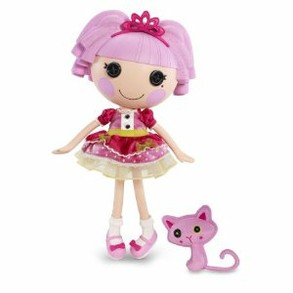 Lalaloopsy Jewel Sparkles Doll
Lalaloopsy Jewel Sparkles Review
So the trick when deciding which Lalaloopsy doll to buy is to decide which Lalaloopsy personality is best suited to your little girl (or boy - yes they now have Lalaloopsy boy dolls!). Unsurprisingly the two most popular dolls are princess Jewel Sparkles, who is so pretty in pink, and Crumbs Sugar Cookie who loves to help cook and make cakes.
It's Jewel Sparkles though who really steals the show. She's just such a girly girl who loves dressing up, dancing around and generally being pretty. That describes quite a few little girls across the country I suspect!
Each Lalaloopsy doll comes with their own pet that matches their personality and Jewel Sparkles has an elegant pink cat to keep her company. Not as elegant as Jewel Sparkles herself who looks delightful in her shimmery red dress, her princess tiara perched on her pink locks and finally her pretty pink shoes and red bows.
Mini Lalaloopsy Jewel Sparkles
Your daughter will want her favourite full sized Lalaloopsy doll all to herself. However with so many other Lalaloopsy dolls on offer how is she to decide which one to choose. Never fear the clever marketers at MGA Entertainment have brought out miniature versions of all the Lalaloopsy dolls for your daughter to collect!
This is actually a neat and clever idea. The miniature versions of these dolls are less than $10 at Amazon which means your daughter can collect a few without breaking the bank. They can be a nice little gift or present when they've been good or you want to give them an extra treat.
Each mini Lalaloopsy comes with its own mini pet and mini accessories. So Mini Jewel Sparkles comes with a tiny hand mirror, perfume bottle and hair brush; all ready to play dress up! Oh and of course a tiny version of her pet cat!
The packaging with each mini Lalaloopsy isn't wasted either. Each box is in fact a personalised room in each dolls house. So with Jewel Sparkles you get her pretty pink boudoir complete with priceless paintings.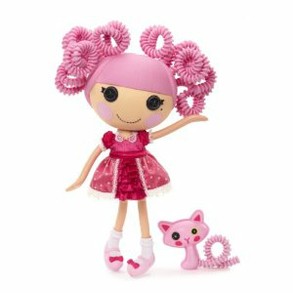 Silly Hair Jewel Sparkles
Silly Hair Jewel Sparkles
As mentioned earlier, along with Crumbs Sugar Cookie, Lalaloopsy Jewel Sparkles is the most popular Lalaloopsy doll. So when MGA Entertainment decided to bring out a couple of Silly Hair Lalaloopsy dolls there were two obvious candidates.
Essentially these dolls are the same size as the normal dolls and dressed the same way, but... they have crazy, nay "silly", hair that can be curled or twisted into all kinds of fun looks and styles. Each silly hair Lalaloopsy doll comes with a special styling brush and plenty of beads and clips to add to the styling fun.
The most hilarious thing is the tails of pets have also been given the silly hair treatment...shame!
To find the full size Jewel Sparkles, Mini Jewel Sparkles or Silly Hair Jewel Sparkles at the best price I would reccomend you start your search at Amazon. Typically they have the best prices, no quibble refunds and secure shipping. Click the link below to find our more.
Lalaloopsy Jewel Sparkles Dolls at Lowest Prices at Amazon
Lalaloopsy - Jewels Sparkles

Your child will enjoy playing with the Jewel Sparkles Bitty Button Doll. The Bitty Buttons are rag dolls that magically came to life, taking on the personalities of the ...

Only $79.99
Lalaloopsy Silly Hair Doll - Jewel Sparkles

The Lalaloopsy were once rag dolls who magically came to life, taking on the personalities of the fabrics that were used to make them. These Lalaloopsy have silly hair that ...

Only $79.99
Lalaloopsy 3 Inch Mini Figure with Accessories Jewel Sparkles

Mini version of the large doll.Your child will enjoy playing with the Jewel Sparkles Bitty Button Doll. The Bitty Buttons are rag dolls that magically came to life, taking on ...

Only $11.99
Lalaloopsy Silly Hair Video
---
Disclosure: This page generates income for authors based on affiliate relationships with our partners, including Amazon, Google and others.