Mini Lalaloopsy - Buy Mini Lalaloopsy Dolls
by TommysToys
With so many great full sized Lalaloopsy dolls to choose from you'll be glad that your kids can buy and collect the cheaper mini Lalaloopsy dolls.
What Are Mini Lalaloopsy Dolls?
Mini Lalaloopsy dolls are 3 inch high miniature versions of the original full sized Lalaloopsy dolls. You can collect all of them and buy mini Lalaloopsy play sets to create your own Lalaloopsy Land full of fun and magic. A mini Lalaloopsy doll is a great stocking filler or extra small gift any time of the year.
Browse the Whole Mini Lalaloopsy Doll Range Now
Click on any of the dolls for more info and discount prices
Tell Me More About Lalaloopsy Dolls
Lalaloopsy dolls are the newest and hottest toy dolls from MGA Entertainment, the company that brought you Bratz and Little Tikes. Each doll has its own personality which reflects the material they were sewn from. When the last stitch on each doll was sewn then the doll came to life and joined her (or his) friends in Lalaloopsy Land, a place of fun and games. Each Lalaloopsy doll is about 14 inches high and retails at around $25. For more detail visit http://www.tommystoys.com/mini-lalaloopsy
If your kids fall in love with these cute dolls they may well have their favorite, but it's equally likely that they will want to give a home to every single one! Given that there are now well over 20 of these full sized Lalaloopsy dolls you will be relieved to introduce your child to the mini Lalaloopsy versions which will take up considerably less room while also being a great deal cheaper!
The Original Eight Lalaloopsy Mini Dolls
When first released there were eight Lalaloopsy dolls. As mentioned, when the dolls became a huge commercial success MGA Entertainment started releasing more and more dolls and their characters became more and more exotic. Now it feels like there is a new Lalaloopsy doll released each week. There are Lalaloopsy boy dolls, limited edition collector's dolls and special seasonal Christmas dolls.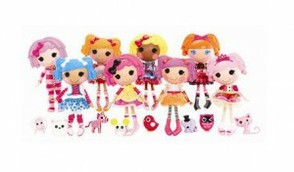 The Original Lalaloopsy Dolls
If you want to buy your daughter a mini Lalaloopsy doll for the first time then why not start with one of the original eight dolls? They are a great way to start her collection and, I believe, they are the best of the Lalaloopsy range.
Mini Lalaloopsy Spot Splatter Splash –
Spot Splatter Splash loves to paint and is a true artist, hardly surprising because she was sewn from an artist's overalls. Mini Spot Splatter Splash comes with her pet zebra (red and white stripes!) her pain brush and paint pot and a palette for mixing her colors.
Mini Lalaloopsy Jewel Sparkles –
Jewel Sparkles was sewn from a real princess's dress and is a right little madam! So elegant in her pretty townhouse Mini Jewel Sparkles comes with her little pet cat, hair brush and hand mirror and a mini perfume bottle so she' always perfectly turned out.
Mini Lalaloopsy Pillow Featherbed –
Pillow Featherbed would stay in bed all day long if she could, sewn as she is from a pair of pyjamas. She loves her bedtime stories and can snooze anywhere. Mini Pillow Featherbed comes with her pet sheep, milky drink, storybook and an alarm clock!
Mini Lalaloopsy Peanut Big Top –
There's no business like show business for Peanut Big Top, who's sewn from a clown's costume. She only comfortable with an audience and is forever showing off. Mini Peanut Big Top comes with talented pet elephant, a colored ball for tricks, a flag and a carton of popcorn for the big show.
Mini Lalaloopsy Crumble Sugar Cookie –
Sewn from a cooks apron little Crumbs Sugar Cookie is always under your feet in the kitchen and loves nothing more than a good bake! She's always having friends round for tea and is the perfect host. Mini Crumbs Sugar Cookie comes with her cute pet mouse, a mixing bowl and spoon and a baking tray heaving with cookies!
Mini Lalaloopsy Mittens Fluff 'n' Stuff –
Mittens Fluff n Stuff, sewn from an Eskimos scarf, just loves everything to do with winter! She lives for snowball fights and warm fires after. Mini Mittens Fluff n Stuff comes with her sweet pet polar bear, her friend the snowman and a mug of hot cocoa and marshmallows on a stick.
Mini Lalaloopsy Dot Starlight –
Dot Starlight is totally out of this world, made as she is from an astronaut's space suit! Unsurprisingly she's got her head in the clouds and is a bit of a daydreamer. Mini Dot Starlight comes with her pet bird, a mini space rocket and globe of the world.
Mini Lalaloopsy Bea Spells-a-Lot –
Watch out, Bea Spells-a-lot is a very clever cookie. She's smarter than smart so you'll need to have your wits about you. She's sewn from a school uniform and is always the teacher's pet. Mini Bea Spells-a-Lot comes with her pet owl, a school bell, blackboard and of course her spelling book.
Find Mini Lalaloopsy Dolls at the Best Price on Amazon
---
Disclosure: This page generates income for authors based on affiliate relationships with our partners, including Amazon, Google and others.