Ultimate FX Lightsaber - For the Young Yedi In Us All
by TommysToys
Go on, look Tommy in the eye and tell him you don't want to play with this Star Wars FX Lightsaber! You can't can you!?
So You Want to Buy the FX Lightsaber for your Son?
Yes, well I believe you, but thousands wouldn't! The fact is that since 1977, when the original Star Wars movie was released, young boys, who are now grown men (!), have been dreaming of wielding a Star Wars Lightsaber in battle; just like their hero Luke Skywalker. So now's your chance, you can pretend you're buying it for you boy but we all know the truth don't we!?
Buy the Ultimate FX Lightsaber Today at a Discount Price
Yes, that's right, it doesn't matter whether you want to go over to the dark side and be Darth Vader or step into the light and use the force for good as Anakin, both FX Lightsabers are available and waiting for you to step up to the ultimate Lightsaber battle challenge. Are you man enough?
Gone are the days when all that you could hope for was some rubbish piece of plastic, vaguely shaped like the real thing, with a dim unconvincing colored light inside and zero sound effects. These Star Wars FX Lightsabers are a complete blast and exceptional value for money.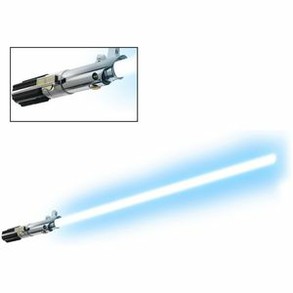 Star Wars Ultimate FX Lightsaber
The Star Wars Ultimate FX Lightsaber Review
My review of the Ultimate FX Lightsaber is really very simple...buy one NOW! I appreciate, however, that you probably want a little more detail than that, so here goes. What is it that we really want from a Star Wars toy Lightsaber? Simply put we're looking for authentic sound effects, a Lightsaber that you can actually swing about and have fun with (rather than some geeky model to display on your shelf!), and a really strong laser-like bright light, just like in the movies.
Three requirements, that's all, three...not a lot to ask is it!? Well whether you choose the Darth Vader FX Lightsaber or the Anakin FX Lightsaber you're going to be happy because all three features are included!
FX Lightsaber Features
1. Authentic Sound Effects - From the moment you turn this toy Lightsaber on you know it rocks, because it makes that authentic whooshing sound! And the sound effects continue to be realistic the whole time the toy is turned on. When motionless it just quietly hums, when you swoosh it through the air it make that vibrating sound we all know and love. And the piece de resistance is when you hit something the Lightsaber emits the crackling noise of two Lightsabers clashing.
2. Ready for Battle - The blade of the FX Lightsaber is made of a strong plastic that can take a good bit of battling. Remember it is a toy and the point is NOT to bash your opponent into submission, but to re-enact those classic Star Wars battles, my point is don't whack things with your Lightsaber too hard if you want a long and happy lifespan for this toy.
3. Bright Laser Light - The many lights lining this Lightsaber makes for a really bright and convincing toy. When you turn it on the light source starts at the hilt and whizzes to the tip, just like the real thing. Similarly when you hit something, as well as the realistic sound effect, the light also flickers like the original.
FX Lightsaber Price
What makes this toy Lightsaber a no brainer is the price. You can now get hold of one of these FX Lightsabers for under $30, which is a discount of over 30% off the recommended retail price. At that price how tempted are you to buy two? One for your son and one...for you? Go on you know you want to.
There are more realistic looking replica Lightsabers on the market but they are very expensive and not nearly as user-friendly. Nothing can beat the Ultimate FX Lightsabers for value.
Suitable For?
So who is this Ultimate FX Star Wars Lightsaber suitable for? Well despite looking like a real Lightsaber it is in fact very light which means even the youngest boy will enjoy playing with it. Officially the product is suitable for ages six and up but I don't see why a four year old wouldn't enjoy it. Oh and did I mention it was suitable for Star Wars obsessed grownups? Yes, I think I did.
Star Wars FX Lightsabers on Amazon
---
Disclosure: This page generates income for authors based on affiliate relationships with our partners, including Amazon, Google and others.