MakeDo - A Green and Crafty Gift for Kids and Adults
by TerriRexson
A Make Do kit turns cardboard boxes and other waste items into wonderful models and toys. A green, crafty and fun gift for children, and adults too.
What is Make Do?
Make Do (Makedo) is a set of connectors and tools for making things by recycling discarded items like cardboard boxes and tubes and pots and containers. 
The set include blue plastic pegs and clips which hold cardboard in place. You also get tools for making holes in carboard and other materials and cutting holes, windows, doors and other shapes from cardboard. There are also really neat lockable hinges that allow you to create structures that can move or lock into place. 
Make Do is great for kids, but lots of adults will enjoy it too. This makes a brilliant green gift for a family, for crafty kids, or parents of young children. 
My partner got me a Make Do set for my birthday and we've had lots of fun with it and so have the children. 
MakeDo can be used to make big structures like playhouses or small models like robots. 
Make Do Army Ant Model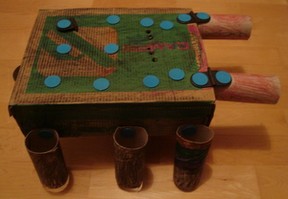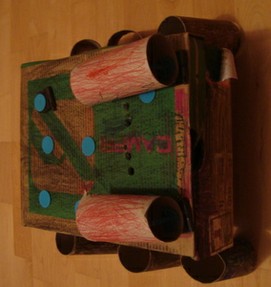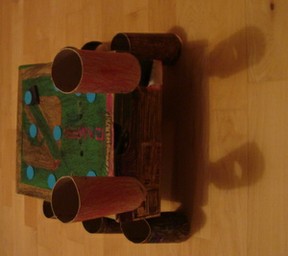 My son made this Army Ant almost entirely on his own over several days just before he turned 5.
He designed it, decorated it, made the holes and used the connectors to attach the legs. He asked for a bit of help positioning the hinges for the 'antlers'. The hinges allow the antlers to be fixed into different positions or allowed to move freely - he likes them best locked into the forward facing position. 
He was utterly absorbed by the project for at least an hour a day over a period of about 5 days. 
While he was doing this his younger brother, aged 3, was having a wonderful time using the Make Do set to poke holes in a matching cardboard box and using the Make Do pegs to decorate it. 
MakeDo Kits
You can get various sizes of Make Do kit that include the pegs, tools and hinges in various quantities. I got the 3 person set for my birthday which gives enough pieces for me and my boys to play together! 
I'm glad I got a larger set because we're not ready to take some of our earlier models apart yet and still want to build more. 
Big Make Do Kit
There's also a really big Make Do kit which is perfect for a children's party activity, a big family or a club or classroom group. 
I think we might use this as an activity at a birthday party in the future. All the kids that we've shown it to have got stuck in straight away and had a brilliant time with it. 
The Make Do Freeplay kit has enough pieces for 30 kids or adults to join in and make models at the same time. 
Making Big Structures with Make Do
Make Do is also brilliant for making big structures from cardboard like playhouses, rockets and cars. You can use it to make a central feature for a children's birthday party, or just to keep your kids occupied on a rainy day. 
Save large boxes from deliveries or try a local electrical store or other place that is likely to have cardboard that they don't need. We get ours from the place where my partner works, they have computer equipment delivered in large boxes. 
Because the pegs and clips lock together very tightly, you can make a very sturdy structure using Make Do. 
Make Do Animal Hide for a Safari Party
One of our Make Do projects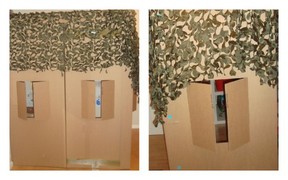 We had a lot of fun creating this animal hide for my son's African safari birthday party. 
The Make Do kit worked brilliantly to hold the structure together. 
You can see the blue dots on the second picture - these are the pins from the Make Do set and are secured on the other side by clips. The clips are very secure when in place but can easily be removed when the time comes to dismantle your creation and make another project. 
We used a standard Make Do kit for our project, but you can get a Make Do playhouse kit. 
Make Do Find & Make a Playhouse
---
Disclosure: This page generates income for authors based on affiliate relationships with our partners, including Amazon, Google and others.