Fabulous Mardi Gras Masks You Can Make
by Pastiche
Make a fancy Mardi Gras mask using these ideas, templates and how-to tips. Fabulous feathery Mardi Gras masks can also be worn for New Year's Eve!
Fancy Mardi Gras Mask
Printable paper Mardi Gras mask - use as is or as a template
Mardi Gras party masks made from paper can be simple or elaborate. Some are simple eye masks while others are quite fancy, decorated with sequins and feathers in purple, green, gold and black. No matter whether you wear a simple or elaborate Mardi Gras costume, you must wear a mask for Fat Tuesay parades and parties.
The printable Mardi Gras eye mask pattern shown above  is ready to wear for an instant mask, or you can use the printed mask as a foundation and add your own embellishments.
Fancy Feathers Mardi Gras Mask Design
Printable mask to wear as is, or embellish with sequins, glitter and feathers.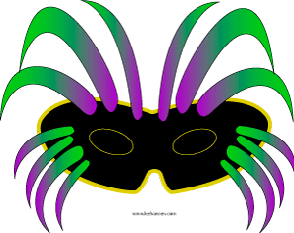 Fancy Mardi Gras Mask Pattern
Masquerade Mask Crafts
How to make your own fancy Mardi Gras mask
You can buy a paper Mardi Gras mask or you can make your own masquerade mask almost instantly. All you need are a template or printable mask, a color printer and a sheet of card stock. Mask making is an ancient art that's popular all 'round the world with just about every age group. Try your hand at making a mask from paper, card stock, papier mache, fabric or plaster strips.
Fancy Masquerade Masks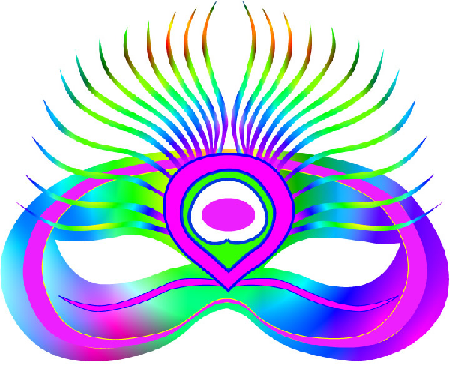 Fancy Masquerade Mask
Papier Mache Masks
How to make a molded paper mache face mask
Paper mache is a green and simple modelling technique that's ideal for making lightweight masks.
To make a paper mache mask you'll need clean old newspapers, a mold form (a gallon size plastic milk jug cut in half to keep the handle side as the front of the face, paper mache paste, clean white paper (computer paper is good), paints and other embellishing goodies like sequins, feathers, glitter and ribbon.
Attach paper mache masks to a wooden stick so you can hold it in front of your face,  or create ear loops at each side so you can wear the mask. Pierce 2 small holes about 1 inch apart on each side of the mask and thread elastic strings through to create loops that fit over wearer's ears.
How to make a 3D Paper Mache Mask
Two techniques for making paper mache face masks
Felt and Fabric Mardi Gras Masks
How to make a soft fabric or felt fabric face mask
Soft Mardi Gras masks made from sewn fabric or felt can be simple or fancy. Children especially like felt and fabric masks because they don't feel "scratchy" when worn.
To make a soft fabric mask all you need are a simple pattern that fits the wearer's face, cotton or felt fabric scraps, a sewing machine (or hand sewing needles), thread, embroidery floss and perhaps a few buttons and bits of lace, rick rack or braid trim.
Lay out the pattern for your mask and cut out two pieces, one for the mask front and a matching piece for the mask backing. If are using fabric you might want to create a softly padded mask by also cutting a layer of felt or thin fleece to sandwich between the front and back layers. Cut padding fabric slightly smaller than the mask front and back pattern pieces  - about 1/2 inch smaller all around the edges. Layer the pieces: front, padding, back, then stitch the mask together around the outside edges and around the eye hole openings.
Trim close to the stitched edges of your mask. If you're using seam binding to finish the edges, sew it all around the trimmed outside edges of the mask.To add a simple decorative border to a fabric mask, hand stitch with embroidery floss using a blanket stitch all along the trimmed edges - match or contrast the fabric according to your mask design and taste.  When making a felt mask you can omit seam binding or edge stitching.  I like to use embroidery on my felt face masks to add some pizazz and design details.
Stitch or hot glue decorative trims to the top and edges or anywhere else you wish. Use felt shapes to create simple features such as eyelashes, cheek spots or noses depending on your design.
Sew small elastic loops to each side to hole your fabric mask on by slipping loops over ears.
Mardi Gras Party Gear
Let the Good Times Roll
How to Make a Basic Fabric Mask
Hand Molded Plaster Masks
Plaster molded masks can be created as eye masks or they can cover the full face and even the head and face. Here are the basic steps to making a molded plaster face mask using plaster and gauze strips over a simple mask mold.
How to Make a Plaster Face Mask
Paster cast gauze masks
Masquerade Masks, Mardi Gras Masks
More Masks and Mardi Gras
Mardi Gras Masks for Eyeglass Wearers
How to make a mask if you wear eyeglasses
If you need to wear eyeglasses for good vision you might not be able to find a mask that will work well or look good when you are wearing your lenses. In that case, you can create face paint that looks like an exotic mask and the eyeglasses will become part of the painted mask.
This video offers a good basic tutorial about how to design and face paint a Mardi Gras style mask for a person who wears eyeglasses. You can, of course, also use the same idea if you'd rather not wear a removable or bulky paper, fabric or paper mache mask for Mardi Gras.
Masquerade Face Paint
How to create a mask for a person who wears eyeglasses
---
Disclosure: This page generates income for authors based on affiliate relationships with our partners, including Amazon, Google and others.