Kids Crafts: Paper Masks
by Pastiche
Printable masks and paper mask crafts for children.
Fun and Easy Mask Crafts for Children
Kids love paper mask activities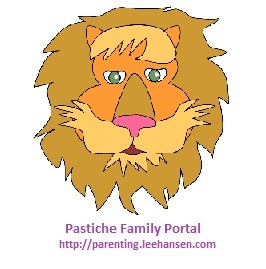 One of the most enjoyable kid crafts I've found is making paper craft masks. Children love to make masks for any reason, whether to mimic characters in a favorite book or video, for party activities, for holiday celebrations such as Halloween and Mardi Gras or for simple costume play.
Kids mask crafts are wonderful creative arts and crafts, and they're inexpensive. Often you can make a mask from recycled materials - so you're making crafts that are also green.
If you want to make a specific type of mask, you can find unique printable masks and mask templates available online or in books, free to print or copy for personal use or to use for classrooms and club activities. We've collected a list of free printable paper masks ... keep on reading for the links and a free mask download.
Ribbit! Frog Face Mask
Funny green frog mask, ready to print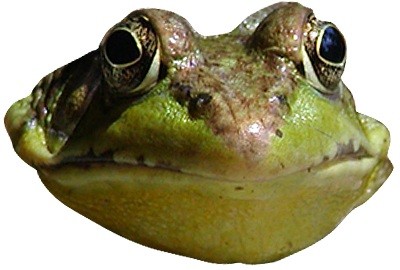 Paper Frog Face Mask
Funny Party Mask Crafts for Kids
Fun to make and fun to wear, printable party masks
Kids love to make funny masks. My daughter's favorite paper craft activity for birthday parties or holidays was crafting party hats and funny paper masks.

No matter what style party mask you make with kids -  paper plate masks, stick on disguises, head bands, eye masks, eye glasses or print and cut mask activity sheets -  kids love to make and decorate masks. Enjoy my selection of free childrens paper mask crafts.
Fun to make and fun to wear, printable mask patterns and printables will keep kids busy and creative for hours - making the masks and wearing them!
Day of Dead Skull Mask
Fancy Sugar Skull Printable Mask, Ready to Decorate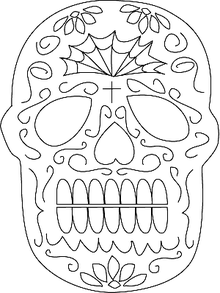 Sugar Skull Mask Craft
Instant Fun - Paper Masks Crafts for Kids
Simple, economical paper mask craft activities for children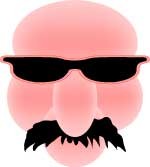 I've collected printable mask craft sheets for more than 40  years. I share my favorite paper masks here for you to download and make with your children or students. The paper masks in my free downloads and linked resources are all fun, free printable masks or mask patterns in full-size sheets, ready to print and use.
Some of the paper masks you'll find in this collection are coloring masks, ready for kids to decorate with crayons or markers; other free printable masks I've listed in this section are full-color paper craft masks. All you need to do with those is print, cut out and wear - fun, free instant masks!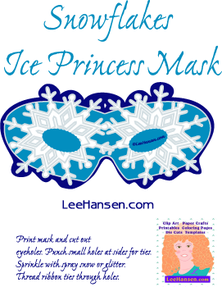 Free Printable Coloring Mask Craft Collections
Mardi Gras Mask
Fancy Feather Mask to Print, Cut Out, Decorate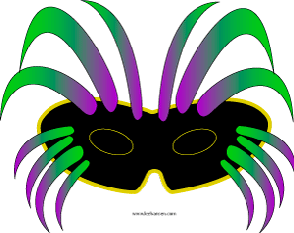 Fancy Mardi Gras Mask - Printable
Printable Mask Crafts and Mask Templates
No cost easy to make paper masks for kids
Printable Party Mask Mustaches
Boys LOVE Wearing a Mustache - Mario, Sheriff, Pirate Mustaches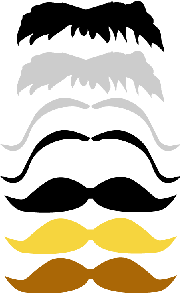 Mustache mask cut and print sheet
Mask Crafts Materials and Supplies
Use nontoxic supplies and recycled materials to make craft masks with children
Mask crafts are versatile and non-toxic when you work with kid safe materials. We like to craft masks from clean heavy weight paper, card stock, recycled cereal cartons and paper plates.
Decorate children's mask crafts with fabric or paper scraps, buttons, stickers, markers, paints, craft feathers, sequins, dried pasta, flowers or anything else you have on hand in the craft supply bin or cupboard. Tear up old colorful magazine pages to create paper bits to stick onto a mask. Use bits of yarn or shoelaces  to create ear loops.
Kids are creative artists and will enjoy making paper masks fron any clean safe paper source and embellishing materials you provide. Be sure to use non-toxic paints and glues and if you create eye or face masks, attach them to a stick or make ear loops to hold a mask onto a child's face.
Groovy Goggles Paper Masks
Print, Cut, Wearable Paper Eye Masks for Kids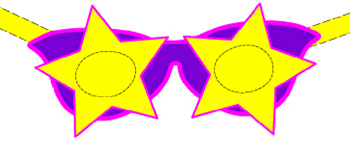 Funny Paper Mask - Groovy Goggles Printables
Related Articles
More Free Mask Crafts and Patterns
---
Disclosure: This page generates income for authors based on affiliate relationships with our partners, including Amazon, Google and others.