Medela Pump In Style Advanced Breast Pump
by AshleyB
After trying out many different breastpumps, the Medela Pump In Style Advanced came out the clear winner.
Medela Pump In Style Advanced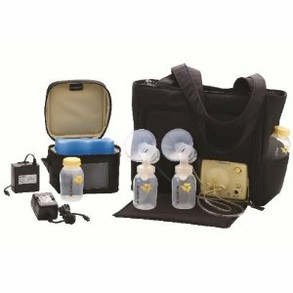 Medela Pump In Style Advanced
Why Have I Tried So Many Different Breast Pumps?
And How I Discovered The Medela Pump In Style
I have tried out a grand total of seven different breast pumps over the last ten years. You may think this is going overboard, and for the average mom, it probably is.
But, if I am being completely honest here, I am not your average mom. I just had my sixth baby in May. I have been breastfeeding for a long time, and although I have never had to pump full time, I do like to keep a good supply of breastmilk in the freezer for emergencies and times when I need to be away from my baby.
When I had my first baby I was 21 years old, and my husband and I were completely broke. So, I started off with a completely manual hand pump that cost $9.99. It was so uncomfortable to use, and I was so sore afterwards that I never used it again.
The next pump was a tiny step up, a battery operated single pump, and I was less than impressed with that one too. Over the years I moved up the breast pump chain as finances would allow. One day, in a consignment shop I found a used Medela Pump In Style. I immediately bought it and fell in love!
I loved that Medela so much that when they released the Medela Pump In Style Advanced, I saved up my money, and bought it brand new off of Amazon.
The Medela Pump In Style Advanced Breast Pump
Click Below For The Best Price
Ad
Why Is The Medela Pump In Style Advanced The Best Breast Pump?
After using so many different breast pumps I can confidently say that the Medela Pump In Style Advanced is the best breast pump available for purchase.
The pump has varying speeds and suction levels, so you can set the pump to the levels that keep you comfortable. This is extremely important if you are pumping multiple times a day.
The Pump In Style also has a new technology called the 2 Phase Expression technology. This technology mimics a baby's natural sucking pattern, which is quick light sucks at the beginning to stimulate let down, and then stronger deeper suction to quickly extract the milk.
The pump has a "let down" button that you push once you feel your milk let down. This signals the pump to deepen the suction level.
Once I started using this technology, it shortened my pumping sessions by five minutes! I was so excited! The Medela Pump In Style Original did not have the 2 Phase Expression technology, just the adjustable suction and speed.
I also really like the removeable cooler, it does an awesome job, paired with the 12 hour ice pack, of quickly cooling the breastmilk, and keeping it cold until I can put the milk in the refrigerator or freezer.
The fact that you can remove the cooler makes it SO much easier to clean. The original Pump In Style had a cooler, but it was attached to the bag, so cleaning it was a nightmare.
The tote bag is roomy enough to keep all of your pumping supplies including the breast shields, milk collection bottles, and tubing, along with a few other things that make pumping milk easier.
I like to keep a few bottles of water in the cooler, as well as a few nursing cookies. I also keep a book to read and my hands free pumping bra.
---
Disclosure: This page generates income for authors based on affiliate relationships with our partners, including Amazon, Google and others.