Modular Home Floor Plans
by kevinw1
Discover the best places to find modular home floor plans (and plans for mobile homes too), plus find out what the differences are.
Looking for a Modular or Mobile Home?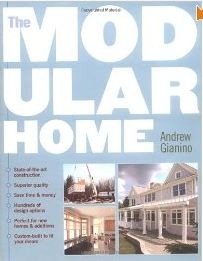 This lens shows you some of the options for low and high end floor plans for modular homes and mobile homes (manufactured homes), and gives sources for many more plans so you can research your new home.
Modular home floor plans are often very similar to those available for site-built homes - there is a great deal of flexibility available and you can even customize the plan you select before your home is built. Mobile home floor plans, on the other hand, tend to be more standardized as you're working within a standard size footprint of a single- or double- wide home. Even here, though, you can often make tweaks, and of course many mobile homes have additions, porches, decks etc added after they are placed on their lot.

Photo credit: Modular homes book on Amazon
Modular Home, Manufactured Home, Mobile Home: What's The Difference?
Let's get this question out of the way first, as many people are confused by these different names. Google appears to be as confused as everyone else, as searching on "modular home loan", for example, brings up all kinds of sites about mobile homes, and even the articles which talk about modular homes are often, when you read the text, actually talking about mobiles.
There are several types of differences to be aware of. They include which building code governs the construction; the types of material used in the construction; and how the building is appraised by banks for lending purposes.

Building Codes

Modular home construction is governed by the same codes that apply to any site-constructed home. In the USA, modular homes are constructed according the International Building Code (IBC), IRC, BOCA or the code that has been adopted by the local jurisdiction.

Mobile homes (also called manufactured homes) in the US are constructed according to the HUD Code and they are considered to be of lesser quality than a modular home.
Building Materials
The materials used in buiding a modular home are the same as those used in site-built homes. Wood frame floors, walls and roof are typical. Some modulars can even include brick or stone exteriors, granite counters and steeply pitched roofs. All modulars are designed to sit on a perimeter foundation or basement. Most companies have standard plans. However, all modular buildings can be custom built to a clients specifications. Today's designs include multi-story units, multi-family units and entire apartment complexes.
Mobile homes are built with a steel chassis that is integral to the floor system, and actually be used to tow the home to a new location. Buiding materials and standards may be lower than those for modular or site built homes - for example, smaller wall studs with a narrower wall cavity and less insulation. Newer mobile homes tend to have better specifications than older ones.

Lending Requirements
Mobile homes can often require special lenders - regular banks and mortgage lenders may not handle them at all, or may require special terms such as a specific mortgage length matching the projected life of the mobile, or a higher down payment percentage. A modular home is more likely to be accepted by a bank for a regular mortgage.
Modular Home Floor Plans - Sources
Mobile Home Floor Plans - Sources
More useful information on Modular Homes
Modular Building Systems Association
The national trade association representing the legislative and regulatory interests of the modular housing industry.
Modular Homes
National network of modular home builders & manufacturers along with general information on modular homes and a large database of modular home plans.
Modular Building Institute
The international trade association representing non residential modular construction professionals.
Inspectapedia Modular home section
A Photo Guide to Modular Home Construction Identification & Inspection. Very detailed and useful information, especially if you are planning on buying a modular home which is already built.
Modular Homes Network
The place to find modular and manufactured home manufacturers and builders in your area.
---
Disclosure: This page generates income for authors based on affiliate relationships with our partners, including Amazon, Google and others.