Renovation Ideas for your Home
by kevinw1
Lots of inspiring renovation ideas for updating your home to increase its comfort, function and value.
47 Renovation Ideas to Inspire Your Imagination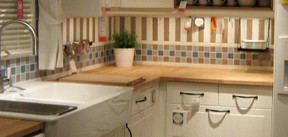 If you want to make changes and improvements to your home, but you're not sure exactly what you'd like to do, you're in the right place! Here's a great collection of renovation ideas to get your own imagination working on changes you can make.
Renovation Ideas for Ceilings, Walls, and Floors
Customise ceilings
If you have an attic above the room, can you make it a cathedral ceiling?
Can you add or remove beams or mouldings, remove "cottage cheese" or add custom texturing?
How about a tray ceiling, or soffits round the edges?
Paint your ceiling a color instead of white!
Add beaded board paneling with 1x's covering the joins.
Wallpaper the ceiling.
Customise walls
Wainscoting or full-height wall covering can be built from traditional wood panels or planks, ready-made plywood "beaded board", drywall panels, masonite paneling, even heavily-textured wallpaper such as Anaglypta, with wood mouldings around.
Add a chair rail, picture rail, crown or cove mouldings.
Paint - different colors for different wall sections or different walls.
Decorative paint effects (the over-the-top ones are out of fashion now, but subtle can still work)
Tile wainscot in some rooms.
Customise floors
Refinish wood floors that are worth keeping
Clean and regrout (different color?) good tile floors.
Paint vinyl floors for a temporary fix
Paint wood floors that are beyond refinishing.
Add hardwood, engineered wood, laminate:
Refinish in tile in ceramic or stone
Throw down new area rugs
Install wall-towall carpet, linoleum (can be installed with patterned inlays), sheet or tile vinyl
Use cork in several different forms for a warm, sound-insulating, resilient floor
Beautiful inlay work is possible in multiple woods, and also in linoleum, stone, or tile
Try historic mosaic patterns in hex tile, or modern small square mosaics in everything from one color to amazing custom shadings and patterns.
Consider using thermal mass where you get sun hitting a floor in the winter, to absorb heat during the day and release it at night
IKEA kitchen renovation ideas
More Ideas for Your Home's Exterior
Customise the exterior
Paint trim and wall sections different colors (play with B&W photos first to see how different options will look).
Add or change trim.
Change doors.
Add or remove or change a porch or deck.
Put a second-floor deck on top of a closed in front porch, or on the roof!
If you need to re-roof, consider a different material. Long-lasting metal comes in everything from white to reflect the sun's light and heat, through a wide range of wild or subtle colors to black.
Customise doors
If you have historic doors, don't replace them unless you must
Plain-jane doors can be replaced or changed with mouldings or smoothed out with new door skins.
Paint can bring out or hide texture or mouldings or panels.
Trim can be improved if it's been originally applied in a skimpy way, or if historic moldings have been removed or replaced.
Customise windows
Add or change moldings
Replace windows or just sashes
Paint in muti-colored schemes to bring out moldings and contrast with the room, or to blend in.
Window treatments can be added or changed: shutters, blinds, shades, drapes, curtains, insulating panels.
Consider interior or exterior storm windows if you have historic single-pane windows that are worth keeping.
Renovation Ideas for your Home's Systems
Energy-efficiency or energy-generating renovations
Solar PV (photovoltaic) electricity-generating system
Solar water heating
Solar air heating through the walls
Insulation and weatherstripping everywhere.
Emergency-proof your home by having multiple systems for each necessary aspect
Heating (electricity, gas, wood, solar...)
Cooking (electricity, gas, propane, wood...)
Water (city water, well, spring, rainwater collection...)
Sewage (regular plumbing system, greywater system, composting toilet...)
Lighting (regular AC power, solar panel, wind-up lights, kerosene lamps, candles...
What are your renovation plans?
Renovation Ideas in Books
The Smart Approach to Home Renovation

Thinking about remodeling but perhaps a little unsure of what to expect? The Smart Approach to® Home Renovation is the latest title in the best-selling series of Smart ...

$46.88 $34.0
The Modern Kitchen Pantry: How to Design, Create and Use Your Pantry

If you've ever wanted a pantry for your home kitchen - or to make better use of the one you have - this booklet is for you. Immensely practical, with the help of author and ...

Only $3.99
All New Kitchen Idea Book (Taunton Home Idea Books)

With some 370 color photographs from todays leading designers and architects, this book will help you create a kitchen for any style and budget. A complete guide, the All New ...

$11.74 $7.76
Basement Ideas that Work

Finding extra living space without adding on might be only a flight of stairs away. Homeowners with a basement have the unique opportunity to turn unused space into a great ...

$36.14 $45.38
Bathroom Ideas that Work

From the publisher of the bestselling Idea Books comes a new design sourcebook series that moves beyond inspiration and provides the essential information homeowners need to ...

$13.99 $7.45
Ideas and How-To: Additions (Better Homes & Gardens Decorating)

A wealth of inspiring ideas for adding living space, from a modest bumpout to a new room to a full second story.Ideas and before-and-after floor plans for every type of ...

Only $94.8
---
Disclosure: This page generates income for authors based on affiliate relationships with our partners, including Amazon, Google and others.