Monster High Costumes
by costumeideas
Monster High costumes are sure to be among the most popular Halloween costume ideas this year!
Monster High Costume Ideas
With the popularity of the newly released Monster High dolls, you can be sure that Monster High costumes will be extremely popular this Halloween.
Most of the characters depicted are classically inspited by old horro movies and popular fiction.
A few of the more common examples include, Medusa, zombies, werewolves, and even Dracula. Of course, our personal favorite is Frankenstein's monster; affectionately known as Frankie Stein.
Want to See More Monster High Costume Ideas? If so, CLICK HERE
Frankie Stein Costume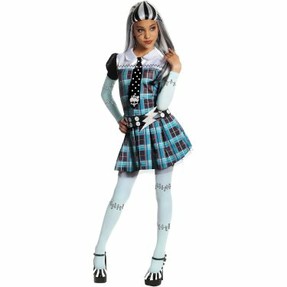 Frankie Stein is perhaps the most popular character from Monster High!
Frankie is rather young, only fifteen days old to be precise, and was created by a crazy scientist; also known as her dad. She is typically depicted as having green skin and stitches.
This frankie stein costume comes complete with a precious plaid dress that features green sleeves and a classic lightning bolt, a la the story Frankenstein!
Of all of the Monster High costumes available this year, this one will be sure to sell out fast.
Act now if you want to buy one for your daughter this Halloween!
Clawdeen Wolf Costume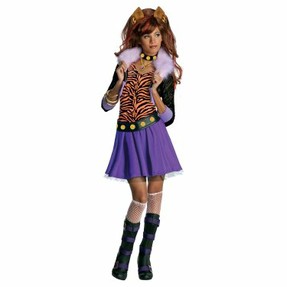 Clawdeen is also a super popular Monster High character!
Quite obviously, she is the daughter of a werewolf and is covered in fur. Like most teenage girls, she has earings in each ear and is generally depicted as an outgoing and friendly girl.
This Clawdeen Wolf costume comes completewith a sweet looking, imitation fur lined jacket that has an attached tiger striped undershirt.
A precious purple skirt, matching choker and leather-like belt round out this look perfectly!
Draculaura Costume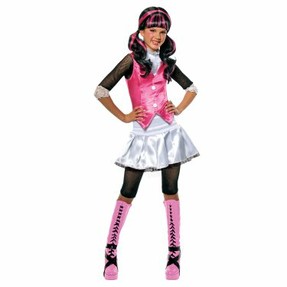 Draculaura is perhaps my favorite character. as the daughter of Count Dracula, she is a vampire to be sure; just a rather friendly one. In fact, she does not even drink blood and is a vegatarian.
This Draculaura costume comes complete with a wonderful white skirt that features attached leggings.
See More Monster High Costume Ideas
It also comes with a white shirt that has Draculaura's classic pink vest attached.
A cute pair of pink boots would round out this Draculaura costume perfectly!
Lagoona Blue Costume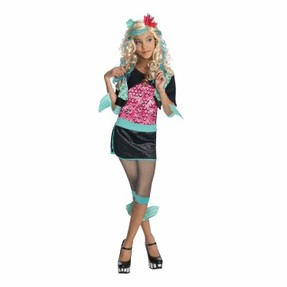 Lagoona Blue is perhaps the most intriguing character from the Monster High line of costumes.
As the daughter of the Creature from the Black Lagoon, Lagoona Blue loves to swim. She even has a pet piranha named Neptuna that she keeps in her purse.
<-Click Here to Buy Monster High Costumes->
This Lagoona Blue costume comes complete with a gorgeous jacket, a shirt that is designed to look like pink scales, a cute skirt with attached boy shorts and leggings that look like scales.
One thing is for sure, you simply cannot wait too long before you buy these Monster High costumes. They are sure to sell out fast!
---
Disclosure: This page generates income for authors based on affiliate relationships with our partners, including Amazon, Google and others.