Myanmar Travel Information - What To Wear
by Lissie
Myanmar (Burma) is a conservative Buddhist country. Its highly inappropriate to dress as if you were on a Thai beach.
Myanmar Tourism - Undeveloped
Travelling to Myanmar is not quite the same as planning a beach vacation in Thailand. Myanmar, sometimes known as Burma, has been out of the mainstream of SE Asian tourism for long time. In 2011 there was a huge increase in arrivals with about around 300,000 visitors - but in comparison to Thailand's 14 MILLION arrivals - this is a sleepy backwater. 
What does this mean for the tourist? You're a bit unusual if you stick to the tourist spots of Yangoon, Mandalay, Inle Lake and Bagan. If you venture outside of these you are a lot unusual and you will be stared at and commented on anyways. 
If you happen to European, blond, tall or have a beard or curly hair you will garner even more interest - as the locals are none of these.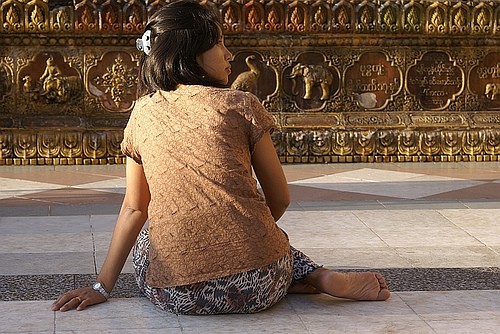 Woman at Shewdagon Pagoda, Yangoon
Myanmar is a Buddhist Country
Arguably Myanmar is one of the world's most Buddhist countries, with over 85% of the population claiming allegiance to the ancient religion.  Buddhist tend to dress modestly, and Myanmar is one of the few countries in the world where you will see the majority of the population, still wearing the traditional long sarong-like garment known as the longyi, which looks similar to a sarong or dhoti worn in other countries in Asia. 
For a tourist - this means that the Burmese don't walk around half naked.
What does half naked mean? Basically male or female you should be walking around topless - even menwith shoulders and upper arms exposed (no shoe string tops) bare midrift - no hipsters or cut off tops 
Most local women will wear long skirts, longyis (which are ankle length) or trousers. Men will wear trousers or longyis. 
Yes I know its hot - and you can probably get away with wearing shorts - but bring long ones: to the knee or below. 
Every time you visit a building, pagoda, stupa, or home, you need to remove your shoes. And your socks if you are wearing them. You do NOT want to be wearing shoes if you are sightseeing - instead you need slip off sandals, tevas or similar, which you can easily remove and either take with you or leave at the temple entrance. 
There is however no prohbition about covering you head in religious areas, or indeed a requirement to do so.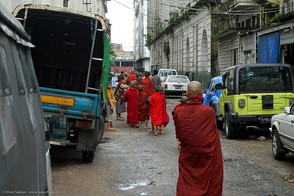 Monks in Yangoon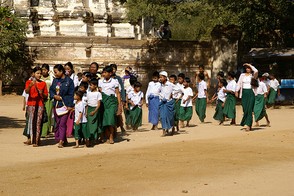 School Group in Bagan, Myanmar
Travel Packing Clothes List for Myanmar
Myanmar is generally hot and humid except in the highlands in the "winter" season (November to March) when it can get cool at night. 
Although you can probably walk around for weeks as a woman wearing shoe-string straps and short shorts, don't go home and whinge that the locals stared at you and wouldn't really talk to you? Lets face it if someone walked around your home town wearing crazy clothes and smelling a bit - would you want to talk to them?
No one will probably tell you that you are dressing inappropriately -and almost nothing you do will make you pass as a local - but you can at least attempt to vaguely adhere the local norms of dress.  Western women travelling wearing a longyi have reported much approval from local women - its a nice way to make a ocnnection even if you don't share a language.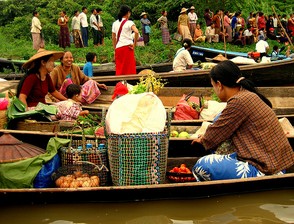 Inle Lake market, Myanmar
For Myanmar for a month long trip I'd pack something like 
3 shirts, short sleeve  
one warmer top for a/c buses and the northern hills  
2 pairs of mid-calf 3/4 length pants  - 
sarong - or buy a longyi in Yangoon. I always have a sarong with me because its so useful as a cover up on the way to the bathroom, a sheet, a towel or even a bag 
one pair of tevas or other lightweight shoes (I personally can't wear thongs all day walking)  - 
one pair of light weight walking shoes  -
two pairs of socks, 3-4 pairs of underwear  -
one swim suit - 2 piece tankini for women - can double as underwear 
sun hat 
Suggested Travel Gear for Myanmar
Ad
How To Tie a Longyi in Burma - for men
Bonus - includes the version for playing football!
Vacation Packing Tips
I Wrote the Book!
More Travel Articles By Me
About the Author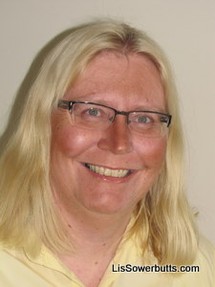 I'm Elisabeth Sowerbutts, I took my first trip when I was about 3 years old, and I haven't really stopped travelling since. I've been to every continent, except Antarctica, and done everything from backpacking to being a business traveller. I spent six months solo travelling through South America and another six months backpacking through India, Nepal and SE Asia. 
My partner didn't used to travel much but I've passed the bug onto him now. Our more recent adventures include Europe in the middle of winter, Thailand, and 35,000km's through Australia's outback. 
I've lived in England, Scotland, Canada and Australia, and currently I'm back home in New Zealand 
I write a popular travel tips blog called: Lis's Travel Tips. 
I've also published my first book on Vacation Packing: Save Your Back, Time and Money
---
Disclosure: This page generates income for authors based on affiliate relationships with our partners, including Amazon, Google and others.