Nerf Vortex Nitron Blaster
by costumeideas
The Nerf Vortex Nitron Blaster combines the excitement of toy guns with a few amazing advancements in technology to create the perfect Christmas gift idea this year.
Vortex Nitron Blaster by Nerf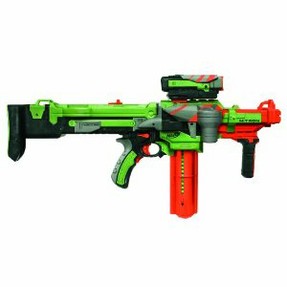 Are you looking for a realistic toy blaster that actually shoots with the range and accuracy of a real gun? If so, the Nerf Vortex Nitron Blaster is just what you need!
K-Mart recently released their Top 15 Christmas Toy Guide for 2011; also known as the Fab 15. This list of fifteen toys is what their market research indicated will be the hottest gift ideas of the year.
While we may not agree with everything that appears of that list, including this realistic blaster is sure to be spot on!
Buy a Vortex Nitron Blaster
Nerf Vortex Nitron

The first fully automatic, 20-disc, clip-fed blaster in the NERF VORTEX line lets you rule the battlefield! High-tech features include an electronic scope with pulsing lights ...

Only $90.0
Nerf Vortex Praxis

Pump-action, 10-disc blaster is customizable so you can enhance your fire control or modify your blaster for mobility! With removable 10-disc magazine for maximum firepower ...

Only $44.45
Nerf Vortex Proton

Compact, fast-loading, single-shot disc blaster is ideal for getting you out of tight spots or blasting off final shots to win the battle! With quick snap-load so you can load ...

Only $49.95
NYA Nerf Vortex Ammo Refills

Runnin' low on ammo? Here you go! Reload with this Disc Refill Pack of 10 ammo discs that work with any Nerf Vortex blaster, including Praxis, Nitron, Vigilon, and Proton. ...

Only $9.95
Nerf Vortex Tech KitOnly $49.98
Nerf Vortex Nitron Blaster Product Specs
What Features Can You Expect?
When it comes to you guns, more often than not buyers are rather disappointed. Usually, they are poorly made from cheap materials and stand virtually no chance of actually hitting a moving target. This season, Nerf changed all of these preconceptions by introducing a toy gun that acts like a real gun.
This Nerf Vortex Nitron Blaster comes complete with twenty foam bullets. Unlike the traditional dart-like projectiles used in the past, this blaster shoots soft rubber bullets that are shaped like tiny green discs. Furthermore, these projectiles are made from a rather soft substance that won't hurt small children, pets, furniture, or walls when hit; even from very short distances.
This Nerf blaster uses a new shooting mechanism, known as a flywheel system, to lauch the rubber projectiles at targets more than twenty to thirty feet away. Despite being able to shoot a rather long distance, it is also extremely accurate.
How much fun would this be to set up a shooting range and watch your kids knock them down one bottle at a time?
Vortex Blasters by Nerf
If you already own other Vortex or N-Strike mission kits, you do not need to worry as this Nitron blaster is fully compatible. It comes complete with a magazine full of twenty bullets. Additional magazines and bullets can be purchased separately. If you are going to do battle against your friends, you will need addition ammo so you may as well grab some from the start.
Perhaps our favorite feature of this amazing toy gun is its rapid fire functionality. While it may be impressive being able to shoot a long distance, I am more concerned with being able to hit my friends as fast as possible.
Where to Buy the Nerf Vortex Nitron Blaster
While it is certainly true that you may be able to find the Vortex Nitron Blaster at your local store, you won't be able to find a better price that the one displayed here. Since we use the web's most trusted supplier to fulfill our orders you can be sure that you are receiving the best product at the cheapest price available.
Other Nerf Blasters for Sale
---
Disclosure: This page generates income for authors based on affiliate relationships with our partners, including Amazon, Google and others.