Paper Dresses odd 1960's fad
by wcascade40
Paper dresses enjoyed a brief, extremely popularity with women in the 1960's.
Scott Paper gets into high fashion
The sixties was the time for some extreme fads especially in the field of fashion. Do you remember Nehru Jackets, Go-Go boots and Mini skirts? Well, a paper towel company decided to get in to the act.
Scott Paper company, in Spring, 1966, introduced a disposable paper dress for only one dollar. The dresses were actually offered as part of their new lines of toilet paper and paper towels. It was just a silly little item they offered for publicity.
The dress was made of thick, fire-resistant paper, a little thicker than paper tablecothes. The dresses from Scott were simple, sleeveless shifts with 2 front pockets. They came in different patterns and in 4 sizes. The dresses could not be washed and were meant to survive just a few wearings before being thrown away.
Party Dress to match your napkins and tablecloth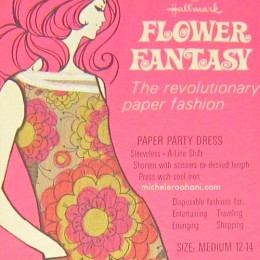 paper dress
For a while this was a big fad. The Scott company was overwhelmed by demand and sold production rights to other companies who came out with dozens of different designs, ranging from mini to maxi dresses. Most of the dresses were very colorful and some contrained product advertising. The dresses were very cheap, just a dollar or two.
Hallmark Cards come out with their own line, the dresses matched their paper napkins. Soon other, non-paper companies also put out their own dresses. The Campbell's soup dress was very popular, as were the dresses from Breck Shampoo and Betty Crocker. Some politicians made paper dresses as giveaway advertising. For a short time, paper dresses were the height of American fashion, at least for the young.
Like all fads this one ran its course. The dresses weren't that comfortable and they only came in a few sizes. The cheap paper didn't stand up to any tailored dresses, so they were loose and looked bulky.  The dresses must have been rather scratchy. But for a while in 1968-1969, a paper dress was a cool dress to wear.

Personally, I remember traveling as a teenager, about 1977, and buying a paper bathing suit. My family was staying at a hotel with a pool and I forgot my bathing suit. But the front desk had paper bathing suits for sale. It was a couple of dollars and looked like tablecloth fabric. It was scratchy and ugly and I only wore it once. if that is what paper dresses felt like, I am not surprised the fad quickly ran its course.
---
Disclosure: This page generates income for authors based on affiliate relationships with our partners, including Amazon, Google and others.