Peanut Butter and Jelly Muffins
by WebWriter
If you like peanut better and jelly sandwiches, you'll love these peanut butter and jelly muffins that are filled with a delicious surprise inside.
Yummy Peanut Butter and Jelly Muffins
Peanut butter muffins with a tasty surprise inside - jelly! This is one treat that any peanut butter and jelly sandwich lover is sure to appreciate. These muffins are easy to make, just be sure to cool them completely because the jelly in the center gets very hot. Serve as a breakfast or brunch muffin, for a snack, or pop in your child's lunch box.
Peanut butter and Jelly Muffins Recipe
Peanut Butter and Jelly Muffins Ingredients:
1 3/4 cups all-purpose flour
1/3 cup sugar
2 1/2 tsp. baking powder
1/2 tsp. salt
1/2 cup creamy peanut butter
1 large egg
3/4 cup milk
1/3 cup butter, melted
1/2 cup strawberry, raspberry or grape jelly
1 12 cup muffin pan
12 paper muffin liners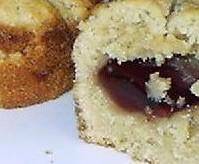 Peanut Butter and Jelly Muffins Directions:
Preheat the oven at 375 degrees.
Line a muffin pan with 12 paper muffin liners.
In a large bowl, combine flour, sugar, baking powder, and the salt; set aside.
In a separate bowl, mix the peanut butter with the egg.
Add the milk. Works best if you add a little at a time.
Add the butter; mix well.
Pour the wet batter into the dry flour mixture; stir well but gently. The batter will be stiff.
Fill each muffin liner with a heaping tablespoon of batter.
Use the back of a spoon to put an indentation in the center of each muffin and then add a teaspoon of jelly into the center of each indentation.
Cover the jelly with another heaping tablespoon of batter. Each muffin cup should be about 2/3 full.
Spread the top of the batter on each muffin until no jelly is visible.
Bake the muffins for 17-20 minutes.
Remove from the oven and cool for a few minutes before removing and transferring the muffins to a cooling / baking rack.
Completely cool the muffins before serving. The jelly centers can get very hot.
Caution - Peanut Butter Allergies
Many children are allergic to peanut butter. Peanut butter can cause reactions, such as anaphylactic shock. Because of this, several schools have even banned peanut butter. So please, check with you child's school to make sure they haven't banned peanut butter before you stick these peanut butter and jelly muffins into your child's lunch box. If the school has not banned peanut butter foods, you should still instruct your child not to share their muffins with other kid's at school, just in case the person they share with has an allergic reaction. 
---
Disclosure: This page generates income for authors based on affiliate relationships with our partners, including Amazon, Google and others.