Poem--An Old Farmhouse
by MaxReily
A poem I wrote after being inspired by an old house in Nebraska, seen while traveling through by passenger train.
An Abandoned Farmhouse
The year was 1986. We (my mom and I) were enroute from Ohio to California for a visit with my sister. Traveling aboard Amtrak, at about midnight we boarded a smaller train near Canton, Ohio , bound for Chicago where we'd catch the California Zephyr. From Chicago it would be a two and a half day journey across the Plains states, then on to Colorado, Utah and Nevada, and finally to our destination in California. We'd decided to go by train, because at that time, I adamantly refused to fly. (I've since had to abandon my non-flying status, but I still don't like flying! )
Aside from requiring us to use a total of five days of our vacation for traveling time, there was nothing not to love about getting there by train. We saw the Rockies, even went through part of them in a tunnel, watched herds of antelope roaming the plains, got a great look at  the beautiful Mormon Tabernacle in Salt Lake City--and so much more without even needing to get off the train.(We did disembark long enough to play some slots during a stop in Reno) If you ever want to be impressed by the sheer vastness of the U.S.A--travel cross-country by train! We were so in awe of the majestic scenery on the way out that we didn't have time to notice the more mundane things.
However, on the return trip, we were able to notice and appreciate some of the more everyday sights. In Nebraska, I happened to see an old farmhouse, L-shaped and large--obviously at one time it had been a cherished family home. But by then it was abandoned, standing alone in the bare landscape, close to a lonely stretch of highway. There was something about that house that spoke to me. I just knew that it had a happy history, even though it looked so desolate then. And I  knew that someday I'd write about the house. The following poem, "An Old Farmhouse" was written with that house in mind.
Have You Ever Traveled By Train?
What did you think?
Lonely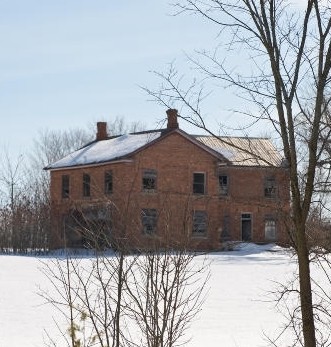 Farmhouse
An Old Farmhouse
An Old Farmhouse

By a stretch of lonely highway
Stands a sad, abandoned house.
Where the lane once welcomed loved ones
Now the traffic hurries south.

Generations lived and loved here
In the comfort of her arms.
Then good years turned to bad years
And families left the farms.

Windows once aglow with lamplight
Only stare with empty eyes,
And rooms that rang with laughter
Are filled with windy sighs.

Still, she waits beside the roadway
And sometimes, through the noise
Come the echoes of the old days
Of happy girls and boys.

And on the highway, traffic rushes by.
All Rights Reserved/Copyright 2010 by Maxine Davis
---
Disclosure: This page generates income for authors based on affiliate relationships with our partners, including Amazon, Google and others.