Roaring Twenties Costumes
by costumeideas
Roaring Twenties Costumes are a great way to celebrate Halloween or any other costume party!
Roaring Twenties Costume Ideas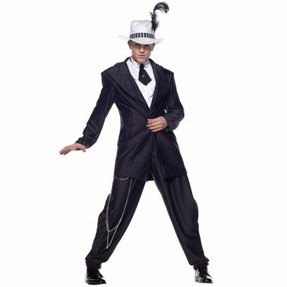 Roaring twenties costumes are typically among the most popular, and in demand, outfits at any Halloween party.
Gangster Halloween costumes are a throwback to the roaring 20s. In a time where organized crime bosses were treated like celebrities and flapper girls were changing the stereotypical view of how a young women should act, being bad became ultra cool.
Wearing one of these costumes will almost guarantee that you will have men straining their necks just trying to get another glimpse of you as you pass on by!
Pink Gangster Moll Costume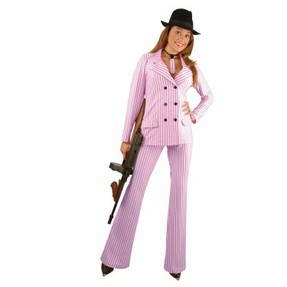 Are you the boss, or the boss' girlfriend?
Either way you will certainly be in charge while wearing this breath taking pink pin striped double breasted suit.
Matching pants and a devastatingly cute tie complete this outfit perfectly.
This female gangster costume is available in a wide range of sizes including adult sizes small (5-7), Medium (8-10), Large (11-13), and X-Large (14-16).
Miss Mafia Costume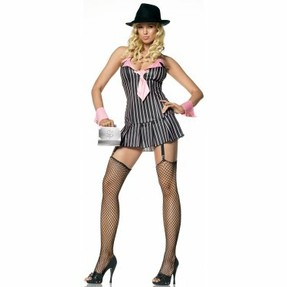 You will look absolutely stunning in this sexy gangster costume.
This Miss Mafia costume comes complete with a pink and black pin striped dress, a matching pink tie, and beautiful pink cuffs with dazzling dollar signs.
If you are concerned about the length of the skirt you could always add either a sexy pair of fishnet stockings or a pair of black pin striped slacks.
Regardless of the direction you choose you will have guys falling all over themselves to get to you.
Roaring 20s Costumes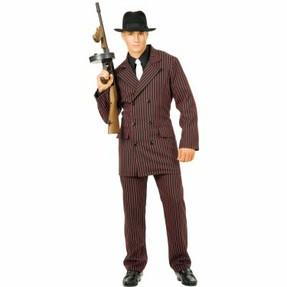 Roaring twenties costumes depict the free-spirited lifestyle during the 1920s. Known as the jazz age by many, this era has been a fascination for thousands of people during the past twenty years.
Once the 18th Amendment to the United States Constitution was passed, mobsters quickly realized that it was a lot more profitable to provide alcoholic beverages to a demanding public than it was to bully people into paying for protection. Banning alcohol fueled our desire for these beverages making the mafia increasingly popular.
This increased demand gave rise to the popularity of bootlegging, which is just a fancy way of saying that alcohol was smuggled into the country; often from Canada or Mexico. Mafia bosses and their henchmen would then resell it at popular speakeasies (i.e. elicit nightclubs).
As the power and prestige of mob bosses continued to increase, America was introduced to a few of the most notorious gangsters ever known. Al Capone, Jack Dragna, Micky Cohen, Lucky Luciano, and Bugsy Seagal were just a few of the more famous mafia bosses.
This year, consider dressing in one of the always popular roaring twenties costumes? Men, you will look handsome in a pin striped suit, prop Tommy gun, and stylish fedora hat while you ladies can easily find a sexy gangster costume to fit your inner personality; whether sexy, sweet, or a little of both!
 Be dangerous and unpredictable, even if it is only for one night of the year!
---
Disclosure: This page generates income for authors based on affiliate relationships with our partners, including Amazon, Google and others.