Why I Love My Rockwell Versacut Circular Saw
by Myniche
When I was growing up, I always wanted to be able to do what my Dad did around the house. This handy tool helps me to do that now!
How I Got My Versacut Circular Saw
When I was a boy, I often marvelled as I watched my Dad create things in his garage workshop. He was a policeman full time, but he was also a skilled carpenter.  He spent his days off doing work for people around our town, and sometimes I was lucky enough to go along as his helper. I loved going along even if my helping was really just handing my Dad the stuff he asked for as he worked.
My Dad died when I was still pretty young and my Mom sold off his tools to get some extra money. I guess my wife must have heard me talking about that at some point, because she's patiently put up with my strange addiction to buying tools that I don't put to use nearly enough.  One recent purchase has been getting put to use though.  That tool is my new Rockwell Versacut Circular Saw.
Rockwell RK3440K VersaCut Circular Saw
Rockwell RK3440K VersaCut Circular Saw 4.0 Amp

Versacut mini circular saw. Powerful mini-circular saw cuts a variety of materials including tile!; slim ergonomic design is easy to manage and maneuver; laser indicator helps ...

Only $118.34
A Mini Circular Saw That Gets the Job Done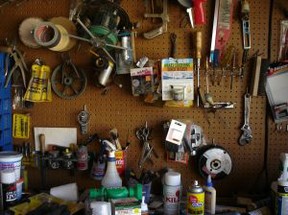 As I mentioned, I've bought a lot of tools over the years.  I've aquired a lot of them at estate sales and garage sales.  These were mostly the more expensive power tools.  Things I didn't want to pay full price for (because I don't use them enough) but I wanted to have for some reason.  I actually bought two different full size circular saws over the past two years but I never liked the bulkiness of them.  Every time I used them, I felt like I was wrestling a dinosaur.  Since I didn't really have a whole lot of use for them, they ended up on a shelf.
Recently, a friend's house suffered some serious water damage.  He asked if I would help him as he worked on renovating his basement/gameroom.  When I went to help him, he put me in charge of cutting some wood for the floor.  That is when I was introduced to the Versacut mini circular saw.  This Rockwell saw was easy to handle and it zipped through the wood like a knife through butter.  Within a few cuts, I felt very comfortable holding it with one hand.  It also had a built in Laserguide that my old clunker models didn't come equipped with.  Very nice.  I did a bit of research and found that Rockwell tools received a lot of good reviews.  That was enough for me.  I was sold.  
Now that I've had a chance to put the Versacut to work on my own projects, I have found that it is plenty tough to take on anything I've been able to throw at it.  This versatile Rockwell saw comes with three different blades.  One is for wood, another for metal, and the third is a diamond coated blade meant for cutting tough stuff like ceramic tile.  I plan on putting that to use in the Spring when we get rid of some cheap plastic tile that has been "decorating" our downstairs bathroom since we purchased our house.  When I cut tile before, I had to rent a HUGE tub saw.  Just the cost of that was more than what the VersaCut saw costs.  Live and learn.
Rockwell Saw Specs and Features
If you are looking for a lightweight, easy to use saw with a lot of "oomph" for its size, the VersaCut saw is a top prospect.  I found it selling on Amazon for a very good price.  It was even eligible for their Super Saver Shipping.  The saw comes with the three blades I mentioned, a carrying case, a guide for edges, a dust attachment and a baseplate.  I have really come to appreciate the maneuverability of this tool.  It has a maximum cutting depth of 1 1/16", so you won't be able to slice straight through 2 x 4 boards, but if you need to cut with control and precision, you should take a look at the Rockwell Versacut circular saw. 
Other Rockwell Saws and Tools
---
Disclosure: This page generates income for authors based on affiliate relationships with our partners, including Amazon, Google and others.