Save Money This Holiday Season
Do you always end up with mountains upon mountains of bills come the New Year? Check out these easy tips to save money this holiday season!
More Money in Your Pockets
Consumer research study through 2011 annual survey found that the average American shopper is going to spend on average $600 on gifts for the holiday.  The amount of money has decreased $20 from last year, but the point of the matter is…people are still spending on average of $600!  That is not including money spent on extraneous Christmas related things such as throwing Christmas parties, sending out Christmas party invitations, and so forth.   In this horrible economy, we are all being a little more frugal and conscious of how we spend our money.  This holiday season, you can have the perfect Christmas without spending an arm or a leg. 
Rethink Your Holiday Décor
Each year I am tempted to buy a ton of Christmas décor to make my home look like something straight out of a Pier 1 ad.  However, much of what they are trying to sell us is extraneous.  This year stick with just the basics.  Get in some lights on the shrubs of your house, get some tinsel, get a couple of small wreaths and you are set to go!  Some houses deck out their yard with as much as possible, but that is not necessary.  For the inside of your house, consider making some of your own Christmas decorations.  If you have kids, it's the perfect opportunity to spend some time with the family.  Have the kids make some Christmas arts and crafts, then put them around your house!  If you want to start saving for next year, keep up with the after Christmas deals and sales a week after Christmas.  I usually stock up on items that we tend to use every year such as Christmas LED light bulbs, Christmas ornaments, and so forth. 
Holiday Grubb
Get your scissors out and prepare to clip out some coupons.  The best way to save money on food for the holidays, or in general, is to save up and use coupons.  I used to be self-conscious of using coupons at the store, but now it is becoming more and more prevalent-heck they even made a show out of it!  You can also save a handful of money by shopping ahead.  If you take some time to visit the groceries each week, you can stock up on non-perishable weekly deals, that way when it comes time for your holiday meal you won't have to buy the ingredients at full price (and you will be able to save time)!
Take Your Own Photos
If you are a fan of getting yearly professional photos of the family during Christmas, consider taking some of your own!  Having your own photo shoot is not as hard as it seems.  All you need is a decent camera, a tripod, a good location, and a couple free hours.  Another great option is to look around for local training photographers who won't charge as much as professional photographers.  You can also save some money by using your own photos and turning them into Christmas photo cards.  You can knock out two birds with one stone, while saving money! 
Christmas Giving and Saving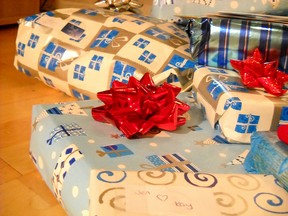 As evidenced by the annual poll, most people spend the bulk of their money on gifts during the holidays.  There is a way to save money on gifts without having to be the Scrooge.  The best way to save money on gifts is by shopping around, and comparing products.  Be a smart shopper; instead of buying the first thing you see, do some research, compare and contrast.  Just because the product has a brand name doesn't mean it is a superior product.  Look for weekly deals online when buying electronics as there are no tax charges for electronics on sites such as Amazon.  EBAY is another great option if you have time look for bids and keep up with them.  There are also many high end discount stores such as Nordstrom rack that offers designer clothing and products with prices that are 70% less than the original price. All stores have weekly promotions, so it is wise to keep your eyes and ears open for the latest deals and trends. 

How will you save money this holiday?
Kindle Fire, Full Color 7" Multi-touch Display, Wi-Fi

Movies, apps, games, music, reading and more, plus Amazon's revolutionary cloud-accelerated web browser - 18 million movies, TV shows, songs, magazines and books - Amazon ...

Only $199.00
Samsung Galaxy Tab (10.1-Inch, 16GB, Wi-Fi)

Samsung's WiFi Galaxy Tab 10.1"

Only $89.55
HP TouchPad Wi-Fi 32 GB 9.7-Inch Tablet Computer

Store more files on the go and get more done with the HP TouchPad Wi-Fi 32GB, a tablet designed to work like you do. Connect, play, surf and share more easily. Organize your ...

Only $329.99
---
Disclosure: This page generates income for authors based on affiliate relationships with our partners, including Amazon, Google and others.