Silver Christmas Ornaments
by lou16
Silver Christmas ornaments are a great accent to any themed tree and I've compiled a lovely selection of silver ornaments here for your family's Christmas tree.
Silver Ornaments for Your Christmas Tree
Silver Christmas ornaments look fantastic on any Christmas tree, they seem to embrace a number of different Christmas tree themes which is why they are a great type of ornament to keep on hand.   I love silver Christmas ornaments and I have some plain silver ball style Christmas ornaments like the ones opposite that I hang on my tree every year.
There are lots of different silver ball or silver bauble style Christmas ornaments available and that's  because, as far as Christmas ornaments go, they are really versatile.   In my opinion silver ornaments are to a Christmas tree what a little black dress is to a lady's wardrobe!
The traditional red and green look great with silver in between and so do a number of other Christmas tree color themes.   Think about the number of different color schemes you've seen on Christmas trees and you'll notice that silver has a way of working it's way into most of them.
A red or red and white Christmas tree looks great with silver.   A more contemporary color combination is aqua with silver which is something I had never associated with Christmas until a couple of years ago when I saw a display in a local shopping mall – one word, stunning!
A fantastic idea for incorporating silver Christmas ornaments is a Hollywood style of tree – black, white and silver ornaments along with either camera Christmas ornaments, celebrity Christmas ornaments or microphone Christmas ornaments.   This type of tree looks fantastic and it's a great theme for an artificial tree in either black or silver.
Another great theme that silver ornaments can compliment is the blue Christmas tree - which ever shade of blue you like to hang on your tree silver ornaments look really great with them.
One of my favorite colors is purple and purple and silver really makes a statement as a Christmas tree theme.   In fact I saw a Christmas tree last year that incorporated purple, sage green and silver - now if you'd have told me to combine those three I would've looked at you as if you were crazy, but it actually worked really well!
Buy Silver Christmas Ornaments Online
Ad
As well as plain silver balls I also have some silver mirrored disco balls that I hang on the tree, when I saw them I couldn't resist as they remind me of discos that I used to attend (oops, just aged mysefl!).   Once my daughter saw them she fell in love with them too.
There is only one problem with these retro mirror ball ornaments and that is both my daughter and I both want to hang them up on the tree each year.   We compromise and hang three each!
One of the things I love about buying online is the wider variety available as I had never seen the set of 2 silver spiral disco ball ornaments featured in a shop near me.   These are definitely going on my Christmas shopping list as I think they are really fun.
Silver Snowflake & Icicle Christmas Ornaments
Another very popular type of silver Christmas ornaments are snowflake and icicle Christmas ornaments.   I must admit I love snowflake Christmas ornaments as growing up Christmas was a bright spot in the middle of a cold winter - much like snowflakes.   We used to dream that we'd get snow at Christmas (it was usually in January or February) and I remember one Christmas when I was really young we did!
It was only a little flurry of snow, but it was Christmas Day and we caught snowflakes on our tongue so we were very happy.
I now celebrate my Christmases in the sun, but I still like to decorate with snowflakes and snowmen and even snowball ornaments.
The Spirit of Christmas Silver Ornaments
Christmas to me means family, friends and taking time out to remember what's important in our lives.   Lots of people celebrate Christmas for many different reasons, but one of the important messages of Christmas is peace.
I think love, hope and joy are other great words to use with Christmas - I know I'm always very happy at Christmas and most of that is because of the love that I share with my nearest and dearest and the feeling of peace that we're all together and we're all safe coupled with the hope that we'll all be together the following year.
I don't know what you feel about Christmas, but I'm sure you'll agree that these ornaments encompass what many feel are Christmas inspired thoughts/prayers/wishes.
Elegant Silver Christmas Ornaments
Silver is definitely the color to add a touch of sophistication to your Christmas tree and these elegant silver Christmas ornaments add a beautiful touch to your holiday decorating.
Silver Christmas Ornaments I Love
These Christmas ornaments actually bring back a lot of memories for me and I think they are fantastic - silver pine cones.   The memories are about making our own silver Christmas ornaments with pine cones.
When I was a child growing up in the UK my parents would take us to some local woodland where we would collect pine cones - some of them would be to go on the fire while the others were for us to decorate.
We had so much fun making our own Christmas decorations.   My parents would get two spray cans of paint - one silver and one gold.   We would spray the pine cones and have a mix of silver and gold ones on top of the wood box, on the soil that the Christmas tree was in as well as (attached by ribbon) hanging on our tree as our very own gold and silver Christmas ornaments.
There are so many more silver Christmas ornaments available that it's impossible to show them all to you, but I hope you'll incorporate a little silver on your Christmas tree this year......unless you already do.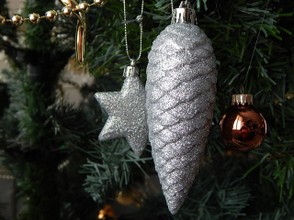 Silver Ornaments on a Christmas Tree
Will You Be Hanging Silver Ornaments on Your Christmas Tree This Year?
More Christmas Ornaments
I love hanging a mixture of different Christmas ornaments on my tree and have several unusual ones that are important to us as a family.   One of the things that help to tie this mish-mash of ornaments together (besides memories) are the silver ornaments that are also scattered around the tree.
If you're interested in looking for more than just silver Christmas ornaments then you might be interested in the final link with is to a webpage dedicated to a range of unique Christmas ornaments.
Unique Christmas Tree Ornaments
I see so many trees with the same ornaments and baubles hanging from them that I get very excited it I see a unique Christmas tree decoration. Finding a Christmas tree decoration that is perfect for a particular person is also fantastic....
Updated: 07/08/2015, lou16
---
Disclosure: This page generates income for authors based on affiliate relationships with our partners, including Amazon, Google and others.