Using a Standing Desk
by TerriRexson
I've started using a standing desk. I wish I'd done it sooner. I'll share my experience and some options for stand up desks.
What is a Standing Desk?
A standing desk or stand-up desk is a height adjustable desk for using a computer when standing up. 
I've recently started to work from home. Although I had an IT job previously, I was rarely in the same place for more than an hour. Now I'm at the computer for long stretches I was concerned about sitting in the same position for hours on end. I have a kneeling chair but I find myself slouching in it after a couple of hours. 
I'd seen a few mentions of standing desks and decided to look into it. Standing for at least part of the day would surely be an improvement. But I was concerned I'd get uncomfortable and want to sit down. 
A Popular Standing Desk
Gets good reviews
This Standing Desk is height adjustable so you can bring it to the right level to work standing up. 
Wall Mount Bracket for Monitor
Working Standing Up with a Wall Mount Monitor
I wasn't quite ready to replace my desk - it's a bureau desk full of stuff! So I decided to try something else. I have a monitor in my kitchen attached to an adjustable wall mount bracket. I can connect my laptop to this monitor. I can adjust the monitor to just the right position and angle. I've used it for displaying recipes, but never tried to use it for work before. 
As it happens the kitchen worktop is about the right height for me as a standing desk when I use an adjustable laptop stand (I have small hands and find a laptop keyboard more comfortable). 
When I'm done working I push the monitor back against the wall and take the laptop away. (Yes I admit I take my laptop to the sofa in the evenings. I need a more ergonomic solution for using a laptop from the sofa too, it would be pretty unsociable to spend my evenings in the kitchen.)
Does a Standing Desk Work?
I really expected to find it uncomfortable to work standing up. I thought I'd be less productive and desperate to sit down. Well, I've been pleasantly surprised. I actually find it more comfortable and I'm just as productive - in fact I feel more alert for longer. My standing desk is now my regular place of work when the kids aren't around. 
I've found it really comfortable to stand up for working sessions. I work for 45 minutes then spend 15 minutes away from the computer. I've been very comfortable doing several 45 minute sessions like this a day. 
I've also found that I naturally do stretching exercises during thinking or loading time. And I put my cup of tea on a different countertop so I have to take a couple of steps to have a drink. 
I'm definitely a convert to working upright. 
A Reader's Standing Desk Experience
Clouda9, a fellow writer here on Wizzley read this article and was inspired to get her own standing desk. You can read her experience below.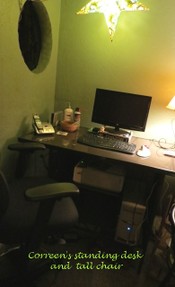 When I read Terri's article about a standing desk my remodel-it brain started working, plus I really appreciated the idea of being up and moving versus sitting on my derriere most of the day. Initially I was going to talk the hubby into building something for me, instead what I did was repurpose a glass-topped bar that had good intentions but ended up being a magnet for clutter.
I set to work to create my new work space...after sorting through and finding a new home for the items I had stored underneath the bar and cleaning up the cluttered top, my idea really started taking shape. The back of the bar is now the front and it stores all my computer stuff (printer, satellite router, and CPU). The star lantern above my new desk was a gift from my son and glows warmly when I'm working at night.
The one purchase I made to complete the remodel was a (drafting) chair for those times that I wanted to pull up a seat to work at my desk. While the chair has been nice to plop into from time to time, I'm standing to work at least 75% of the time, feel more energized, find myself stretching or walking in place as I work. A special thank you to Terri for your article and inspiration. Mwah!
- Clouda9
Apollo Mesh Back Drafting Stool
A height adjustable tall chair for when you do want to sit down
A Tall Chair for your Standing Desk
The Apollo Mesh Back Drafting stool chair is the one Clouda9 chose for when she needs to take the weight off her feet for a bit at her standing desk. It's height adjustable so you can get it just write. 
What Next? An Exercise Desk?
So now I've got used to working standing up, I'm wondering if I could take it to the next step and try working while walking on a treadmill or using an exercise machine. 
I have a treadmill and elliptical in the same room as my desk, so this could work. Would I really be productive working like this? I'm not sure, but I think I'd like to give it a go. I expect I'd still use my standing up desk a lot though, I'm loving it. 
Have you tried a Standing Desk?
---
Disclosure: This page generates income for authors based on affiliate relationships with our partners, including Amazon, Google and others.