Steampunk Costume
by costumeideas
If you are looking for something completely original for Halloween, give the steampunk costume a try!
Steampunk Costume Ideas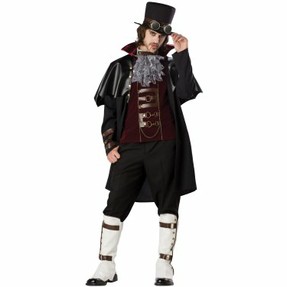 Are you looking for a great Steampunk costume for Halloween?
What is Steampunk?
Over the past few years, steampunk has been gaining a lot of momentum; especially when it comes to costume parties. It is, in a nutshell, a cross between science fiction and alternative universes.
See More Steampunk Costume Ideas
The design of most steampunk costumes can be thought of as the wild west with a whole lot of technological advances; only these advances are generally powered by steam, instead of more advanced creations. Will Smith and Kevin Kline stared in the cult classic Wild Wild West which used a lot of implausible steampunk technology; such as Doctor Loveless' massive mechanical spider.
Additionally, steampunk costumes can also be based on certain aspects of daily life from past eras or sub-cultures, such as the Victorian age or even swachbuckling pirates.
Steampunk Goggles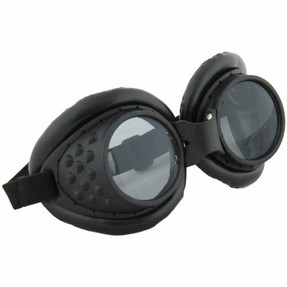 Steampunk goggles are perhaps the most important costume accessory you can buy to complete your steampunk costume this Halloween.
In just about every alternative universe, harsh environments are the norm. Whether this is due to nuclear fallout, or simply a matter of being set in the wild west, you will need a great pair of goggles to protect your eyes from the dust, grime, and sun.
These steampunk goggles features dark tinted lenses and are now available in black, silver or white.
These glasses are not only made for show, however. They comes with 100% UV400 ultra-violet protection.
Steampunk Vampiress Costume
Perhaps our favorite depiction of steampunk costumes are those based on the Victorian age. No other costume represents this idea better than this steampunk vampiress costume.
This awesome female vampire costume comes complete with a stunning black and red dress that has a angle cut hemline and features an classic cape, collar, and neckband.
Of course, no victorian era steampunk costumewould be complete without a great pair of steampunk goggles and and pair of delicate fingerless gloves.
To round out this amazing costume, however, you will need to add a pair of vampire fangs and a pair of thigh high sheer stocking that come with outstanding opaque black stripe detailing!
Basic Steampunk Costume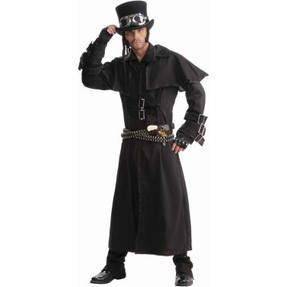 If you are looking for a basic steampunk costume to help get you started, this adult Duster costume is just what you need.
It comes complete as a long black duster coat that has decorative silver buckles.
To help add to this look consider adding a few inexpensive items such as a steampunk watch gears ring and a pair of brown steampunk boots.
CLICK HERE TO SEE ADDITIONAL STEAMPUNK COSTUMES AND ACCESSORIES
---
Disclosure: This page generates income for authors based on affiliate relationships with our partners, including Amazon, Google and others.