Sultan Costume
by costumeideas
A Sultan costume is a great way to express your creativity this Halloween.
Sultan Costume Ideas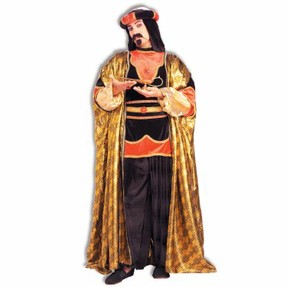 Everyone wants to go to a Halloween party in a costume that is unique. One great example is a Sultan Costume.
If you want to stand out and be admired in your next costume party, then this is the place for you to find that perfect costume.
Sultans are revered and respected like kings in the west. In the Arabic language, Sultan means strength, authority, or leadership.
With the lack of dependence on any higher ruler, many sultans are considered to have supreme authority and power. Wearing a Sultan Costume may not be as popular as wearing an astronaut or a fighter pilot costume, but a Sultan outfit carries a certain elegance and beauty that very few outfits can match.
Now that you know a little bit about Sultans, here are a few costumes that you might find appealing.
Royal Sultan Costume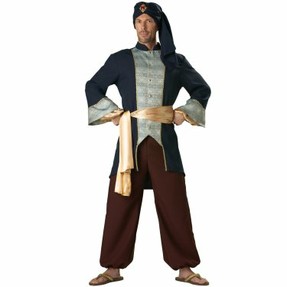 This outfit is awesome for a man who wants feel royal for a night.
A majestic man who searches the desert for treasures and seeks the world, in this case the party venue, for the fairest maiden to sweep her off her feet.
This royal sultan costume features a dark blue jacket with brocade detailing.
It has a gold trim with faux gold buttons, a pair of pants is also included, as well as a blue turban with a faux jewel, and a matching gold waist sash.
Harem Princess Costume
This costume makes any woman wearing it too hot to handle. This is a great outfit for any lady who wants to win the sultan's heart.
This harem princess costume would be a great partner for the royal sultan outfit, if you are planning to go as a couple.
This ravishing costume includes sheer-sleeved shimmering half top with gold contrast trim, draped jewels along the midsection. Attached veils cover the wrists, waist, as well as along the stomach section.
The pants have a gathered hem which matches the top perfectly. A headpiece and a hip sash are also included which complements the rest of the outfit beautifully.
Child King Costume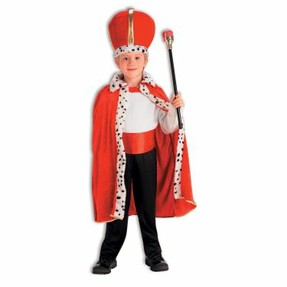 This costume, although not really a typical sultan outfit, would be great for your little kid.
If you are planning to go to your next costume party as a royal family, this king robe and crown set would be a great addition to the sultan and harem princess costume.
The king robe and crown set for children is an awesome piece of clothing where your subjects will surely take a bow every time you pass by.
This royalty outfit features a red robe with black and white trims, and a tall red domed crown with golden stripe trims.
The royal robe and crown is available in one size fits most children. (read more.........)
---
Disclosure: This page generates income for authors based on affiliate relationships with our partners, including Amazon, Google and others.