Support Desk For Your Business
by Michey
As your business is expending, a Professional Support Desk is crucial to free your time, manage responses, create a base knowledge, and provide the best support ever.
Professional Support Desk
Very important for your success on business is to have a Professional Support which will produce efficiency for you and gain respect in the user's eyes.
This is also an elegant, indirect way to brand your Internet Business and stay ahead of your competition.
I was smiling a couple of day ago when a "student" ask why he cannot find a niche without competition, what he is doing wrong... My polite response was...
"If you find a niche without competition - please stay away from it, as it is something wrong with that niche, and start looking for niches with small competition.
Competition is not a bad think, if happen to love a niche with a lot of competition, study what others a doing and find a way to do it better, but nowadays, the truth of the matter is... no competition at all, it is dubious."
Last night, burning the candle at both ends, I created a free Support Desk for my new product... be on the look out for it...
So having all fresh on my mind I think it is a good idea to share with my readers the details of creating process of a Support Desk.
Types Of Support
A good support is crucial for your success, for keeping in touch with your list of buyers, for your business overall prestige.
There are many ways to support and communicate with your customers, some are free, some paid. This is a short list:
Support Desk
Phone Service
Email
VOIP Application
Chat/ Video Chat... and more
As our businesses on-line are global, the most used is the Support Desk, which can be free or paid, I present in this article the free version.
Note: Your customer support is also related with the volume of your business. In time you can add Chat, 24 hours Phone Service, but Support Desk will stay alive even when you will expend the support.
OsTicket - Free Support Desk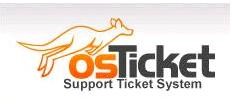 The Free Support Desk I want to present is osTicket, it is free, very easy to install and use, and can be expended for a lot of functionality.

As I stated many times you have to get a host with a cPanel, this is the one I recommended and use myself, click here!
If you have a host with cPanel, they have Fantastico De Luxe utility so at this point you can start creating your Support desk.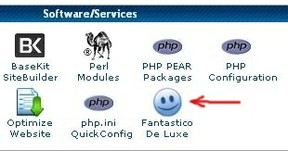 Log in your cPanel, and click on Fantastico De Luxe icon, the little face under Software/Services.
In the left menu under Customer Relationship you will see osTicket.
Click on it!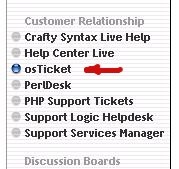 Note:
By the way,  this is the same procedure when you need to create a blog with WordPress under your own domain, the difference is you click on WordPres in the left menu of Fantastico De Luxe.
So, after you click on osTicket, you will get a screen from where you must choose:
 New Installation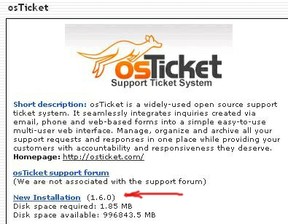 After you click on New Installation, you will get the screen from next module where you must fill is your info.
Note:
If you have a domain and many addon domains, please install osTicket under the main domain.
Install OsTicket
You must fill in info including admin name, password, and click install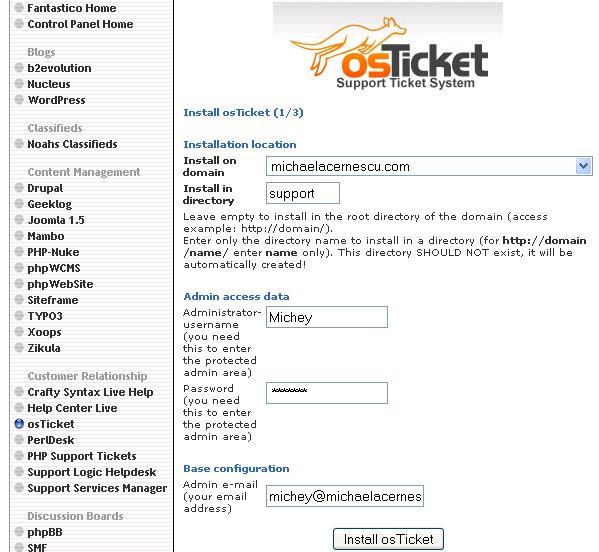 OsTicket Instalation
Screen shot created by me
Finish Installation
After you click in Install osTicket, you get a new screen in which you have the chance to verify the information you introduce in previous screen and finally click on Finish Installation.
A new screen will tell you if you have any error or the osTicket is install properly and which info you need to keep to access you osTicket later.
See the picture from next module.
How osTicket Was Installed
This is an example of correct installation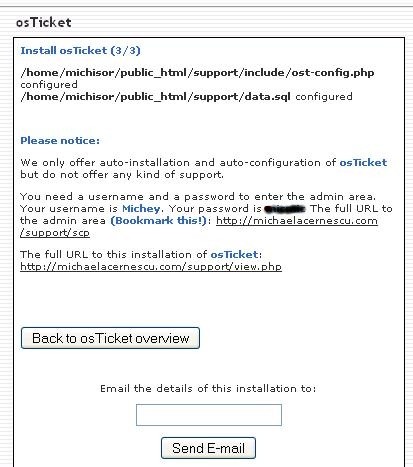 After Correct Installation
Access The OsTicket
The osTicket can be access in 2 ways:
As the administrator
As a user who want to write a ticket or verify old tickets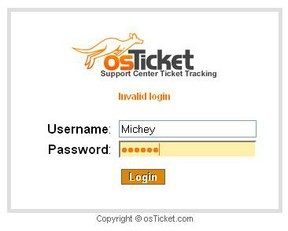 As an administrator you must use:
http://your-domain.com/support/scp
And you get the left screen in which you fill in your name and password, so only you are able to sign on as an administrator.
You will get the next screen, where you will start to customize the information from administrator point of view.
 As an user you will access osTicket with:
http//your-domain/support
and you get a screen in which you can:
Start a new ticket
Look over to the old open or close tickets
The nest 2 modules will show you those 2 flavors.
Summary
This is in a nut shell the installation process.
As an administrator you can customize and expend with:
Creating Affiliate page for you customers
Add many help topics (billing and support are the default), I add my products as I am doing Internet marketing for digital products, but you add what is important on your niche
Give the admin authority to some members of your group
and many more
The creation of an Affiliate page will be the subject of a different post as this one will get too long.
My Customization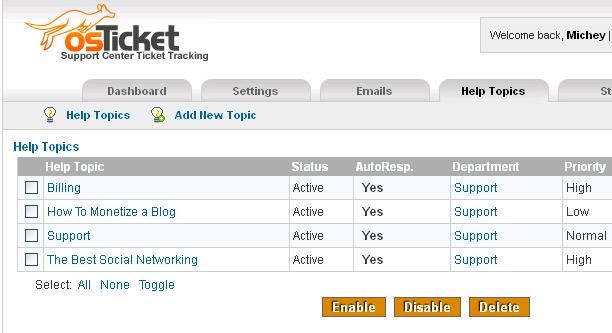 Michey's Customization
---
Disclosure: This page generates income for authors based on affiliate relationships with our partners, including Amazon, Google and others.