The Best iPad 2 External Battery Devices
by WillApse
An iPad 2 will not always get through the day without a recharge. Power users will absolutely need an external battery. Anyone taking a long trip can benefit...
An iPad can get a lot of use- we use them them for work and study, we play games, watch movies, read books and magazines with them. Sometimes they are hard to put down at all!
If you are a power user of the iPad there will always be the issue of battery life in the back of your mind. Is there enough juice to get you through the day or that long flight/road trip?
With an iPad external battery you can relax. A good one will comfortably double times between recharging and liberate you to use your favorite personal gadget as much as you like and whenever you want!
New Trent offer external battery chargers will give a lot of extra time before you need visit mains electricity again- but they are not the only option.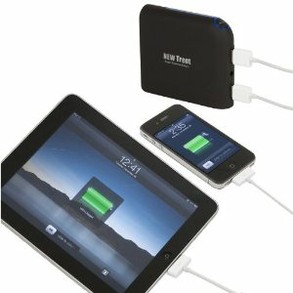 iGeek from New Trent
New Trent External Batteries for iPad 2
There has been a mini revolution in battery technology over the few years or so.
HyperMac external batteries (see bottom of the page) have been around for a while now but they are pretty big and weigh down any bag. New Trent have come up with a range of batteries that are less than half the size of predecessors.
If you go for the most powerful model it offers 11000 mAh (milli amp hours) of reserve power which means about 30 extra hours of movie time for an iPad. The most poplar choice though, is the iGeek (pictured right) that carries 9000 mAh.
It will charge smart phones, too.
i.Sound Portable 16,000 mAh
Another popular device is the iSound with a huge 16,000 mAh charge. It is capable of charging up to 5 seperate USB devices at the same time.
It is supplied with an impressive range of tips as well as the wall adapter.
The drawback? It is a sizable thing to carry around at nearly six inches long and over 3 inches wide and might be overkill for some people.
For regular travellers with phone, tablet, netbook, camera, printer and all those other essentials it can be a life saver.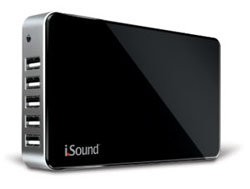 Five USB ports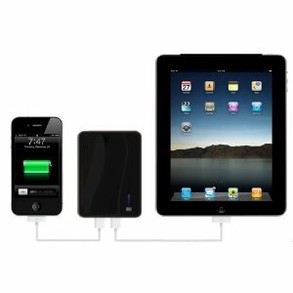 Boost Case
Boost Case Powerhouse
Where the iSound is a bit of a brick, the Boost Case is a slender if broad device that will fit neatly in most internal laptop/tablet cases and back packs.
The 6000mAh of power is enough to recharge an iPad 2 twice or a smartphone four times.
The Japanese made lithium cells are reliable and the design is sleek.
TS-251
TS-251 5200mAh External Battery
This is one of the less powerful models on the market but it is an inexpensive way to get an extra charge for your iPad battery.
It is small at 4 x 1 x 1.8 inches and ideal if you are not looking to recharge too many devices and don't want too much extra to carry.
It is also a good illustration that no name devices are not always a rip off.
---
Disclosure: This page generates income for authors based on affiliate relationships with our partners, including Amazon, Google and others.