Traditional Christmas Desserts
There are so many reasons why Christmas is my favorite holiday. I am shameless to admit that traditional Christmas desserts is one of the reasons why Christmas is on the top.
Traditional Christmas Foods: The Dessert Version
Christmas traditions I love: buying the perfect gift, spending quality time with family and friends, receiving silly Christmas photo cards in the mail, playing in the snow (for rare times when it actually snows on Christmas), Christmas eve dinner, jamming to Christmas music, and of course baking for an entire day.  In my household, there is an on-going tradition of baking an unnecessary amount of sweets.  Many foods that are considered traditional Christmas foods are actually baked goods and sweets.  If you are looking to pick up a new Christmas tradition or just looking for ideas for your Christmas party, check out these traditional Christmas desserts!  Get ready to send out those Christmas party invitations, with these desserts, you will have the most memorable party there is!
Christmas Cookies
Everyone loves some Christmas cookies, whether they are gingerbread cookies, sugar cookies, chocolate chip cookies, or oatmeal cookies.  We all love cookies because they are delicious.  But even more so we love the tradition associated with cookies and Christmas.  Many American families have the tradition of baking and decorating cookies as gifts for friends and family. 
Christmas Pudding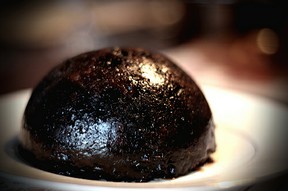 Similar to minced meat pies, Christmas pudding is not actually pudding.  It is a traditional Christmas dessert that is served on Christmas day.  It is made through steaming the ingredients full of dried fruits and nuts.  The ingredients for Christmas pudding use many of the same ingredients for minced meat pie, specifically the filling.  There are many great recipes to choose from as well as premade ones.
Apple Pie
Apple pie is by far the most loved pie during the Holidays.  You can't go wrong with an apple pie as there are a million ways to make an apple pie.  Some people prefer to make everything from scratch, while others prefer to buy premade crust.  I love baking apple pie because the ingredients are readily available and cheap.  The basic ingredients for it are flour, apples, cinnamon, brown sugar, butter, vanilla, and shortening. 
Minced Meat pies
These traditional mini pies originated in Brittan.  They are a very common dessert overseas but not many Americans make or eat them for Christmas.  When I first heard of them, I presumed that they contained meat.  Contrary to the name, there is no meat.  The filling is made of raisins, candied peel, dark brown sugar, currants, nutmeg, brandy, lemon juice, and orange juice.  Usually the filling is best when it has had time to be soaked and preserved.
        Buche de Noel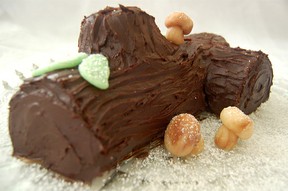 Commonly known as a Yule Log, it is considered traditional dessert in France and countries that once were French colonies.  It is supposed to resemble a log that was frequently used during winter for warmth.  To best describe it, it is basically akin to a giant swiss roll.  Yellow sponge cake with cream filling topped off with a dash of powdered sugar. 
      Carrot Cake
I love carrot cake for any occasion, but carrot cake has always been a Christmas traditional dessert.  At Christmas parties, there is always someone who either brings a store bought carrot cake or homemade carrot cake.  There are many different recipes for carrot cake; most carrot cakes use butter, sugar, vanilla, pecans, cinnamon, flour, baking powder and soda, and carrots.
      Coconut Cake
Now that I live in the South, I have taken up many traditional Southern foods.  A common traditional Christmas dessert in the south is coconut cake.  For coconut lovers out there, this is bound to be the perfect cake for you.  It is a basic cake made with coconut milk instead of regular milk, decorated with coconut filling, topped off with coconut shavings. 
        Pfeffernusse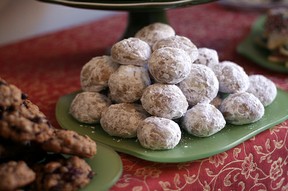 This traditional Dutch and German dessert is translated into "pepper nuts".  However contrary to the translation, the theme continues, there is no actual pepper in the recipe.  This German dessert is best categorized as a cookie/biscuit.  Basic ingredients calls for honey, butter, shortening, flour, brown sugar, nutmeg, ginger, cinnamon, and cardamom. 
Fruit Cake
As a kid, I have always had a fear of fruit cake because of some book I read.  However, a few Christmas parties ago, after trying a piece I was in love with it.  The main reason I can gather of why people hate fruitcake is when inexperienced people attempt to make it.  There are many ways to make a fruitcake, but only a handful yield good fruitcake.  Another reason why fruitcake has a bad rep is because of the Christmas tradition of giving fruitcakes; do yourself and everyone else a favor, don't use it as a gift!
        Trifle
Trifles are considered to be a thick type of custard made of fruit, fruit gelatin, and sponge cake.  It is usually served in a bowl of some sort with the fruit filling on the bottom, followed by the sponge cake, and topped off with custard/cream on top.  Some traditional Christmas trifles are spiked with a tiny amount of liquor or sweet sherry (in the South it is known as the "tipsy cake"). 
What is your favorite Traditional Christmas Dessert?
You might also like
Christmas Martinis
Christmas themed martini recipes. Very merry martini recipes that will add a ...
---
Disclosure: This page generates income for authors based on affiliate relationships with our partners, including Amazon, Google and others.