Unique Teacher Gifts
Teachers give every day to their students. Here are some unique ideas to help show how much you appreciate your favourite teacher.
Teachers Are Always Giving
Giving Back to the Teacher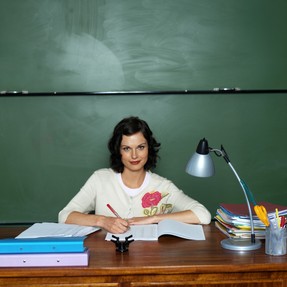 As a former teacher, I can tell you that teachers are always giving. From the moment they see your child's face in the morning, to the time they send them off to the bus, teachers are giving out to the kids in their classes, to the parents and to the community.
Being a teacher is an extremely demanding position, and it doesn't just stop with the classroom. Many instructors help with extracurricular activities, committees for school improvement. On their own time, they call parents, mark papers and plan for lessons.
Teachers don't ask for much back, and don't expect any recognition, but a nice token can mean a lot. It's not so much the gift itself, but it's the acknowledgement of all the work they are doing. Whether you know a teacher through your child, or your friend is a hard-working teacher you want to honour, here are some ideas.
These would also be excellent choices for administration to give as appreciation gifts for their staff. This is the practice in many schools, as a way of keeping up morale and connecting with the professionals and paraprofessionals who make the school run.
Sometimes, it's hard to know what to get a teacher. You want to show them that you care, but you still have to work within a budget. I have complied a list of some unique teacher gifts this year, some which you may not have seen before. Some of these gifts are for the very budget-conscious, and others are quite extravagant. I wanted to give a sampling of ideas, so you can see what a variety of wonderful gifts are out there. Check this article on teacher gifts for even more ideas. 
For the Teacher's Desk
Unique and Personal!
Teachers do spend a lot of time at their desk! From helping students get through a Math problem, to checking attendance and grading papers, there is always a lot of activity buzzing around the teacher's desk. And after hours, many a teacher can be found burning the midnight oil getting lessons ready for the following day.
As a professional who spend so much time writing, reading, and getting paperwork done, the teacher in your life might appreciate something unique and special for her desk. Having a beautiful, inspiring desk can help to revive the tired soul! It can also be a conversation starter with the kids.
Some ideas for unique gifts in this area are as follows:
A teacher-related mouse pad: these can also be customized.
Teacher stationary and letter head. These would be great for sending home personal notes to parents, or even to students in the class. Written communication is a constant need for a teacher.
A pencil holder with a teacher theme. Believe me, this will get used! Kids are always forgetting their pencils!
Special teacher pens. These would make great gifts for administrators to give out to their students. 
Pencil Holders
For Teachers
Unique Mouse Pads
For Teachers
From The Desk Of ...
Mrs. Jones?
More Articles About Gifts And Presents
Jewellery and Other Pretty Things!
Some not-so-practical gifts
Now, teachers work very hard. We've already established that. The next gift idea is about spoiling the teacher, just a bit, with something not quite practical! Gifts that make the recipient want to immediately scoop up the gift and give it a treasured place in their home.
Here are some ideas that are pretty and a bit fragile. Some frippery for those teachers who are still people: 
Jewellery with a teacher theme (Obviously, for female staff, not the males!)
Teacher-related music box (very sweet!)
Music Boxes
... For A Touch Of Luxury
The Best Gift I Ever Received
As A Teacher
The best gift I ever received as a teacher was not at Christmas, or at the end of the year, or even during Teacher Appreciation Week. The best present I ever received as a teacher was from two students who I will call John and Ryan.
It was a winter day, and I had not slept much the night before. I was suffering from a touch of the flu, and did not feel that I could call a sub in (it was discouraged!) So, I was suffering it through, trying to not make much of a fuss, but feeling terrible.
The students had just come in from a ten minute break, and I had called out John and Ryan's names but they were apparently absent: odd, because they had been there for the class before! I got into the class, and ten minutes after we had started, the two boys strolled in, huge grins on their faces, and carrying a huge coffee a mega-sized muffin.
Before I even had a chance to chastize them for being late, they plunked the coffee and the muffin down on my desk, looked up at me, and said, "this is for you, teacher. We knew you weren't feeling well."  Well, I was torn between whether to punish them for being late for praise them for being so thoughtful. They had broken the rules, but given me a present at the same time. That was just one of the moments of teaching that I treasured. To read this story in detail, go to "Two Creams and A Muffin."
A Few More Ideas ...
Guaranteed To Be Unique!
And finally, some other ideas for the teacher in your life. I promised you unique, and I think these ideas qualify.  To me, getting a gift that's a little different than the norm is one life's greatest pleasure. I am glad I could offer some of my finds, and share them with you.
Teacher T-shirts. These are great for Casual Fridays!
Teacher Bags. I know, from personal experience, how much teachers use bags to lug papers to and from school. A cute bag is always appreciated.
Teacher Binders. Teachers love binders, and pretty, adorable ones are even better. 
Teacher Bumper Stickers. 
Teacher keychains 
Teacher planters: a great way to add interest to a plant in the classroom or at  home. 
When giving the gift to the teacher, be sure to accompany it with a thoughtful card, with some kind words about how you appreciate what he is doing. And you can be sure that your thoughtfulness will be very much appreciated. Teachers will keep on giving, for the rest of the year, whether they receive any gifts or not. A present is just such a  pleasant little bonus!
More Unique Teacher Gifts
Can't Scare Me I'm A Teacher T-Shirt Funny

This listing is for a 6.1 oz heavyweight 100% preshrunk cotton t-shirt. Please choose your Size and/or Color from the drop down menu above if applicable.

If You Can Read This Thank a Teacher Canvas Tote Bag Natural
Awesome Teacher - Window Bumper Sticker

This unique sticker is perfect for your vehicle, laptop, notebook, scrapbook, locker or just about any smooth surface. The sticker is printed on glossy, white vinyl with water a...

Only $3.99
Janna Salak Designs World s Best - Worlds Best Teacher Blue - Key Chains
Pencil Shape Planter/Vase For Teacher,Classroom, Student, Home Decor

All that you will need to add is your favorite plant to this unique planter for it to become a great conversation piece.

Only $24.44
Do You Plan On Giving A Gift To A Teacher This Year?
---
Disclosure: This page generates income for authors based on affiliate relationships with our partners, including Amazon, Google and others.