Review of Walt Whitman's Leaves of Grass
by Tbonius
A review of Leaves of Grass, by Walt Whitman - Father of American Poetry
Introduction to Leaves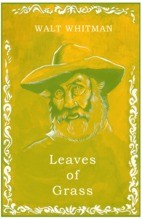 If Walt Whitman were alive today, he'd probably be publishing his poetry in some cabin in the woods... on the internet. In 1855 Whitman self-published his collection of poems called Leaves of Grass, which, since he was never quite finished with his work, was tweaked and edited between six and nine times over course of his life.
The result of his lifetime's work is a volume of poems that helped disentangle American poetry from its stifled past and to help it come into its own. To paraphrase literary critic Harold Bloom, more than Moby Dick and Adventures of Huckleberry Finn, Whitman's book Leaves of Grass is the centerpiece in the "secular Scripture of the United States."
Origins
Leaves of Grass originated 10 years before its publication with an essay by Transcendentalist Ralph Waldo Emerson, titled "The Poet", which called out for a new voice of American poetry: that which embodied the spirit of the age. Some of the best-known poems from this book are "Song of Myself" and "I Sing the Body Electric."
The Open Air
Whitman wanted his poetry to be read in the "open air," so he had it printed small enough to fit in a reader's pocket . He stated: "I am nearly always successful with the reader in the open air." 
Leaves of Grass is also a little known pun: "Grass" was what publishers dubbed works of literature that were of low quality, and "leaves" were another name for pages of a book. So, humbly, Whitman titled his book something meaning an inferior work of literature - though now his book of poems is a cornerstone of American literature.
Obscene... Really?
Many of Whitman's critics called Leaves of Grass "obscene literature" when it first appeared, accusing its anonymous author of homosexuality. Poetry in that day was supposed to be very allegorical, so Whitman's references to his body, to sensuality and sexual love, were way more than Victorian mores could handle back then. 
As a fan of Henry Miller, I find it no wonder that Miller was such a devotee to Whitman. Miller, whose writing would also be called "obscene," also embodied the acceptance of life - the sensuality and freedom that lived at the core of each author is liberating - though each caused a huge stir in his day. Miller loved the work, though he wasn't sure it would be understood by readers as early as the 1930's. 
Walt Whitman
Age 67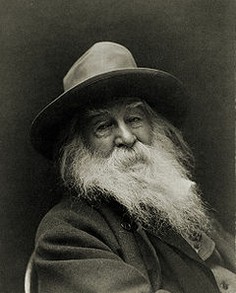 Walt Whitman as an Old Man
A Masterpiece
It might seem difficult to grasp at some points, the language having grown over with moss from our current mode of language, but in my opinion, Leaves of Grass is a masterpiece of American literature: a song to America itself.
Click here for a free download of Leaves of Grass, where you can find a in PDF, Kindle, or Audiobook format. 
Leaves of Grass by Walt Whitman
Order on Amazon
---
Disclosure: This page generates income for authors based on affiliate relationships with our partners, including Amazon, Google and others.