A Christmas Carol by Charles Dickens
by Tbonius
Dickens' A Christmas Carol is the most famous Christmas story of all time. Read it as an ebook or a beautifully illustrated hardback this holiday season.
A Review of A Christmas Carol by Charles Dickens
The Best-loved Holiday Story of All Time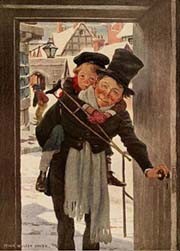 In 1843 Charles Dickens published the novella A Christmas Carol, a story which has not only held up as the most endearing Christmas tale ever told, but which has changed the face of the holiday as we know it. It is the story of Ebenezer Scrooge, the crotchety and cheap old man who's visited by the Ghosts of Christmases Past, Present, and Yet to Come . 
Each specter shows Scrooge a version of reality, with the unforgettable visions of the lowly clerk Bob Cratchit and the hopeless Tiny Tim. Will the ghosts sway the heart of Ebenezer Scrooge? 
The History of the Novella
  Dickens, who was a dyed-in-the wool social reformer, was horrified by the miserable conditions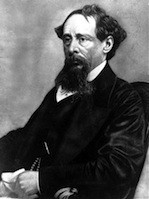 that the poorest English children lived and worked in. He racked his brain as to how to help them, so he planned to write a heart-wrenching pamphlet on the nature of their plight. While giving a speech to a charity organization in Manchester, Dickens was struck suddenly with the plot for one of his most famous works.
He realized that writing a popular story would be much more influential than a pamphlet, and thus, A Christmas Carol was born. 
The Holiday Message
The core theme of A Christmas Carol is Scrooge's transformation from the cruel and greedy old man into a warm and giving gentleman - a change of heart which has been celebrated since the story's publication. A Christmas Carol was a smash hit and was immediately adapted for the stage. I remember having Dickens' story read to me as a child, and watching the play. Christmas for me will always be laden with memories of Dickens' wonderful tale.
The Legacy
Dickens' book can be credited with popularizing the phrases "Bah! Humbug!," calling someone a "Scrooge," and the greeting "Merry Christmas" itself. This period was a boon for the holiday - the first Christmas tree was introduced in 1841, and the first Christmas card the year after. Dickens' book has been credited with making Christmas a more secular holiday about gift-giving, but it also revived it from a more dreary past, and likely encouraged people to be more warm and giving during the holidays.
Since A Christmas Carol is in the public domain, you can download a copy for free for your iPad or Kindle. Here is a great place to get a free version of  A Christmas Carol by Charles Dickens in either PDF, Kindle, or audio book formats. 
Dickens' novella has been read and loved by audiences around the world for over 150 years. This holiday season, If you plan on reading this wonderful classic to your children, why not do so from a beautiful illustrated copy? Here is a collection of illustrated editions of A Christmas Carol.
Illustrated editions of A Christmas Carol
A Christmas Carol

The celebrated P.J. Lynch captures the spirit of Dickens's beloved tale in a richly illustrated unabridged edition.The story of Ebenezer Scrooge opens on a Christmas Eve as ...

Candlewick /

$11.69 $49.0
A Christmas Carol

This illustrated edition of the Yuletide classic features 12 full-color plates plus 18 black-and-white drawings. The timeless appeal of Rackham's evocative illustrations form ...

Dover Publications /

Only $7.98
A Christmas Carol

The internationally acclaimed illustrator Lisbeth Zwerger spent over two years creating the illustrations for her interpretation of this beloved story. She lends her signature ...

North-South Books /

$1.95 $19.95
Would you read A Christmas Carol?
Vote Here
---
Disclosure: This page generates income for authors based on affiliate relationships with our partners, including Amazon, Google and others.