A Review of Pride and Prejudice
by Tbonius
Pride and Prejudice is Jane Austen's 1813 comic masterpiece. 200 years later it continues to charm audiences the world over.
A Rom Com for the Ages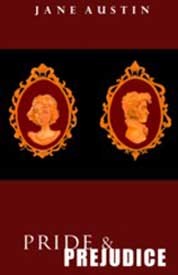 Jane Austen's Pride and Prejudice is not only a masterpiece of the English language, it's also the backbone of just about every Rom Com in existence (not to mention a certain Zombie book). Pride and Prejudice features Elizabeth Bennet, one of five daughters of a down-at-heels country gentleman, as she and her sisters negotiate the marriage rites of early 19th century England. 
Jane Austen is a master at creating unforgettable characters, exceptional dialogue and weaving hilarious plots that make her work a centerpiece of Western literature. This battle royal of the sexes keenly addresses Victorian morality, manners and social norms.   
The Main Characters
 Elizabeth Bennet and Mr. Fitzwilliam Darcy are the central characters of the novel, the personalities of whom give it its title. The Pride of Darcy and the Prejudice of Elizabeth are at odds throughout the work, and their interplay is what makes this a fantastic novel. 
Mrs. Bennet, mother of five, is officious, simplistic and monomaniacal - that her "business of life was to get her daughters married," is a source of real hilarity throughout the book. 
Mr. Bennet is intelligent if a bit feckless, and regularly overwhelmed with the women in his life. He's endeared to his two eldest daughters, who he relates to most, while just getting along with his wife and three youngest, whom he sees as excitable, frivolous and often amusing. 

The Characters of Pride and Prejudice
A Bizarre Love Quadrangle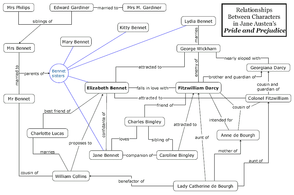 Diagram of the cast of Pride and Prej...
It Begins
This story begins with one of the most famous lines in literature: 
"It is a truth universally acknowledged, that a single man in possession of a good fortune must be in want of a wife."
It sets the mood for when a rich bachelor, one Mr.Charles Bingley rents a house near the Bennet family. From here the plot is dizzying: it's up to a mother in this era to marry off her daughters, and quick, especially if they have a meager dowry, as the Bennet girls do. 

A suitor proposes and gets rejected, then marries another in short order. Another daughter runs away with a man but fails to marry him quickly, and upsets everyone. Mother Bennet through this whole thing doesn't even care who the lucky guy is, as long as he's got the dough.  
Ultimately the question remains: can Darcy see past the relative poverty of Elizabeth, and can he let go of his pride to make it work out? This is the question that has kept Pride and Prejudice at the top of the charts for two centuries. 
Pride and Prejudice
At Amazon
Ad
What I dig about Jane Austen's characters is that they will marry for love and not just the dough, which is a modern notion. If you haven't read Pride and Prejudice, be prepared to fall in love with Elizabeth and Mr. Darcy! 
If you're looking to download Pride and Prejudice for free you can do that here. You can find PDFs for your iPad, Kindle files, or an audio book. 
Or check out these great titles from Amazon! 
Get Your Austen On
At Amazon
---
Disclosure: This page generates income for authors based on affiliate relationships with our partners, including Amazon, Google and others.