Adventures in woodworking.
by ohcaroline
Arts & Crafts Journey
Here's how the woodworking journey began.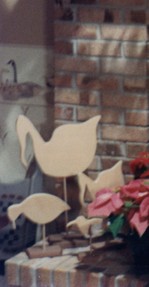 First of all, I've been doing arts and crafts all of my life.  I majored in art in school; so it's no surprise that I spent a lot of time doing crafty ventures.  I had always wanted to do woodworking; but I didn't have the space or place to do it until I moved into my second home.   When I was decorating it I wanted to put some shorebirds on the fireplace hearth and couldn't find any.  So what's a crafty soul like me to do?  Make it myself of course.  The house was brand new and I really hadn't acquired any tools of any kind because I didn't have a place to keep them.  I bought some pine boards and a coping saw and cut them out.  (that's the hard way)  I really enjoyed the work.  They came out pretty decent...so onto the hearth they went.  You can see them in the picture.  Not bad for a novice, right?  That really whetted my appetite for woodworking.
I didn't do too much else until some friends from church invited me to their home...their country home.  The home was decked out in the most delicious country decor I had ever seen.  I was smitten to put it mildly.  From that day I wanted to redo my home decor in country.  I did keep my shorebirds though.  Shortly after that I went to my first craft fair and was introduced to country arts and crafts.  I came home with a head full of ideas that I wanted to do.
The woodworking venture becomes a reality.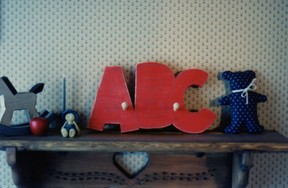 I had a good-sized garage so the next step was to build a workbench.  I had some things I wanted to make.  The coping saw wasn't cutting it...literally.  So I graduated to a jigsaw.  That was my first power tool.  The more woodworking projects I did I realized I had to have better tools.  Some tools are only good for certain jobs.  I graduated to a band saw which then meant I needed a sander...first a palm sander and then a belt sander.  Palm sanders are good for flat board finishing but wouldn't work on cut out wood with curves and small areas.  The belt sander worked just fine.  I bought a drill and tried to drill a straight hole in some pieces and found it a hit and miss work.  I had to have a drill press.  That was the best tool for drilling holes and other things.  One of my earlier purchases was a circular saw...the kind you hand hold.  That was no good for me.  The first time I tried to use it, I almost gashed my leg.  I didn't keep it.  I bought a radial saw instead and it was great for many uses, especially those mitred cuts.  My workshop was growing.  My skills were growing.  My garage soon became a woodshop and the car was once again sitting in the driveway.  The last acquisition was a router table.   I was probably least successful on this tool; but I did use it.
It was fun to learn to work with different types of wood.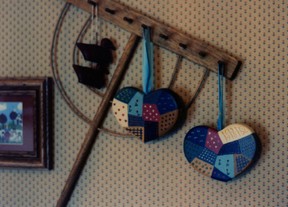 My first projects were done mostly in pine and cedar because these woods were easy to find in the home stores.  That all changed the day a friend of mine came by the house after work one day.  She had gotten a job at a company that manufactured doors. The employees were allowed to take all the wood scraps home that they wanted.  She had filled the trunk of her car with the most beautiful scraps of wood.  They were all sizes and kinds of wood.   There was cedar, oak, walnut, maple, cherry wood, poplar and some varieties I couldn't identify.  My friend didn't work there very long...but every day on the way home we unloaded a trunk load of wood.  It became a challenge to see what I could create from each beautiful piece of wood.  I went from one work bench to two to eventually three 8 foot workbenches.  I was in wood heaven; and my garage was a sawdust mecca.  I learned a lot by working with the different types of wood.  Each kind of wood has its own characteristics and was a challenge to learn to work with them.
What is your woodworking status?
This is where my woodworking took me.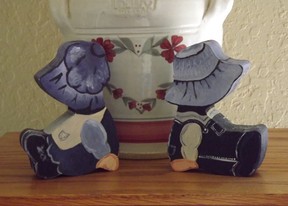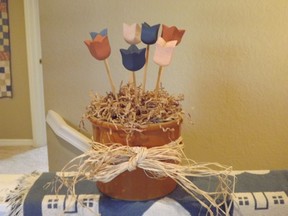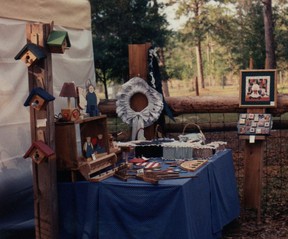 My fun with wood crafts went from making my own decorations to making them for others.  I continued to go to craft fairs and I was soon mapping out my own craft fair ventures.  I really enjoyed them.  After a few craft fairs, I realized how much work they were to transport, set up, take down, and deal with all kinds of weather issues.  When I retired I went from craft fairs to become part owner of two different craft shops.  This was very enjoyable...but I couldn't produce enough goods to make ends meet so I gave up on that.  I sold my woodworking tools after I moved to the mountains because once again I didn't have workshop space.  I am hoping and believing for a wood shop again when I get in a home again.  I have included some pictures of my work; but most of the better pictures are packed and will have to be added later.  Thanks for reading about my ventures in woodworking.
Of special mention!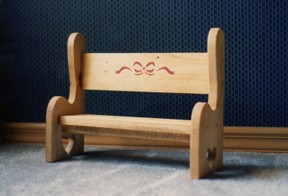 When all was said and done, I can still say that I sit here today typing with all ten fingers.  You do have to be very safety conscious when working with power tools.  I tried to be very careful when working in my woodshop; and I didn't allow for any distractions.
---
Disclosure: This page generates income for authors based on affiliate relationships with our partners, including Amazon, Google and others.