Arcade games and Slots optimized for iPhone and iPad
by ImagineMDD
Fun new ways to play favorite nostalgic Baby Boomer arcade games on your iPhone and iPad thanks to clever gadget accessories that recreate the experiences we remember.
Gaming Memories 1970s & 1980s to 2000s : Casino & Arcade to the iPhone & iPad Devices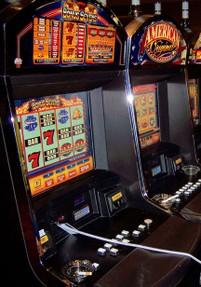 Back in the eighties we used to play video games in the pizza parlour and in the arcades. Pac Man and Ms. Pac Man were big favorites. Now the kids we were taking out for pizza are in their 30s and having kids of their own. In the mid-1970s, Elton John was the memorable Pinball Wizard in the film version of Tommy.
When I worked at the dime store, there was a Nintendo Donkey Kong game machine by the door and I'll never forget the music that went along with it. Everyone was talking about Atari and Nintendo and everyone wanted their own home systems.
You miss the buttons and the joystick when you play old school games on your tablet computer. When I saw this iPad iCade it looked like such a great idea!
We've always enjoyed trips to casinos, especially Las Vegas. I've been going since the late 1970s. We even had the pleasure of seeing Sammy Davis Jr. at Caesars Palace. Of course a big part of the fun was the gaming. Slot machines have changed in that relatively short time. It seems around the early 1980s there was a group of slots that were just entering the video realm.
They didn't quite have the look of the reels. They had more of a dark background with neon colors. With these video machines, if the handle was there at the side of the machine it was there for show. All it took to play the game was a push of a button. You could sometimes pull a handle clearly just for nostalgia's sake. Now there was a dead feel to it. You knew it wasn't doing anything, there were no reels spinning.
There didn't seem to be as many slot machines then as there are now, and the penny slots were much harder to find then.
My first trips to Vegas were family vacations where we'd go in search of the huge giant slot machines. They still have them. Sometimes it took more than one of us to pull the handle. While they seemed stricter about banning photography in the casinos in the 1980s, you could usually get a photo in front of the giant slot machine, win or lose.
Nowadays the slots are different still. They have a lot of that old reel to reel look. The handle is still there. You can pull the handle or push the button. (Pulling the handle seems to take longer -- you lose your money more slowly, so it's one good reason to pull the handle!)
There's a kind of tension when you pull the handle. It's nostalgic, and helps you to feel more like you're playing the traditional slot machine. People miss that. Whether you remember the real thing and you want to experience it again and introduce it to your kids or maybe you've seen it in the movies.
We were able to buy little slot machine toys and banks. We've had handheld battery-powered devices on which you can play slots or table games such as blackjack and poker. They work OK but they lack the color and much of the tactile experience of the real thing.
The Jackpot Slots accessory for your iPhone and iTouch adds some of what we miss when we play the slots on our smart phones. It's kitschy and it's a clever and cute little gadget to have on your desk, as well as serving as a charger for your device.
All of these devices are just the newest and coolest ways to bring the arcade and the casino experience into your home.
[image from public domain pictures]
Old cowboy slot machine in Las Vegas, One-Armed Bandit
Vintage slot machine
iCade Arcade game for your iPad
iCade Arcade cabinet game for your iPad
 Features:
Retro-styled tabletop arcade cabinet for with joystick and buttons for iPad gaming
iCade's specially designed cradle ensures safe loading and unloading of your iPad, while also providing a solid, secure fit even during the most intense game-play sessions
Authentic, full-sized controls for a genuine arcade experience: full-sized joystick and eight arcade buttons
The action starts with the retro-gaming classic Asteroids and continues with many other Atari arcade titles.
In addition to the extensive Atari library, new and existing apps can be easily updated to work with iCade
High-quality iPad-cradle specifically designed for a safe, secure fit
Retro cabinet design that is fun, nostalgic and great-looking
iPad connects to the iCADE controls via Bluetooth Atari providing classic games ready to go with the iCADE, including Asteroids and other top games.
API to be released allowing any iOS developer to create iCADE-compatible games
The Atari's Greatest Hits iPhone App Features:
• 18 Classic Atari Arcade Games including PONG, Centipede and Black Widow, Several sports games and Casino.
• 92 Atari 2600 Games
• Bluetooth Multiplayer for head to head play for titles such as Pong, Warlords, and more!
• Original Cabinet and Box Art
Jackpot Slots for iTouch and iPhone 4
iPod Touch turns into a slot machine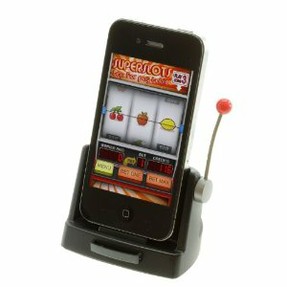 Jackpot Slots for iPhone/iPod Touch - Charger
The Jackpot Slots [app]cessory is the most realistic experience your iPhone or iPod Touch has ever known.
Features include
Reel-spinning action from the world's finest casinos
Multiple slots games
Customized skins
Interactive competitions
Real prize giveaways
Download the free app
The Jackpot Slots works with and without external power
The charge and sync dock connects to your computer. Compatible with 1, 2, 3, 3GS and iPhone 4, 1st and 2nd Gen iPod.
"The most realistic gaming experience your iPhone or iPod touch has ever known. Reel-spinning action like the world's finest casinos, multiple slot games, interactive one armed bandit action and select prize giveaways bring the excitement of Las Vegas to your iPhone and iPod touch."
---
Jackpot Slots for iPhone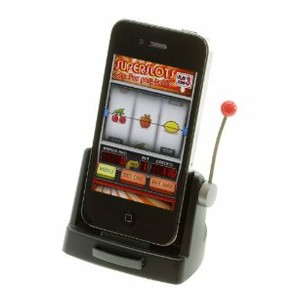 Jackpot Slots
Bally's Slot Machine Proposal is a good reason to keep the old reel machines around
Pinball savings bank, anything to help make saving money fun!
---
Disclosure: This page generates income for authors based on affiliate relationships with our partners, including Amazon, Google and others.