Best iPhone MMORPG Games
by thisisoli
Choose from the Best iPhone MMORPG Games, in this quick run down of the very best massively multiplayer online roleplaying games!
Introduction to the Best iPhone MMORPG Games
The iPhone is a powerful device, and with the best iPhone MMORPG Games it becomes an even more powerful gaming platform!
Using the iPhone to play MMORPG games might seem a little weird at first, especially when you think how many modern MMORPG's require fairly high spec game machines to perform effectively.
The good news is that since the iPhone uses standard equipment in each device, game makers can push to the very limits of the iPhone and make iPhone games that are both visually appealing, and content deep.
How I Chose the Best iPhone MMORPG
It was a little difficult to really decide which iPhone MMORPG was the best, and which order these games needed to be in.  The choice was a little harder because currently there are only a few real MMORPG's available to download, and one of the best has a striking resemblance to World of Warcraft.
After a lot of careful deliberation however, I managed to put my top iPhone MMOPG Games in order!
3) Order & Chaos
It's kind of like WoW but isn't.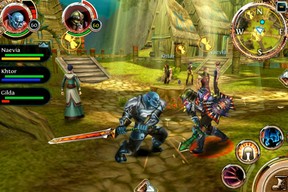 Order & Chaos looks a lot like World of Warcraft, although in reality it's gameplay and depth are significantly more sparse than the grand contender it is often compared with.
While most of that characters, look and feel of Order & Chaos feel WoWish, the controls are much less intuitive, and you just don't get the 'epic' feel so prevailant as you improve your character in World of Warcraft.
Despite this Order & Chaos is a fairly solid MMO game on the iPhone.  Comparing it directly to WoW is like comparing chips to potatoes.  Sure a bag of Lays is nice, but it doesn't beat a baked potato.
When compared to it's closest iPhone competitor Pocket Legends it definitely holds it's own, and it would probably be much more closely matched if it wasn't for the fact that O&C lacks the creative spark.
Order & Chaos contains all the things you would expect in an MMO, including team play, personalized characters, leveling skills and so on.
There are two minor points you may want to consider before buying this game.  First off, Players can buy gold directly.  This leads to very imbalanced gameplay. Rather than being able to buy limited items which only have minor gameplay effects, you will be outpaced by players who have paid hundreds of dollars for gold.  The second minor thing is that you may want to read teh T&C carefully before you buy this game, many players have felt that Order & Chaos delves a little too deeply in the the contents of your iPhone.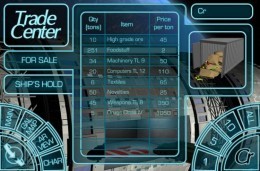 Best iPhone MMORPG Games
2) Traveller-AR
Think EVE Online, but Based on a RPG Game a Year Older than Star Wars!
Traveller-AR is an amazing game that I have been lucky enough to beta test.  it is a huge game, with over a hundred thousand star systems, and over a million planets, making it the largest space exploration game on and system.  Combine that with over 800 tradable items, customizable character and a surprisingly balanced choice of in-game purchases (Ie. Ship insurance) and the game really does become compelling.
The reason this game is not at the number 1 spot, simply because it is not out yet (Although in my opinion it is my most highly anticipated iPhone MMORPG!)
Traveller-AR does sometimes feel a little similar to EVE. It has the same grand vision of space exploration, similar customizable features, and a similar economic trading environment.  Traveller-AR is much more vast than EVE, but not quite as complex.
The funny thing is that while I do compare Traveller-AR to EVE Online in terms of similarities, Traveller-AR is actually an official franchise of the Traveller RPG games.  This is a series so old that it predates Star Wars. With close to 40 Years of perfecting from official writers and fans, this means that Traveller-AR should be an incredibly well balanced and immersive game.
One thing that makes Traveller-AR even more impressive is that it incorporates technologies such as Augmented Reality, which means you can battle other players over the Earth's horizon!
Traveller-AR was released by the Austin company In ATX, unfortunately it became too popular and disappeared soon after launch when it encountered ongoing server issus.
1) Pocket Legends
The First iPhone MMORPG, But How Long Will it Be Number 1?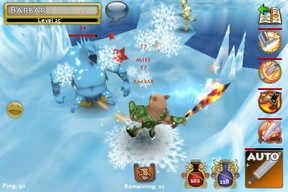 Pocket Legends was the first real MMO to appear on the iPhone. It is a lot of fun, but some people may find it a bit limited (With only three character classes available). While you can choose from a wide variety of skill sets, many people feel a little limited, and not quite unique enough, since everybody else is playing the same character in essense. The characters can be greatly cusomized looks wise, but under the cosmetics things are a little less unique.
What many people love about Pocket Legends is that it has a fun, simple and cartoonlike feel. This actually makes it feel much more game like, rather than O&C and WoW which are more detailed, and sometimes draw you ina  little more than may be good for you.
While Pocket Legends is currently the best iPhone MMORPG out there, it definitely needs to ahve more added to it if it wants to stay ahead of the curve with a whole new breed of MMORPG appearing!
---
Disclosure: This page generates income for authors based on affiliate relationships with our partners, including Amazon, Google and others.