Hit Girl Costume
by costumeideas
A Hit Girl costume is the perfect choice for any girl that wants to look cool at Halloween instead of sweet. This Kick Ass costume is sure to take names and ask questions later.
Hit Girl Costume Ideas for Halloween
Kick Ass Costumes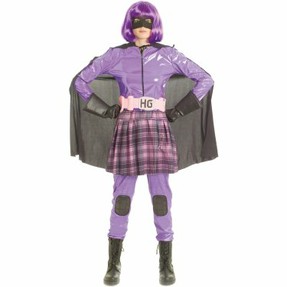 This happening Hit Girl costume is the perfect option for any girl that prefers to look ultra-cool instead of sugary sweet.
When the movie Kick Ass came out, no one really expected it to be such a success. Despite starting out rather slow, this comic book inspired film really starting kicking butt with the introduction of Mindy Macready, aka Hit Girl.
Hit Girl was trained by her father, Big Daddy, to do one thing; avenge the murder of her mother. Fighting alongside of her father, this dynamic duo sure packs one heck of a punch.
Adult Hit Girl Costume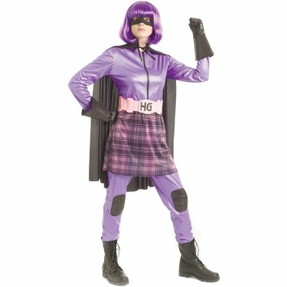 Just because the character in the movie was a girl, this does not mean that an adult cannot dress like Hit Girl at Halloween.
This adult Hit Girl costume does a good job of accurately portraying an accurate version of the outfit.
Decked out in all purple, this outfit comes complete with a long sleeve shiny top with a front zipper, a plaid skirt, matching pants that feature black knee pads, and a classic Hit Girl belt.
Also included is a purple wig, black cape, and identity protecting eye mask. To round out this fun look make sure that you grab a pair of long black gloves as well. (view the discounted price)
Kick Ass Costume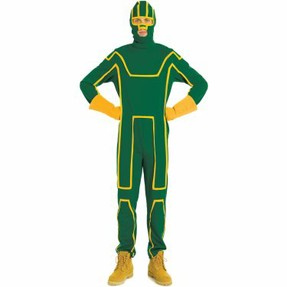 Kick Ass is perhaps my favorite character from this movie. Starting out as the mild mannered Dave Lizewski, this high school boy was certainly nothing special.
He had no special training, nor did he have any unique abilities that made fighting crime even a good idea. After a serious of unfortunate events, however, there was one thing that he could do....Kick Ass...well, he sure could take a punch.
This Kick Ass costume comes complete with an awesome green and yellow jumpsuit that is pieced together nicely.
His classic Kick Ass mask and yellow gloves help round out perhaps the coolest superhero costume ever created. Pair this costume with an awesome Hit Girl costume and protect your neighborhood from evil-doers this Halloween.
Buy Kick Ass
The Movie
If you have not had the chance to watch this movie, you certainly should add it to your weekend rotation. It is perfect for mature audiences that enjoy superhero movies, such as Wolverine, The Watchmen, Green Lantern, Thor, or Iron Man.
Please note: This movie is NOT appropriate for young kids. It has entirely too much violence and action for anyone under age.
---
Disclosure: This page generates income for authors based on affiliate relationships with our partners, including Amazon, Google and others.