iCloud Service Review
by Michey
At the Apple Worldwide Developers Conference Apple announces: iCloud Music Service, Mac OS Lion and iOS5
Introduction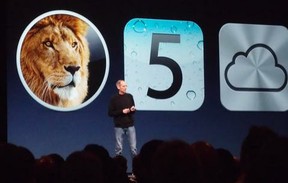 At an Apple Worldwide Developers Conference in San Francisco, Moscone Center, on 6th June, the Apple CEO, the one and only Steve Jobs and his team (VP Phil Schiller and Scott Forstall VP of iOS engineering) announced 3 new products:
iCloud Music Service
Mac OS Lion
iOS5 
To the delight of the auditorium, a skinny Steve Jobs, he is a cancer survivor, came on stage to present iCloud... which has the potential to stop Music piracy.
It was emotional, he entered on the stage and the James Brown's "I Feel Good" started playing.
iCloud Service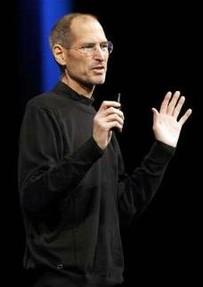 Keeping all the devices on sync was hard, so iCloud service was created as a repository. The entire digital staff will be move into the iCloud which is a FREE Service. iTunes is available today in beta in the iCloud.
iCloud features:
iCloud stores all your content, and wirelessy moves it to all your  devices
it is integrated with all your apps
Calendars are stores in cloud , moved to all devices, and sharing is allowed
New messages are mver to all decices as well
Existing Appscan be download and new purchaseswill be sent to all devices
iBooks syncs across all devices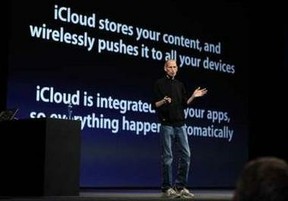 iCloud applications:
Documents in the cloud - you creat a doc in an eWork appit will be stored on the cloud and moved to all devices
Photo Stream - Take a photo anywhere, and view it on all devices...
iTunes in the Cloud - New purchased tab in iTunes store lets you play the music you already bought
How this is working:
You download songs from iTunes 
Automatically iCloud stores the songs
Automatically songs are propagated to all devices:  your iPad, iPhone, iPod touch, Mac, and PC 
What is happen with the music which was obtained using not ethically means? That music is not on iCloud. Ups! This service is viewed as a possibility to stop piracy.
Mac OS Lion
Phil Schiller present Mac OS Lion which will be available in July, and sold exclusively through the Mac App Store.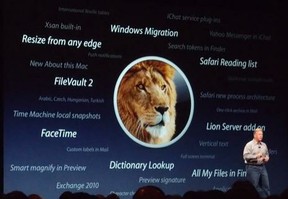 Features:
Multitouch browsing - no scroll bar, just flick a finger to scroll, pinch and zoom
Full-screen apps -  A swipe gesture make you to go back to the desktop, users can have more than one full screen app running at once, with a swipe gesture you can switch between them
Mission Control - A combination of Spaces, Expose and an App Switcher. which allow Apps to be deleted od added on the fly 
Window Migration - It is a easy way to switch from Windows
Photo Booth - The effect of photos and video mini-app are amazing: automatic googly eyes, all kind of animations ( as... following your head round...)
Mac App Store
AirDrop - It is a peer-to-peer Wi-Fi network option... see friends on your network with AirDrop open, and send files
Launchpad
...  there are more then 200 features...
So Lion will cost you $29.99 in July.
iOS5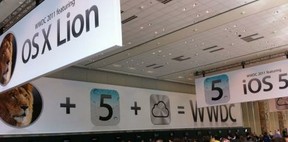 VP Scott Forstall revealed:
A new notifications capability for iOS 5. Instead to interrupt users with a confirmation dialog box - an auto-dismissing animation appears
A new Notification Center and new lock screen show all notifications and open apps for any notification with a gesture 
iOS is consider a major release, it supports iPhone 3GS, iPhone 4, iPad 1, 2, iPod Touch. At the conference, Forstall point out new features as:
New messaging service
Integrated Twitter
PC free use
... turn out to be around 200 new features
iOS 5 it is a beta version at this point, but it will ship in fall.
Do you Wizzley?
If you don't, we cordially invite you to join us, click here or click on image.
---
Disclosure: This page generates income for authors based on affiliate relationships with our partners, including Amazon, Google and others.