My Top Ten Music Making Moments
by MarenEliz
More biographical information about Wizz writer Maren Eliz. She has earned minor coinage as a singer, but most often performs music as an amateur. Her top 10 music moments.
More information about Maren Eliz
Musician
 I am a musician.  My first instrument is my voice.  Yes, we singers do refer to our body as a musical instrument.  We train, we condition, we warm up before performing and we try very hard to protect our instrument from harm.  In addition, I play at mediocre to beginner's level: piano, djembe, auxillairy percussion, guitar, and clarinet.
Djembes
Check the height before deciding if you want one of these
I had the privilege of teaching general music at two Catholic schools.  I even conducted the children's choir at my favorite school.  So, as it goes, I have had a blessed life as an amateur musician.
Thus, as you read my list of all-time best music moments, it will be understandable that my stronger instruments dominate.
The List
Top Ten
The first item in this list is primo.  After that, I consider the events equally thrilling, so their order does not imply ranking.
 Singing a duet with my son Benjamin for a nursing home gig at Christmastime.   He was in junior high, but was already a baritone.  (Ben wryly attributed this precocious vocal development to all the steroids he has endured for asthma.)  It was joyful to me how well our voices blended, and….duh…I guess they should have coming from the same genetic heritage.
Singing a duet of Amen (from 1963 film Lilies of the Field) with Clark L.(a/k/a Thunderlungs) at a Christmas church program.
Singing The Verdi Requiem (alto chorus member) with orchestra, guest soloists.  Dies Irae with timpani ---- omg!  Icing on the cake was the small, private party afterwards with some good people from Reading Choral Society and bass soloist Brian Gibson.
Teaching the Sunday school song "The Lord Said to Noah" with full motions, standing up, sitting down and so forth to kindergartners at St. Mary's R.C. School.  I remember many times as we sang with our arms outstretched to the sky "Rise and shine and give God the glory, glory" thinking "I am getting PAID to do this!  Wow!"
Playing one of my choral compositions (AATTBB) on the piano for a Harvard music major and his gasping with delight at one measure.
Singing the Queen of the Night "Der Hölle Rache kocht in meinem Herzen" aria (from Mozart's The Magic Flute) in a voice lesson.  I always wanted to do it.
Playing djembe with good, experienced fellow drummers.
Singing in District and Regional choruses in high school.
Teaching and directing the St. Mary parish children's choir in my composition of the Our Father.  Also, hearing them singing it on the playground just for fun.
  Playing clarinet duets and piano-clarinet duets with Pete Souders, one of the top jazz improvisers around.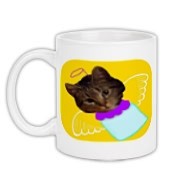 An Angel Kitten Mug
I'm a lucky cat.  Better yet, I'm not done living and playing.
 Ciao.
Pete Souder's Jazz Standards
This is the Pete that ran Ortlieb's Jazzhaus in Philly
---
Disclosure: This page generates income for authors based on affiliate relationships with our partners, including Amazon, Google and others.