New Zealand T-Shirts
by kiwisoutback
Looking for one of a kind NZ apparel? Find the most unique New Zealand t-shirts and gifts on the web like kiwi mugs, mousepads, New Zealand themed tote bags, bumper stickers, baby
Classic and Cool New Zealand T-Shirts - For Kiwis and Tourists Alike!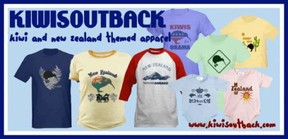 New Zealand isn't the kind of place that settles for ordinary. A flightless fuzzy looking bird called the kiwi, and a giant multi leafed silver fern are two of the country's national icons, so you know the country has to be unique. Don't settle for ordinary if you're looking for unique New Zealand t-shirts, find shirts that are just as extraordinary as the country itself!
Where to Find Unique, Cool New Zealand T-Shirts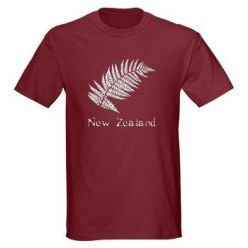 One store that specializes in unique New Zealand apparel is Kiwisoutback. This store has the biggest line of kiwi themed merchandise on the web, like their "Eco Friendly Kiwi" design and the popular "American Kiwi" t-shirt (you'd be surprised at how many kiwis live in the United States!). There are 46 unique kiwi designs alone available, not counting the New Zealand themed apparel (as of when this article was written).

Also available in the store are our featured New Zealand t-shirts, which range from the classic college style font shirts to unique Maori themed designs. All of the designs are available on sweatshirts, baby clothing, long sleeve shirts, hoodies, and sometimes bumper stickers, mugs, magnets, and tote bags if the design is appropriate. These make outstanding gifts for kiwis!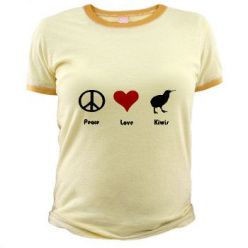 On the home page, you'll also find a link to donate to the Save the Kiwi foundation. This foundation exists to help ensure the survival of this endangered species from New Zealand (and from New Zealand only). Once you read about the plight of this bird and how few exist in the wild today, it might just prompt you to take action and help them out. A small donation can make a big difference.

New to the store is the line of organic cotton apparel. These super soft kids shirts, t-shirts, and other styles are not only durable, but better for your body. They're treated with less chemicals, and they're better for our environment. You'll be impressed by the durability of these shirts, too.
Kiwisoutback was featured on a post on Operation T-Shirt for New Zealand t-shirts here. Read more about these tees and other New Zealand themed merchandise!
National Symbols of New Zealand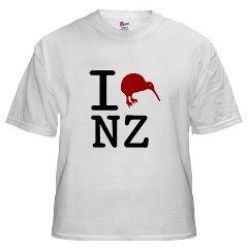 New Zealand has quite a few national symbols besides their flag. First, the kiwi. The kiwi bird is indigenous to only the country of New Zealand. It's now a national emblem, and the people of NZ have even taken to calling themselves "kiwis." If you've never seen a kiwi, you're not alone. These birds are nocturnal, and are very hard to spot. They are also a protected species on the islands because of their low numbers.
The second symbol of the country is the silver fern. This is also the second most popular symbol for New Zealand. You can find the silver fern in subcanopies of forests on the North and South Islands, along with the Chatham Islands. The silver fern emblem has also adorned many logos, flags, and sports teams for the country. It is widely recognized as a symbol of NZ.
The Unique Species of New Zealand
Unique species have existed on the islands of New Zealand because of its isolation and lack of humans. Until the encroachment of human civilization, the islands were home to many rare wildlife and birds. Though many unique species still exist, like the kiwi, some have died off like the Moa, which were hunted to extinction by the Maori.
Cool New Zealand Facts
It is one of the most recently settled landmasses in the world.
NZ is a constitutional monarchy. They serve under the the current king/queen of the United Kingdom.
New Zealand maintains a base on Antarctica called Scott Base. It is a well known research center.
Roughly 31% of the country's energy comes from renewable resources.
The Lord of the Rings trilogy was filmed in country by Peter Jackson.
Help Save the Kiwi!
The kiwi bird is a highly endangered species. All five species are in decline, but one species in particular is at a critical level of endangerment. The Rowi kiwi, which was only discovered in 2003, has numbers as low as 350. Previously, the species was thought to be the same as the brown kiwis. BNZ Save the Kiwi Trust is committed to raising those numbers. With help from donors, they aim to nearly double the Rowi kiwi population. If you'd like to make a donation to help this New Zealand bird in peril, visit the Save the Kiwi website today.
Shop for New Zealand T-Shirts Today:
Bookmark or stop by Kiwisoutback today to shop the unique selection of New Zealand t-shirts and more, like the kiwi sweatshirts, New Zealand sweatshirts, kiwi baby shirts, and other one-of-a-kind gifts for kiwis!
Find Unique Kiwi Themed Tees and Merchandise Also Here:
Our one of a kind products, also available on Zazzle!
---
Disclosure: This page generates income for authors based on affiliate relationships with our partners, including Amazon, Google and others.