Omega VRT350HD Review
by optimist
My honest review of the Omega VRT350HD including pros and cons, best prices, features and more. This juicer is not for everyone...
If you've read my long article on the best juicers out there, then you'll know that the Omega VRT350HD is the best masticating juicer on the market. Because of the comparatively high price of twin gear juicers, many people prefer to use masticating juicers. Masticating juicers produce a very high quality juice, and leave the enzymes intact - and in addition they don't cost much more than centrifugal juicers. And as mentioned before, the Omega 350HD is the top of the range when it comes to masticating juicers.
Omega VRT350HD Features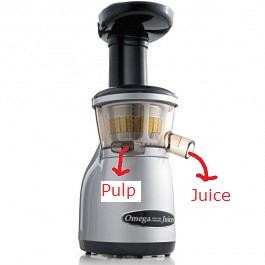 To start off with, you'll notice that this Omega juicer is an upright model, which makes it look a bit like a centrifugal juicer. However, it has two exit valves, one for the pulp and one for the juice, unlike a centrifugal juicer. Because of the upright design this Omega VRT350 takes up very little space and is small and stylish enough to leave out on the countertop if you prefer to do so.

One disadvantage with using masticating juicers is that they tend to juice at a slower speed than centrifugal juicers. However, the Omega VRT has a larger auger than most masticating juicers, which means that it juices much more quickly than most of the other masticating juicers out there.

Of course, the biggest reason why the Omega is so popular is simply because it makes such great juice. Juices taste good and due to the juicing process enzymes are intact and there's very little oxidation - so that the juice produced is incredibly dense in nutritional value.
And of course, it's also a very efficient juicer - the pulp remaining behind is very dry. Which means that almost all the juice has been extracted - with the cost of organic produce, an efficient juicer that doesn't waste food is very important.

Here is what the manufacturers have to say about the Omega's juicing process: (source: http://www.omegajuicers.com/juicers/vert350-juicer.html)
The Omega Vert VRT350 Juicer is a revolutionary product that features the high efficiency of a masticating style juicer in a vertical design. The Vert is designed to be compact, contemporary and productive. Most juicers process at a speed of 1,650 to 16,000 RPM, destroying many healthy enzymes and causing juice to degrade shortly after being extracted. The Vert VRT350 Low Speed Juicing System processes at 80 RPM, preventing oxidation and allowing juice to be stored for up to 72 hours without degradation.


Here's a quick list of the most important features of the Omega VRT350HD:


Preserves nutrients, taste and color of juice produced
Auto-clean mechanism unique to the Omega ensures that the screen remains clear during juicing
Unique design squeezes juice out instead of grinding
Auger is made from GE Ultem, and is extremely hard and durable
Very easy to assemble and disassemble
80 RPM for maximum efficiency in juicing
Fine and coarse screens to enable you to control amount of pulp in juice
Able to make wheatgrass juice
10 year warranty

As mentioned above, the Omega VRT350 has a pulp controlling screen, so that you can choose how pulpy your drink is. This is extremely useful if different people in your household prefer different levels of pulp in their drink, or if you want a pulpy drink sometimes but a less pulpy one at other times.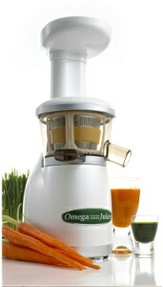 There are very few juicers capable of producing wheatgrass juice, and the Omega is one of them. However, people who drink mainly green juices say they prefer the J8006. If you plan on making mostly fruit and vegetable juices, with only the occasional wheatgrass juice, then the Omega VRT350 is better suited for your needs. However, if you plan to mainly juice wheatgrass, then you could check out my Omega J8006 review.

Another nice thing about the VRT350 is its self-feeding mechanism. Many masticating juicers require you to constantly push down the feed - with this machine I've found that I hardly every have to use the plunger.
Video Review Of The Omega VRT350 HD
Other Juicers You Might Like:
---
Disclosure: This page generates income for authors based on affiliate relationships with our partners, including Amazon, Google and others.