Surrealist Artist George Grie
by Mladen
George Grie is Russian-Canadian surrealist artist who adopted more controversal style in surrealism, and became the most influential neo-surrealist artist.
Who Is George Grie, the Neo-Surrealist Painter?
George Grie is one of the most influential neo-surrealist painter.
George Grie is Russian born, Canadian artist, who painted in the time between 1985 and 1998. We know his as George Grie, but his birth name is Yuri Georgevich Gribanovski. He studied Fine Arts on the State University from which he graduated in 1985. Although he was surrealist painter, his art he more controversial and innovative than works of other surrealist painters from that time. He adopted this new path in surrealism, known as NEO-surrealism. At the time that decision wasn't accepted by USSR regime, which allowed only classical surrealism, and rejected anything modernistic in it.
George Grie was born in 1962 in Russia, but most of his life he is going to spend in Toronto, Canada. In Toronto he studied computer designing technologies. He became professional Multimedia Graphic Designer and joined the IBM Corporation as a lead new media specialist. After moving to Toronto, his main interest is becoming studying 3D modeling software and the application of those. He tries to combine his previous art experience and new modeling software knowledge to make realistic paintings rich in details and effects.
Today, this surealist artist is interested mainly into contemporary 2D and 3D computer design, 3Dmodels and their applications.
To read more about what is contemporary art, I strongly recommend this article:
What is contemporary art?
Learn about contemporary art from the Katie's article: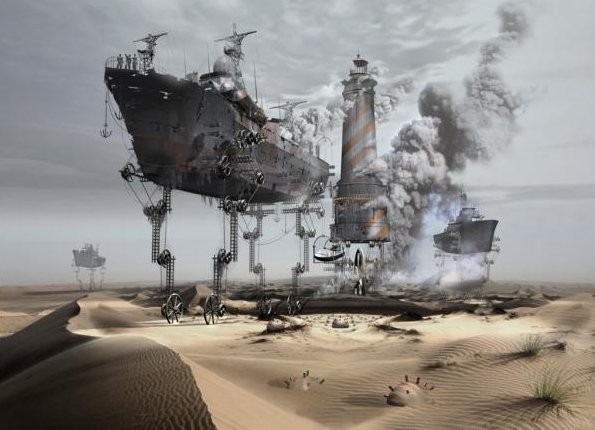 George Grie Dehydration
Ice Age Premonition by George Grie (2007)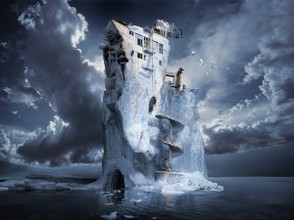 Ice age premonition by George Grie
Story About George Grie's Neo-surrealistic Art
Paintings are doors to strange new world, product of his imagination, subconscious, emotions and alienation.
George Grie contemporary artist who often travels into his subconscious. Grie uses 2D and 3D modeling software to reproduce his subconscious onto the paper. The world in his paintings is often disturbing, gray and dark-blue, but always with distant source of light, as if he is telling there is always hope. 
The colors and the landscapes are quite realistic, and painting are rich in details. George Grie from the beginnings of his neo-surrealist carrier, is experimenting with light in his paintings. The paintings are representing some mystical, magical and playful worlds of human emotions. One world would represent the state of anxiety, and the other would represent suicidal thoughts. 
To me his work is mix of subconscious scenery, deepest human thoughts, fears, supernatural, illusions, mystic romanticism and magic. 
His work shows us not always pleasant worlds and thoughts, but quite the opposite. Most of his paintings tell the stories about disturbing strange worlds, with dark colors and distant light, which is obviously not bringing much of life to the life behind inside the canvas.
On the other side, there is some tranquility present in the paintings, beside the alienation. The objects in his works are often alone, unreachable, but also inescapable for the one who would life inside those objects.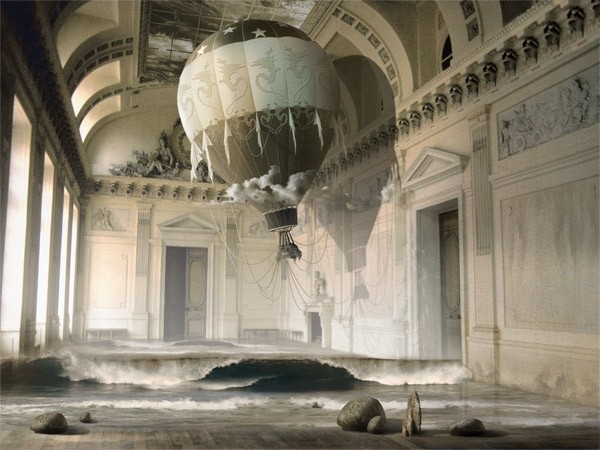 Arrested Expansion by George Grie
Arrested Expansion by George Grie
Arrested Expansion is also called Cardiac Arrest
Arrested Expansion, also known as Cardiac Arrest is one of the most famous Grie's works. It shows an air balloon trapped in the hole of some huge building. To understand the painting, I will first explain the state of cardiac arrest by giving my professional insight into this condition.
Cardiac arrest is one of the leading causes of death in modern world. It is the state of sudden loss of hearth function not caused by hearth attack, but the abnormality in hearth electrical system. 
I see this balloon as suddenly trapped in the hole of that building, while it was flying over the sea. It's function was interrupted, and the balloon will die. Both hearth and air balloon represent life and freedom, and in this painting their function and purpose are blocked. 
It is the contrast between balloon (representing freedom and life) and the building (claustrophobic element in the painting) that will take the viewer to the surreal world, and that will wake up one's imagination. The colors in the painting are calm, and relaxing, but the combination of the objects is disturbing and a bit paradoxical.
George Grie's short line on Contemporary Digital Art
His response to claim that digital art is not real art made by human hands.
George Grie said he is well aware of people considering contemporary-neo-surrealistic digital art as something artificial, cold, mechanical and distant from human hearth. For him this couldn't be more wrong. His response to these people was that computers are not producing art, but people. According to him, computers are just much sophisticate creative tools, but in the hands of a men. The only one tiny annoying obstacle between one and his perfect design would be lack of the imagination.
Discover the Work of an other Surrealist Artist: Augustin Lesage
French spiritual artist.
---
Disclosure: This page generates income for authors based on affiliate relationships with our partners, including Amazon, Google and others.