Surrealist Artist Jacek Yerka
by Mladen
Discover Jacek Yerka's world and dive into the out-of-this-world scenery in acrylic paintings of this Polish surrealist.
Jacek Yerka: Biography of Polish Painter
Jacek Yerka is Polish surreal painter, and one of my favorite surrealist artists. His work is just out of this world, and it goes beyond any imagination. Jacek Yerka was born in 1950 in Turun, Poland. His both parents were artists, but he didn't enter artistic waters until he graduated from high school. 
For most of his childhood and high school he dreamed to study astronomy or medicine. He never tried painting until few months before his entering exam for the college. 
Luckily, after giving the art the chance, he fell in love with painting, and that was the moment when Yerka decided to study fine arts, and not astronomy nor medicine.
Unlike the painting, he spent his early life in drawing and sculpturing. He would pull himself into his own world, and draw, refusing to go outside and socialize with other kids. According to Jacek Yerka, this was the reason he was rejected in the school by his peers. He describes his school as "gray, sometimes horrifying reality".
Things changed when he entered high school. He was drawing scetches of school's most famous bullies which in some strange logic marked him as 'untouchable"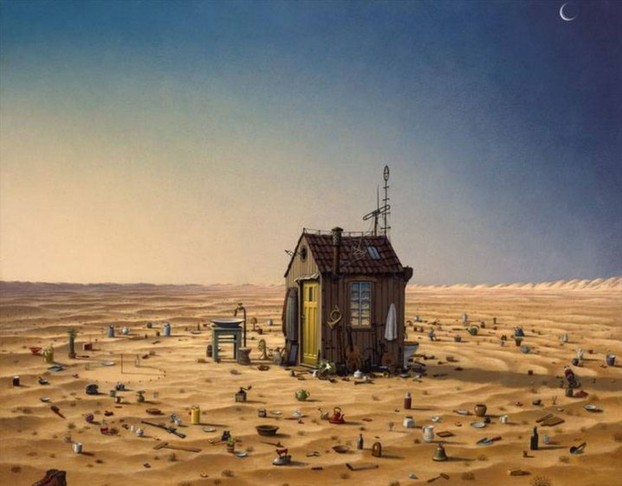 Surreal paintings: Jacek Yerka 5
Jacek Yerka's Path to Becoming Esteemed Polish Surrealist
Unplanned voyage to the world of surrealism.
Few months before taking the entrance exam for the college, he was in between two options: studying astronomy or studying medicine. Yerka for the first time took the paint to try to paint something. I guess he realized it would be shame to have parents artists, and yet not to try "the call" himself. 
Luckily he liked what he produced using paint, and not pencil this time. Since then he was working on acrylic paintings.
After the success of his first artistic work, Jacek Yerka decides to study fine art and graphic design.  While he was on the college, he was directed by his mentors to accept the detail and realism in his work, and to leave modern techniques of artistic creation. Looking at his work today, we see he refused to do so, which is great thing for us in my opinion. 
 Jacek Yerka started working as full time painter in 1980. Since then this Polish painter created few hundreds of unbelievably complex and detailed paintings. 
He was one of many other contemporary artists (what is contemporary art?) who followed strange and misterious path of surrealism. Unlike the other surrealist painters, Jacek Yerka put a lot of his own subconscious into his work, taking only the techniques and basic ideas from other surrealists. 
Read About Other Surrealist and Contemporary Artist on Wizzley:
Surreal Paintings of Jacek Yerka
This Polish painter, is one of the most famous surrealist artists. He gave us whole bunch of out of this world paintings, which tickle our imagination.
Jacek Yerka was inspired by the work of few other surrealist painters, such as: Pieter Bruegel, Cagliostro, Hieronymus Bosch, Jan van Eyck and Hugo van der Goes. But he managed to take only little from them and to put a lots of his ideas into his art. This allowed him to create his own recognizable style in contemporary art. 
Central figures in his paintings are trees, water, houses and towns. He, we could say, combines the artificial objects with the nature, changing their places. His sharp-focused acrylic brings doors in the place of trees, while trees are becoming doors. Out is in and in is out in his works. Mountains take roles of waves, rivers go upwards and the towns are being blown by the wind, while they age. 
There is no other author who will bring chaos of these proportions to the acrylic world, but only Jacek Yerka. In his paintings, it seems, nature takes the role that belongs to her: the leading role; while everything man-made is in service of nature. Actually, in his paintings nature and artificial objects create beautiful bound, which will awe everyone. The scenery looks like from the other better world, not like in paintings of George Grie. 
On the other hand, this beautiful nature filled with vivid colors, that live in his works, looks quite threatening to me. Everything human that exists in that world which is product of his incredibly rich imagination, is on the edge to be destroyed by the Nature. Towns lying on the pumpkin, or being blown in the wind, or being under the sea surface look so calm, but also so fragile. It is like Jacek wanted to send message that in his world, nature is the one deciding of the human existence, and the otherwise (most people today, would think of themselves as of Gods). 
Surreal paintings: Jacek Yerka 4
Source of the paintings: Surreal Paintings by Jacek Yerka
Jacek Yerka's Inspiration and Other Work
Polish surrealist painter inspired by his childhood memories and his dreams
The main inspiration for these lovely and impressive paintings, Yerka found in his childhood memories. Most of the paintings are inspired by his grandmother's kitchen. Other building in the pictures are taken from his memories of his grandmother's summer house. Lots of other object are the products of inspiration by fragrances, places and persons from Yerka's past.
Later, he finds the inspiration in his dreams. Examples of such inspiration are: New Age Manhattan, Metropolis, Sonnet, Strawberry tree, Cathedral, Swimming lesson. See more Jacek Yerka's Surreal Paintings.
He says that his often trips to Polish countryside resulted in few acrylic works too. We can see that in using countryside scenery in his work quite often lately. 
In 1990 he was asked by Hollywood producer Renee Daalder to participate in making his new movie about John Lennon. His idea was to join Yerka's extraordinary art with the songs of The Beatles into one science fiction movie entitled: The Strawberry Fields. This Polish painter and surrealist artist used his imagination to create monsters, machines and unreal landscapes for the movie. 
Have your own Yerka Jigsaw Puzzle
Link to Lens about Jacek Yerka's Paintings
Gallery
Jacek Yerka Surrealist Paintings
Check more of his work and be amazed by the details found in his art!
---
Disclosure: This page generates income for authors based on affiliate relationships with our partners, including Amazon, Google and others.