The Lord of the Sonnets
Shakespeare's reasons for his sonnets were made by the presence of this one man.
An Argument Hides An Amazing Man
So many argue over the origins of Shakespeare's sonnets, the man who was "the only begetter of these sonnets" has been hidden from view from most people for four hundred years. William Herbert (April 1580 - April 1630) was not only the son of Henry Herbert, 2nd Earl of Pembroke, making him an automatic player in the courts of Queen Elizabeth I and King James I; just  by birth he was the son of Mary Sidney, one of the great women scholars, writers, and muses of England, and nephew of Philip Sidney, one of the greatest Elizabethan poets. Most people only read about what he was born to, if they read about him at all. Or they see a passing mention that he might have been the young lord that Shakespeare addressed many of his sonnets to. But there is evidence, hidden in odd places, that prove he was the Lord of the Sonnets, and, as such, came to have that honour not just by his birth and his looks, but by the extraordinary man that he was, very much by the persona, will and gifts he had of his own.
William Herbert Earl Of Pembroke
"WH, The Only Begetter Of These Sonnets"
William Herbert Third Earl Of Pembroke
According to Wikipedia
William Herbert, 3rd Earl of Pembroke
, KG, PC was the son of Henry Herbert, 2nd Earl of Pembroke and his third wife Mary Sidney. Chancellor of the University of Oxford, he founded Pembroke College, Oxford with King James. He was warden ...
An Unusual Look At William Herbert
That adds yet misses some very interesting possibilities.
A Youth's Mother
Did a very willful thing, and found herself with "Wills overplus."
William Herbert Made The First Folio Possible
Possibly because he held a number of Shakespeare's papers
The Sonnets Addressed To William Herbert
A sampling of the sonnets with stories behind each poem
This Is The Tale Of Two Lovers
This will be argued, but this is how I see it.
Early in 1597 Mary, Countess of Pembroke commissioned William Shakespeare to write 17 sonnets to persuade her son William to marry, which he refused to do. Shakespeare came to stay with the family as he wrote the sonnets, and found himself falling violently in love with the beautiful young man. To his surprise, the love was returned - imperfectly, irrationally, sometimes very moodily, but returned nonetheless. Everything stood between them, from families, to a woman, Emilia Lanier, who wanted both of them, to too many Marys who wanted something from the young Lord, to the courts, to the theaters. Somehow they had an on again, off again relationship that lasted nearly fifteen years, and, on top of that, managed to keep it quiet in spite of both their fames.
In 1609 something occured that we can't know. Something made either William Herbert or William Shakespeare publish the Sonnets, effectively outing Shakespeare. It had a disastrous but silent effect on Shakespeare's career, which was never the same after 1609. The public hated the sonnets. And yet - they survived. Shakespeare foretold in his sonnets that the poems would be, and make their subject, immortal. He could never have guessed that time and denial would make the Earl of Pembroke somewhat invisible.
Still, the Earl of Pembroke's accomplishments, particularly his involvement in Oxford University, will not be forgotten. And, his place in Shakespeare's fame, though the details will be argued forever, also can't be denied.
Sonnet 29
My Favorite Sonnet
What's Left Out Of The Short Biographies
He was once so pleased to see King James I that on their meeting William impulsively kissed the king on the cheek. Touching a monarch was forbidden; but, King James, delighted by the impulsive affection of the young man, simply slapped his arm softly and laughed. The king showed favor to William in many ways over the years, including the high office of Lord Chamberlain.
On the 27th of March, 1625, King James died in the Earl of Pembroke's arms. One has to wonder how that set with George Villiers, the Duke of Buckingham, who was rumored to be James I's lover. He was then, as too many times, in the same room with Pembroke. They would be enemies from 1615 until Buckingham was finally assassinated in 1628 - not by Pembroke. Was Pembroke another ot the King's favorites? Rumors of that sort haven't survived, but that may have been because he was committed elsewhere.
What came of Buckingham and Pembroke's long fights with one another? Waller says in his book that their contention may have been part of what led to the Civil War.
Was Pembroke The Model For Hamlet?
It is possible he imfluenced the character as we know him now.
But Wasn't He Famous For His Dalliances With Women?
Yes. And?
There were a number of women with whom Pembroke had affairs, chief among them being the poet/mistress Emilia Lanier (who Shakespeare also loved), Lady Mary Fitton (who pursued him ruthlessly, once dressing herself as a boy to gain his favor, and got herself pregnant to force a marriage he refused) and the poet Lady Mary Wroth, his cousin, who loved him miserably, for life. But - and this is an important but - history has noted that these were all women who pursued him - not the other way around. He was a beautiful and charming young man pursued by a great many people. The only woman he is noted as pursuing himself was Mary Talbot, the daughter of the Earl of Shrewsbury, who, after a year of persistent bargaining, he married in 1604.
Gilbert Talbot, Shrewsbury, didn't believe in Pembroke's ardor. For good reason. This young man, who could have had any of a good number of ladies, married a dwarf, a match that so displeased his mother, they didn't speak for nearly ten years. These were the ten years during which Shakespeare lived close to Pembroke's London residence, Baynard Castle, and could easily travel back and forth.
The marriage was a disaster, and not much is said of Mary in the records. She was rumored to have gone mad, but there's no evidence of this. In the year Shakespeare died, 1616, both Mary Talbot and Mary Wroth gave Pembroke children for the first time, bearing him children again the year he turned forty, in 1620. These were his only children. Mary Talbot's children died infants.
In his later years he was famous for spending a lot of time with women friends, such as Lucy, the Countess of Bedford, but not for affairs.
The Earl In His Last Days
Alcoholism, not venereal disease, led to his end.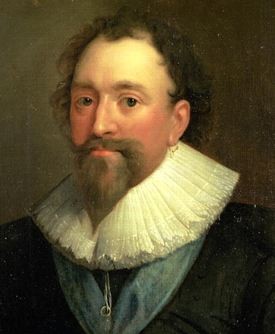 The change in his face tells of a possible illness never mentioned, cirrhosis of the liver.
He Died Of Syphilis Didn't He?
There's no evidence of that.
It's strange and sad that people assume most great men died of syphilis in that era. William Shakespeare likely died of a stroke. Pembroke most likely died of heart problems and  surely had cirrhosis of the liver by the time he died - He himself wrote matter of factly about his drinking. The portraits of him in his last years, with bulging eyes, puffy face and hands, darkened hair, and great stomach, making him unrecognizable compared to his younger self, shows the symptoms of cirrhosis. He very steadily removed all trace of the beauty that had drawn Shakespeare and so many others to him.
It was foretold when he was a young man that he would die on his fiftieth birthday. Apparently, he did, alone, after a night of dining with friends at Fisher's Folly, a favorite ordinary house. It was said Lucy Countess of Bedford was present that last night. Odd, but she died three years before. So one has to wonder about the last reports of his life. He was remembered as the "Hamlet of the English court." In truth, he is probably the model of the character Hamlet, not the copy.
His titles were inherited by his brother Philip. "The rest is silence."
---
Disclosure: This page generates income for authors based on affiliate relationships with our partners, including Amazon, Google and others.