Wedding program ideas
by ImagineMDD
Samples and ideas for custom making your own wedding programs to fit your wedding
What to Include in the Wedding Program
When we got married over 20 years ago, we created a wedding program. More often than not, when we attend weddings, we're handed a wedding program. They're not essential, but they are nice to have for several reasons despite the size or style of your wedding.
Guests may like something to read before the wedding begins. It gives more information on your backgrounds, the history of your relationship. At any lull in the event, the program can give info that you want to interest those in attendance, including information on the ceremony site. They can be conversation starters; always appreciated.
There are so many types of programs. There are different ways a couple may create their own these days.
The programs shown and linked in this article offer several examples of style and wording that you might use to come up with your own program.
There are certain things you expect to find on a wedding program.
The names of the couple
Wedding date. Sometimes the place. Is it historical or especially meaningful? Include information.
Names of the attendants. Some programs will mention their relationship to the bride and groom.
Name of the officiant. Some couples have friends perform the wedding ceremony. Think about how much space there is to add any relationships you have to the people in your wedding party.
Names of the couple's parents. In this day and age, the couple may be standing up there with their children, their step-parents, etc. Give names of family members you want to acknowledge.
A chronological list of what will happen in the wedding so guests can follow along.
The ceremony program can serve as a memento to the guests, attendants and most importantly to the bride and groom.
It may accompany copies of the wedding video and photographs sent to family and friends who were not able to attend the wedding in person.
The wedding program is a great way for the couple to express themselves.
Rack Cards from Zazzle run 4" x 9" (portrait) or 9" x 4" (landscape). Best know for making the perfect promotional hand-out, they're also just right for wedding programs and event menus, As with other Zazzle products, you may use a template or upload your own designs, text and/or photos.
As the eco-friendly thing to do, consider offering one program per family or one per couple. Be sure there is a basket or location for guests to place programs if they do not wish to keep them. It'll be very easy for you to find other homes for them and to make other uses of leftover programs yourself.
Check out the selection of Wedding Programs on Zazzle. All may be personalized just for you including photos!
You may want a full sheet of paper, a tri-fold or bi-fold paper program or a single narrow custom card. Zazzle has more than one paper option.
Regardless of who you choose as a vendor, please check to see which papers fold best or more easily if you're going to get a program you intend to fold or try and pass through your printer.
For instance on Zazzle, the higher grade cardstock, 100lb paper option tends to be harder to fold. Consequently, this paper is not recommended by several of the designers.
The wedding dinner menu or even the cocktail menu may work perfectly on the same paper size and design. See about getting a volume discount if you get your menus and programs from one source, one designer.
You can have a cohesive look and save money.
Content often included in Wedding Programs
There are other items that are often seen in wedding programs.
You may consider including some or all of these. Consider adding embellishment such as ribbon, a thin cord and tassel or glue-on crystals. Some couples find other beautiful and meaningful items that coordinate such as a peacock feather or a shell. This, along with the paper that you choose, can add texture as well.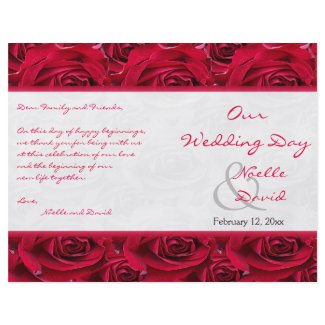 Red Roses Galore Wedding Program
by NiteOwlStudio
Browse more Wedding Flyers
A brief note and/or a thank you to those who are attending, those who've been there for you
Memorials, tributes to anyone who has died who you're missing on your special day. This may accompany a tribute such as a candle or something else at the ceremony in that person's honor.
Rituals. In my own wedding, it was important to explain elements that guests might not understand.
It doesn't matter if your ceremony is secular or religious. Chances are that all of your guests may not be familiar with each of the religious, spiritual, ethnic or otherwise personal aspects.
Everyone's appreciation of the day will be heightened with an explanation of what rituals and details mean to the two of you.
You may include the lyrics to songs or hymns that are sung, poems recited. Their titles and perhaps credit to the composers. Include names of those performing, reading, etc.
Pertinent information: We included our new address. What else might your guest need to know?
Consider the style of your program. It may match your other wedding paperwork such as the invitations, but it may simply complement. Consider the seasons, your wedding colors. There are beautiful spring, summer, fall and winter wedding programs.
Couples personalize them completely setting them up like a theatre program. Is your wedding small? Create them out of recycled materials. Whatever you can imagine.
Tributes, Memorials at Weddings Remembering Loved Ones
 Unique Save the Date Ideas and Save the Date Etiquette for Destination and Theme Weddings
Find an article about Interactive wedding programs. Rather than have a formal description of the wedding to be had, include a few funny anecdotes about your relationship with your soon-to-be-spouse. Programs are some of the only tidbits that your guests will have while they wait indefinitely for the ceremony to start. -- excerpted from article
The Wedding Program Fan
Sometimes the weather doesn't cooperate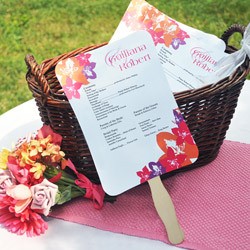 The Wedding Program Fan is popular particularly for outdoor weddings but not exclusively for them. Anyone who's sat in large, warm hall knows how handy a fan may come in. Traditional folding programs have been used as fans for years particularly if your wedding is held outdoors!
These fans come in different styles and shapes.
Some are available in DIY kits that the couple may print out on the computer and assemble yourself.
Consider the cost savings and remember the amount of time and effort you'll take assembling the programs regardless of the style.
Some couples decide to create a DIY wedding program fan without using a kit. If you do this take the time to make a sample or two. I've seen weddings where the fans are made with paper that is too thin, or the programs are too large for the handles used. When guests are fanning themselves the sound of the paper's flapping can be heard. This is both distracting and may be picked up on a wedding video.
Consider the DIY Heart Fan Program Paper Kit. A Heart program can be beautiful for any wedding but imagine it for Valentine's Day ceremony. Is red one of your wedding colors? So classic. 
Distributing the programs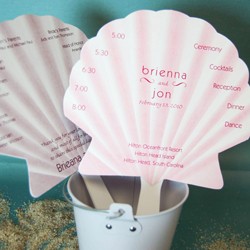 Particularly with outdoor weddings, setting programs on individual seats may not be a good idea. Gusts of wind or a passing lady's skirt may brush up against programs sending them onto the ground.
If you have the fan style of program with the wooden sticks, consider placing them anchored in decorative buckets of pebbles or marbles?
Set them in a tray by the guestbook or at a head table as guests arrive. Someone may hand them out or make sure that guests have received one.
Will guests also be receiving a special favor to use during the wedding? Something like a bottle of bubbles to blow when the bride and groom walk back down the aisle as husband and wife? Maybe a packet of birdseed? Nice idea to hand out the program with these favors.
Pretty Heart Shaped Wedding Program Fans are also available in ivory or white.
Some companies will add ribbon or tassels, etc. Don't hesitate to make the programs your own even if you don't start from scratch yourself! One way to embellish is by adding bling.
Glitter and pre-glued crystals are a fun way to add a hint or a lot of sparkle to your programs and any of your other stationery.
Consider adding Stick-On Rhinestone Jewels Crystal Color (200 pcs) looking especially pretty in an outdoor wedding or an indoor wedding against candlelight. This can add that special personalized DIY touch that makes them represent you.
Add a Photo and Make a Fun Mask! Birthday fun!
Business promotion
Our friends had a great idea for a surprise party!
They found a cute, funny photo of a mutual friend. For his surprise party they printed out a bunch of life-sized images of his face on card-stock.
Then, they got a couple of packs of the fan handles. (Maybe you just have some handles left over from making your wedding program fans?)
They cut out the photos and slid them onto the handles. Until the birthday boy arrived they served as fans and when someone saw him drive up, everyone put the masks in front of his or her face.
When he walked in he got a big shock to see the room full of clones of himself!
Other patrons of the restaurant got a laugh, too.
Add information about the party on the backs of the photos? The menu, where the party will be and send the masks as invitations? Have fun with it!
On a hot day, making creative fans with your business name is a clever way to get your business name out there. People may be more apt to take a fan with them where they may not take an informational paper flyer along.
Birthday Faces take the work out of your hands, allowing you to simply upload an image and have it directly printed onto a poster board that includes a wooden handle. You can have it black and white or color, even an image of your pet! Each birthday face measures 12 inches in diameter, and they come in packages of twelve.Variations offer giant Big Heads, cut outs that are 36" tall!
Many venues have restrictions for events, no throwing rice or confetti, restrictions on sound, etc., consider making your statement by having your group pulling out these fun faces as your couple passes by, your graduate emerges, the birthday boy suddenly enters the establishment.
8" Unfinished Wood Wavy Bid Paddle Fan Sticks - 32 Piece Package
Wooden Ornate Handles for Hand Program Fans, Table Menus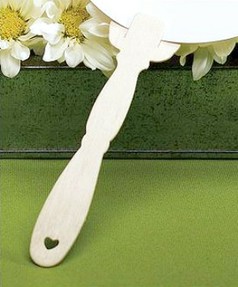 Blank Wood Program Fan Handles (Set of 100)
Just one of a few different styles. For DIY Brides, those on a budget, those with personal style preferences.
Cute idea. Use these wooden handles to create personalized hand fans for your guests.
Choose from a fully customizable fan inserts - or create your own!
Make extra fans if needed. Classy and practical and green.
French Whimsy Hand Customized Fan with Decorative Shape (Many Designs Available)
Laser Cut Lacy Fan Programs serve as pretty menu cards for the reception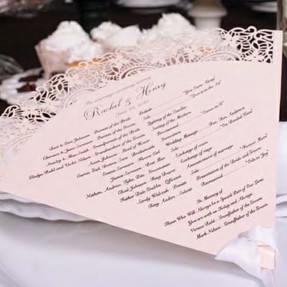 Laser-Cut Paisley Fan Program for Weddings - Available Printed or Unprinted
These fabulous Scalloped Wedding Program Fans are a great way to inform and keep your guests cool!
Whether you're having a summer, spring, beach, garden or destination wedding, the fans are a must for your wedding guests.
Some indoor wedding and reception venues are very warm any time of year, especially after dancing!
Each program fan is tied with an elegant double faced white satin ribbon hanging beautifully from the bottom.
As with most programs, they would serve as terrific menu cards.
There are 35 paper colors to choose from. Some are metallic.
Fan Size: 8-3/4" wide x 7-1/4" high
Read more and see samples of programs
From simple to elaborate wedding programs. Look at The Knot shows wedding program photos for new ceremony ideas and do-it-yourself wedding programs. 30 Easy DIY Ceremony Programs.
DIY Wedding Programs : Wedding Programs The Basics
from The Knot
Black & White Polka Dot Wedding Invitations' Fun Wedding Invitations and Wedding Postage
Polka Dot Weddings' Fun Wedding Invitations & Wedding Postage
---
Disclosure: This page generates income for authors based on affiliate relationships with our partners, including Amazon, Google and others.