What are Barefoot Running Shoes?
by Nina
Barefoot running shoes have become quite popular these past years. While its design looks different, it has a lot of benefits which makes it a great pair of running shoes to use.
What are five finger shoes? This type of shoes has become popular these past years. While it is true that most people tend to get bewildered with its design, there are a lot of benefits in using toe shoes. The materials used to make the shoes are made thin and lightweight. It has a separate pocket for each toe which makes it look strange but this helps the shoes adjust to the foot and simulate barefoot walking or running.
Did you know that we evolved without wearing shoes? This means that our feet have been designed to function barefoot. Because of this, many experts believe that traditional shoes get in the way the feet's natural function. Toe shoes and other types that are minimally soled support a barefoot feel by providing a sensation of the ground because of the minimal amount of cushioning. The feet will get used to the right form when walking or running when it is able to feel the ground. This also helps reduce the impact on your feet to avoid pain and injuries. Five finger toe shoes allow the toes to splay or spread out which means it will not constrain your foot unlike traditional shoes. A healthy pair will allow the feet to be in a neutral, flat position as heels can affect the gait and posture.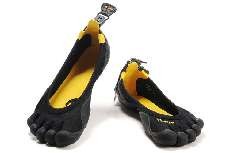 Vibram Five FInger Toe Shoes
Are Toe Pockets Really Necessary?
Toe pockets are among the reasons why a lot of people are hesitant to try using five finger shoes. What many people don't know is that shoes are not necessary for getting about – whether you are running or walking. It is possible to do a variety of tasks barefoot without injuring ourselves contrary to what most people think.
The natural state of the foot is circumvented when walking on external soles and in turn, the body needs to compensate for the change. This is where the problem lies. While this remains debatable, many scientific experts agree that because any shoe will change the natural setup and function of the foot, it is best if it is left alone. If it is necessary to wear a pair of shoes, make sure to use one that will not get in the way of the feet's natural function.
If you really are not keen on the idea of toe pockets, you can instead use barefoot running shoes with no pockets. There are different brands that offer this type of shoes. It looks like regular running shoes except that it is lighter and more flexible. 
Buy Barefoot Running Shoes Online
Ad
The Benefits of Running Barefoot
There are many people who remain unsure of the idea of running barefoot but more studies suggest it would be beneficial to do so. Most people who have tried wearing five finger shoes said they experienced less ankle sprains, chronic foot injuries and plantar fasciitis. They also said it provided them with greater agility and improved balance which in turn helped in lowering the risk of injuries. Because of the increased blood circulation in the feet, the risk of developing varicose veins is also reduced.
Why Use Barefoot Running Shoes?
There are a lot of reasons why a lot of people use toe shoes but perhaps the main ones are comfort and balance. The spine is better aligned when using toe shoes and this leads to better balance. If you have more balance, walking or running would be much more comfortable. There are studies which suggest that using barefoot running shoes helps improve the form. This is important as it will lead to a fewer number of injuries. This type of shoes imitates barefoot running without allowing debris to cause sprains and injuries.
Five finger shoes allow the foot to feel the ground and sense its surroundings. The reason for this is that being able to sense the ground helps direct the foot on how to step. It also lets the foot move naturally. This is true whether your foot wants to flex or perhaps spread out while feeling the ground be it at home or outdoors.
Versatility
Toe shoes are often used for walking and running. However, there are a variety of tasks in which you can wear it. There are many people who prefer to use it when doing yoga or kayaking. Its flexibility makes it a good pair of shoes to wear while practicing different yoga positions. It is also not slippery which is why it is used for water sports including kayaking and wakeboarding.
Where to Buy Five Finger Shoes
There are many consumers today who prefer to shop online. While there are a lot of online retail stores that sell barefoot running shoes, it is best to fit it personally. Its size differ from standard shoe sizes so you may want to try it for yourself and find the size and style that you feel most comfortable in.
Updated: 12/05/2011, Nina
---
Disclosure: This page generates income for authors based on affiliate relationships with our partners, including Amazon, Google and others.