What are Texting Gloves?
by Nina
Texting gloves have become quite popular these past years. It is one of the best winter accessories to have particularly for individuals who are using a touchscreen device.
My Favorite Texting Glvoes
Check out these great gloves for great DISCOUNTS!
Agloves Touch Screen Gloves

TYou can text with these gloves on! Agloves are lightweight, soft, warm, stretchy and slightly fuzzy knitted gloves. Made in the USA, these seamless, knitted gloves have high quality workmanship.
Ad
There are many people today who use touchscreen devices such as mobile phones, mp3 players and tablet PCs. Trends are leaning towards gadgets that react to human touch to function instead of using buttons. However, there are individuals who find it difficult to use their touchscreen devices during winter while wearing their gloves. This is because touchscreens work through a capacitive material which reacts to electric charge from the human skin. This is why it will not respond to touches through gloves. In answer to this, companies have come up with texting gloves. In a nutshell, this pair of gloves allows users to operate their touchscreen devices while keeping their hands warm.
Why Regular Winter Gloves Don't Work on Touchscreen Devices
If you are using a touchscreen mobile phone, you probably know how frustrating it is to remove your gloves to be able to send a text message or make a call. Regular gloves don't work on touchscreens because it requires capacitive touch, as mentioned. What this means is that capacitive touchscreens are able to register movements by picking up on fluctuations on the screen's electrical field. When you apply pressure to the screen, it will only register if it has an electrical current. The skin works great on touchscreens because we give off electrical impulses. However, most cloths don't have electrical current which is why it does not work on most touchscreen devices. Texting gloves solve this by using conductive materials or fabric on the gloves' fingertips to allow it to transmit electrical current to the device.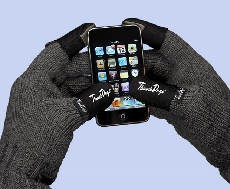 Texting Gloves
How Do Texting Gloves Work?
A texting glove uses conductive cloth on the fingertips that people are most likely to use on a touchscreen. These are primarily the thumb and index fingers. The rest of the glove is made of warmer materials. The first type of touchscreen gloves were quite thin and offered only light protection from the freezing conditions. This is why texting gloves today have become more insulated as it is made of thicker materials. However, the thumb and pointer fingers will probably have to remain scantily clad to make it easier to operate a touchscreen device with accuracy.
There are some texting gloves that don't use conductive material. Instead, the thumb and index fingers are exposed. What makes this type of texting glove convenient is that you will not have to learn how to use your touchscreen device while wearing it. You can effectively tap the touchscreen and send text messages with bare fingertips. Its downside is that the fingers will be unprotected from freezing weather. This is the reason why loves that use conductive materials are also referred to as frostbite-free texting gloves.
The Advantages of Using Texting Gloves
The advantage of using touchscreen gloves is that you will be able to keep your hands warm while using your touchscreen device. It can be very inconvenient to remove your gloves whenever you need to send a text message or answer a call. This can be quite uncomfortable particularly if it is freezing.
There are many people who also use texting gloves as fashion accessories. You will be able to buy from different brands and designers to provide you with a lot of options. You can wear a pair of touchscreen gloves that suit your style.
You can purchase texting gloves from retail stores but you may also want to check out online retail stores as there are good deals online. Because there are two different types of touchscreen gloves, consider which one you would be more comfortable using. The prices vary depending on the materials used to make the gloves.
Updated: 12/23/2011, Nina
---
Disclosure: This page generates income for authors based on affiliate relationships with our partners, including Amazon, Google and others.