Xbox 360 Gifts: 4 Gift Ideas for Xbox Lovers
by emmalarkins
If your gift recipient owns an Xbox, gift-giving should be a breeze. Here are some of the best gift ideas for Xbox owners.
Controllers, Consoles, Games, and More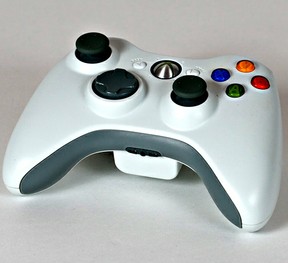 Xbox 360 gifts never fall short when you're buying for fans of this console. That's why I love having friends and family members who play Xbox; there is never a shortage of great gifts to get them.
Most of the time, I ask for a selection of coveted game titles, and then pick one or two to give. Sometimes, if the gift is for a close family member, I'll consider getting a console (if they don't already have one). I also know people who own (and love!) the Kinect, so that opens up the gift-giving opportunities even more. 
Read on to get some great ideas for gaming gifts. Looking for more ideas? Check out Gamer Gift Ideas: Great Gaming Gifts on Squidoo for gift ideas not specifically for the Xbox. You might also be interested in Cool Birthday Gifts for Guys.
Image source: Flickr.
#1: Xbox 360 Controllers (Wired, Wireless, and Kinect)
Give the Gift of Control
Controllers make a great Xbox 360 gift because players are often more likely to splurge on a new game title than a controller, even when an extra one would mean more social gaming.
Kinect. Kinect is the hot new motion controller from Microsoft which consists of a video-recording and light-detecting box that sits in front of the play area. Players use their bodies to control menus and play games by moving their hands, arms, feet, and more. Certain Xbox titles are entirely Kinect-based; others are Kinect-enabled; and still others don't interface with the Kinect (yet.) Because there are certain space limitations involved, you might want to check out this list of Xbox Kinect Requirements before committing. 
Wireless controllers. Since many games don't yet connect to the Kinect, a wireless controller can be a good (and cheaper) alternative. Buy a game-themed one to add a little flair to an otherwise somewhat utilitarian gift.
Fancy controllers. Think your gift recipient is into something a little different? Check out some of the customizable controllers over at MadCatz, a Major League Gaming supplier. Not to be confused with modded controllers, like the ones custom-built by Gamemodz; Gamemodz only changes the look, not the arrangement of the elements. Of course, if you want to go all out, maybe you should try and get this metal and wood steampunk version.
Wired controllers. Unless your recipient is desperate for a controller and you absolutely can't afford a wireless, leave these stone-age devices in the past.
uDraw. The just-released uDraw controller allows you to use a touchpad and a stylus to control games for the three major consoles in entirely new ways.
#2: Xbox 360 Games
New and Old Favorites
Gamers, like all enthusiasts, have specific tastes when it comes to the types of games they want to play. Unless you're an avid gamer yourself, I wouldn't suggest getting a game without asking your recipient for title suggestions first. For example, all it takes is a look at the ratings on Amazon to see that Dance Central
and Dance Paradise
are two wildly different creatures, even though they sound pretty much the same to a non-gamer. Here's a quick check: if the game costs less than $25 and is brand new, it's almost guaranteed to suck.
First-person shooter games. FPS games are arguably the lifeblood of the Xbox (although other game genres have been giving it a run for its money lately). Chances are good that if someone owns an Xbox 360, they use it to play at least one type of shooter game. There can be some fierce loyalties when it comes to game franchises, but you might be able to expand your recipient's horizons by giving a game as a gift that he or she normally wouldn't buy.
Role-playing games. Role-playing is one of the fastest growing market segments in Xbox gaming; the fervor induced by the release of Skyrim (a.k.a The Elder Scrolls V) is just one example. Fable is another strong franchise, although the newest installment (III) wasn't received quite as warmly as previous ones.
Racing games. Most Xbox gamers will own at least one racing title. Racing games are great to play with friends, and offer a variety of different playing levels. Forza is great for hard-core players who want to spend hours perfecting their technique, whereas a game like Burnout can easily be enjoyed by beginners.
Adventure games. The adventure genre isn't nearly as defined as it used to be; most titles in this genre liberally borrow from other genres, such as strategy and RPG. Not that this is necessarily bad thing. The change has resulted in a variety of super-fun games that break the bonds of genre and appeal to all sorts of different players. Read this list to find some of the best Xbox adventure games.
Other games. There's an Xbox 360 game for just about anything you're into. Whether your recipient likes sports, horror, humor, puppets, or something else, you're likely to find a game that will match his or her interests.
Kinect games. Kinect owners still represent a small segment of the Xbox-playing community, but that percentage is growing. The genres are a little different for this controller: "dancing" and "fitness" top the list, although there are fighting and racing games available. May I suggest that you stay away from a workout game gift, unless your recipient expressly asks for one? It might send the wrong message...
Elder Scrolls V: Skyrim

The Elder Scrolls V: Skyrim is the next installment in the award-winning Elder Scrolls series. Skyrim is the follow up to the 2006 Game of the Year, The Elder Scrolls IV: ...

$11.9 $7.95
Fable III

In Fable III, the latest installment of the critically acclaimed Xbox 360 exclusive franchise, fans new and returning will now embark on an epic adventure, where the race for ...

$24.42 $12.87
Forza Motorsport 4

Forza Motorsport, the highest rated racing franchise of this generation, makes its return to the race track in Fall 2011 with Forza Motorsport 4.

$48.26 $35.04
Dance Central 2

Get ready for the sequel to the best-selling dance game for Kinect for Xbox 360. Dance Central 2 keeps the wildly addictive Dance Central experience going with a new focus on ...

$17.66 $12.0
Battlefield 3

Battlefield 3 leaps ahead of the competition with the power of Frostbite 2, the next installment of DICE's cutting-edge game engine. This state-of-the-art technology is the ...

$15.95 $9.65
#3: Xbox 360 Accessories (Headsets, Chargers, etc.)
Improve the Gaming Experience
You don't need a lot of accessories to play the Xbox, but they can make a welcome gift (especially since people often don't buy these kinds of things for themselves). Some casual obsrervations and questions can help you figure out what it is your recipient is desperately in need of.
Headsets. Does you recipient want to engage in vicious word battles with 12-year-old pottymouths? Then get them an Xbox headset! A headset is also great for chatting with friends and family members while teaming up over the Internet. And who said gaming didn't bring people together?
Chargers. A rechargeable Xbox controller can be a good thing, but charging isn't always easy. An extra charger can be a boon to someone with several of these devices.
Chatpads. If you don't want to vocally get involved with other players, you can always chat with them onscreen using an Xbox chatpad.
Ear Force X12 Gaming Headset and Amplified Stereo Sound

The X12 is the definitive headset for gamers seeking amazing game sound, crystal-clear communication and enhanced comfort - all at an unmatched value. The X12 features massive ...

$59.95 $48.56
Xbox 360 Charge Base - Black

Conveniently store and charge two Xbox 360 Wireless Controllers with Nyko's Charge Base 360. The Charge Base 360 comes with two custom NiMH rechargeable batteries that feature ...

Only $70.0
Xbox 360 Chatpad

Let your fingers do the talking with the Xbox 360 Chatpad. Easily chat while you're playing, text with friends, redeem codes on Xbox LIVE - even connect with friends on ...

Only $3.97
#4: Xbox 360 Consoles
The Granddaddy of All Gifts
Offering someone an Xbox 360 console as a gift (either as their first Xbox, a replacement, or an upgrade) is amazingly generous, and not something that they're likely to forget anytime soon.
Xbox 360 4 GB. This less-expensive console is easier on the wallet, but sacrificing storage isn't always the best idea. Plus, there are some features in games that won't work with this console. If you decide to go this route, you can always buy a plug-in hard drive in the future. 
Xbox 360 250 GB. For $100 more, you can get 250 GB of storage, and usually a game or an extra controller thrown into the mix. True, 250 GB costs less in the "real world," but sometimes you just have to pay to play.
Xbox 360 bundles. Bundling your Xbox purchase with certain game titles or the Kinect saves money in the long run, although it does up the price in the short term.
Xbox 360 special editions. Is your recipient really into a particular game? Get him or her a special Call of Duty or Gears of War themed Xbox. I think you can also buy an Xbox dipped in gold, but if you have that kind of cash lying around, I'm not sure that's what you should be spending it on.
Find out more about whether an Xbox will be a good fit for your recipient (or yourself!) on Should I Get an Xbox?
Xbox 360 Gears of War 3 Limited Edition Console Bundle

Custom designed with artwork inspired by "Gears of War 3", Xbox 360 is offering this exclusive console with Wi-Fi built-in for easier connection to the world of games and ...

$399.99 $375.00
Xbox 360 250GB Holiday Value Bundle with Kinect

Xbox 360 has more ways to play, now with 2 free Kinect games and a 3 Month Xbox LIVE Gold membership included for a limited time.

$119.99 $589.0
Xbox 360 4GB Console

The new Xbox 360® 4GB Console. Here today, ready for tomorrow with a brand new, leaner machine. Wi-Fi is built-in for easier connection to the world of entertainment on Xbox ...

$74.84 $56.7
Xbox 360 250GB Holiday Value Bundle

Xbox 360 has more ways to play, and now for a limited time get two free games and a 3 Month Xbox LIVE Gold Membership.

Only $169.99
Hope You Enjoyed These Xbox 360 Gift Ideas
Thanks For Stopping By :)
Don't forget to vote in the poll and leave a comment!
Which of These Gifts Would You Give (or Want to Receive?)
Vote Here!
---
Disclosure: This page generates income for authors based on affiliate relationships with our partners, including Amazon, Google and others.