10 Gift Ideas Less Than $10
by aphrodite21
One of the most important messages that Christmas brings is the message of gift-giving. Below are some economical gift ideas for you this Christmas.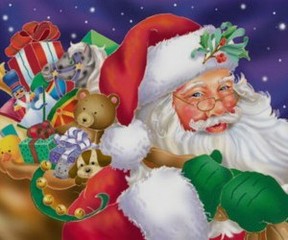 Christmas is fast approaching and I'm sure almost everyone is now thinking of what to give to the special people in his or her life. Gift giving is a tradition that we can't forget and take away from our lives. It has been present since the days of our forefathers. We just can't feel the spirit of Christmas a hundred percent if we don't give to the people we love.

Deciding on what present to give to our family members, friends, godchildren and other people whom we want to give our presents to is not easy most especially if we are on a tight budget. The recent slow down of the economy has made it a reason for us to be careful with our spending and watch our budget closely. Below is a list and some suggestions on what presents you can give this Christmas if you have a budget of only $10 each or lesser. Choosing any of the gift suggestions below would surely make your recipient so happy and most especially excited for the Christmas season.
Image Source: www.coolwallpaperbackgrounds.com
1.) Wallets
There are some wallets that are very affordable. Amazon has a wide collection of affordable wallets that costs less than $10. It may not be so fancy but if your gift budget is only within the $10 range, these wallets are the great choices.

The Men's Leather Wallet to the right is soft to the touch yet very durable. It is made of hand crafted fine leather from India. It has multiple card slots and includes additional pockets. Its credit card slots hold up to 16 ID and cards. It also includes multiple photo pockets that holds up to 8 pictures. It weighs approximately 3 ounces.
2.) Coin Purse
A coin purse is a very useful accessory. Almost all the time, we have loose change in our bags and a coin purse is just the perfect accessory to organize our money inside. Some wallets don't have coin purses and having one is perfect. Any person would love it if you give him or her a coin purse this Christmas, on his or her birthday or any special event.

Women love artistic and colorful things. Silk cloth makes things even more attractive to them. The set of 8 Schylling Coin Purses below will surely be a great idea for an affordable and economical gift for your mother, sister, best friend, girlfriend and other female friends. Its decorative design even makes it more attractive and pleasing to the eyes. Aside from storing coins, your lipstick, short pencil eyeliner and other small make-up accessories will also fit in inside.

3.) Satin or Silk Pillow
Our home is our sanctuary. After a very tiring day at work, all we want to do is to go home and get that much needed rest. A very relaxing time in our bedrooms would make our body feel so well rested. This will be realized most especially if we are lying on very soft and silky touch of satin or silk pillows. We are not only getting that much needed rest but also protecting our skin from early wrinkles formation and rough skin that may be caused by the friction between our skin and the cotton pillows. Who would not love a very elegant and beautiful silk pillow as a gift for Christmas, birthdays or any special occasion? Giving this as a gift would surely give so much delight to your recipient.
4.) A Can of Nuts
Nuts are good for our health. Medical experts say that they are good for our heart and are also rich in antioxidants. These antioxidants help fight off the bad free radicals in our body that destroys our good cells. Once our good cells are destroyed, we then lose immunity to infection and we catch many health diseases. Many people also love munching on their favorite nut snacks while watching TV, reading or spending that quality time with the family. Almost everyone loves eating nuts and this makes a good reason for you to give it as a gift this Christmas or in days you want to give your special friend, relative or loved one an affordable healthy gift.


5.) Sign Pen
A pen is always a fabulous gift idea. Everyone writes and people lose them, or they prefer to use a specific pen over another kind. Pens are inexpensive and offer a lasting writing tool. Pens have different designs and colors to make them more interesting. For less than five dollars, you can buy a very functional set of pen already.
6.) Deck of Cards
Some people love playing with cards. Card games like solitaire and many others really entertain some people most especially those who love staying at home. A deck of cards would be a perfect gift for them. It is not also expensive and is very affordable. If you are on a budget, giving this kind of gift will always be appreciated and enjoyed by your special friend, family member and relatives.

7.) Mouse Pad
A mouse pad is also a perfect gift idea. The mouse pads today are affordable and comes with different designs. Some of the latest mouse pads today have different celebrity designs, mountains, waterfalls, flowers and nature backgrounds. Others have different sayings on them and many more. You can always choose the best design you want in just a few clicks by viewing the many available designs on amazon, ebay and other online stores in the web.
8.) Susan Boyle Music CD
All of us love listening to music. Each one of us has his or her own music preferences. Many people love Susan Boyle. Many of us know that her rise to fame started when she joined the Britain's Got Talent show. She may not have won the first prize but it became a way for her voice to be recognized all over the world. A music CD of her latest album which is priced at less than $10 would be a perfect gift to your friend who loves her kind of music. Don't worry if your recipient loves other singers as there are also music albums available on amazon with prices not exceeding than $10. Some of these artists and albums include Coldplay's Milo Xyloto, Ryan Adams' Ashes and Fire, Foster the People's Torches, Hugh Laurie's Let Them Talk, Feist's Metals, II Volo's self-titled album, Adele's 19, red Hot Chili Pepper's I'm With You, Mumford and Son's Sigh No More, and many more.
9.) Scrap Booking Materials
Scrap booking is a very popular hobby. The number of people starting this very good hobby is increasing every year. Most people who do this hobby though are female whose ages starts from 10 years old and above. If the person whom you want to give a gift with has this as a hobby, giving her some scrap booking materials would surely delight her. A few borders or a few stickers would be perfect. Scrap booking does not only make a person enjoy a hobby but also makes one to be able to create products that gives lasting memories like a scrapbook photo album.
10.) Alarm Clock
Time is very important to all of us. Working professionals always need to be reminded of time regularly. For businessmen, time is gold. An hour lost is money lost. Almost everybody needs an alarm clock in order to wake up on time in the morning. Your friend will appreciate it so much if you will buy him or her a new alarm clock that would help him or her remind time most especially in the morning when the drive to go back to sleep is strong. An alarm clock is a very economical gift yet very useful. Many people love digital clocks as it appears more modern and they can see the numbers right away. Others though still prefer the old style clocks. However, whatever kind you choose, you can always be assured that the receiver of the gift will really love it.
Many people say that its not with what you give but the thought and effort you have given to your gift. Gift giving is a tradition that is so wonderful and we should always treasure it all of our lives. It gives us a wonderful feeling when we are able to share something to the people who means so much to us. I'm sure that whatever gift you give, the person whom you are giving it to would surely appreciate that you remembered him or her on that very special occasion.

---
Disclosure: This page generates income for authors based on affiliate relationships with our partners, including Amazon, Google and others.