About Terri Rexson
by TerriRexson
Terri Rexson writes on Wizzley and other writing sites as well as her own web sites.
Why I Write Online
I started writing online in the summer of 2010. I was finding myself working on my day job in the evenings and not getting a proper break so I thought I'd better find something else to do that would grab my attention. 
I had a vague thought that maybe one day I could start an online business so thought I'd learn the ropes and possibly develop some useful skills. 
What I Write About
On Squidoo I write a lot about dinosaurs and my lensmaster name is DinosaurEgg. Head over to Squidoo if you want to find out more about how I ended up writing about dinosaurs, but it was pretty much an accident. It was just a fun subject that my older son was really interested in and I was looking into anyway - dinosaur facts, TV shows, toy figures, crafts, clothing etc. We have a house full of dino gear so I didn't have to go far for inspiration. 
Here on Wizzley I've also been writing about dinosaurs. But lots of other subjects too - many related to my kids. In addition to dinosaurs, their current obessions are safari animals (particularly African animals), Playmobil and Lego, and Star Wars. 
Personally, I'm a techie and science fan (I'm a computer scientist so not a proper scientist!). I love good design and we've always been early adopters. We have a lot of home automation gear in our house - you can press a button and have the kettle come on. We have PV solar panels on our roof and electrical underfloor heating. 
I also studied philosophy at college level and I'm interested in lifestyle engineering and living a considered life. I'm a humanist and rationalist. 
I love movies (especially by the Coen Brothers), reading (historical fantasy is a favorite genre), computer games (especially RPGs). 
Quitting my Job to Make Money Online
Yes, it's a cliche, I'm quitting my job to make money online. Well actually I'm taking a long leave from my day job. I love my job but I'm at a point where I need to change role and that's just too hard to do at my level of seniority with two small kids. So I've decided to try something different for a while and see if I can make money online. 
Yes, this is pretty crazy in the current economy. I'm the main wage earner with a very high salary by most people's standards. But it's not all about money is it? I've been pretty careful with money so I can decide to take some time out without any major risk. On the other hand, I'll feel pretty guilty if I give up a very good salary and don't manage to bring in some real money within a few years. 
My concerns? I'm concerned that me being at home more might unbalance our equal parenting. Hopefully my partner can start to work from home too within the next few years. 
Find out how I'm doing on Wizzley
What I've Been Eating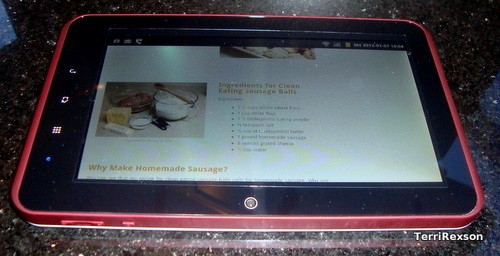 Clean Eating Sausage Balls - Recipe by Jimmie
Jimmie's Clean Eating Sausage Balls
They're Very Good.
What I'm Reading
On my Kindle and iPhone
I've been a fan of the Motley Fool since I was at University and have read many of their books over the years. 
One of their recent titles caught my eye and before I knew it, it was magicked to my Kindle. And my iPhone, I love the auto-syncing between the two. 
I'll write a review when I've read it. 
Warren Buffet Invests Like a Girl
And Why You Should Too
---
Disclosure: This page generates income for authors based on affiliate relationships with our partners, including Amazon, Google and others.